20 Ways to Know Someone's Not From Philadelphia
Maybe you're an out-of-towner who needs stuff like this explained to you, or maybe you live in an industrialized NoLibs loft and know everyone that works at Fairmount Bicycles, but you're not fooling anybody when you say you're from Philly. How do we know? Well, for starters, here're just 20 ways you can tell you're not from Philadelphia: 
1. You pronounce it King of Prussia
It's Kinga-prusha. See also: wooder, beggle, shtreet, or dawter.
 
2. You thought a trip to Atlantic City would be like The Hangover
Philly natives know that AC, instead of an East Coast Vegas, is someplace where you shouldn't touch the sand, and where gray-haired grandmothers wearing dog sweaters can play slots.
 
3. You call SEPTA Regional Rail trains by their proper names
Everyone knows you get to Ardmore on the R5 -- none of this "Paoli/Thorndale line" nonsense.
4. And you always pay for SEPTA
A local knows that… there are ways.
 
5. You think you're Will Smith because you went to Dock Street
Yes, the brewery at 50th and Baltimore is technically in West Philadelphia, but that doesn't mean you and your frat brothers should start singing the Fresh Prince theme song.
 
6. You think the Main Line refers to the train that runs parallel to Lancaster
And while technically you're not wrong, The Main Line is actually where the Real Housewives of Philadelphia will take place in 2026.
 
7. You go to the beach
Nope, sorry, people from Philly don't go to the beach -- not before going down the shore first, at least.
8. Your first-ever Philly cheesesteak was from Geno's
Because you thought trying one had to be this big epic thing, like losing your virginity on prom night. Eventually you'll realize that most people just grab a hoagie from Wawa instead.
 
9. You talk about your bike a lot
Yeah we have good bike shops and yeah it's a good city to ride in, but stop acting all fancy about it.
 
10. You own Dallas Cowboys paraphernalia
And if you ever wear a Cowboys T-shirt down Market Street, you are basically asking the world to mess with you.
 
11. You didn't know Tina Fey was from Philly
Or that Bradley Cooper is from Jenkintown, Pink is from Allentown, and Questlove is Questlove. Oh, and season one American Idol runner-up, Justin Guarini, is from here too. We take what we can get.
 
12. You live at the Piazza Apartments
No local is paying that much to live in NoLibs, even if it means close proximity to PYT.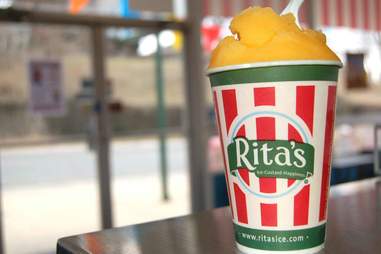 Cassie Hepler
13. Your idea of the Jersey Shore is Jersey Shore
It's not.
 
14. You've complimented the Schuylkill
Sure, it can be pretty... if you don't look at it too close.
 
15. You think water ice sounds redundant or bland
In which case, you don't know anything about Rita's.
 
16. You plan on buying liquor after 9pm
So you end up Google Mapping your way across town in search for an open shop, after accidentally trying a grocery store first.
17. You can't give directions because you can't pronounce anything
Though nobody can hold it against you if you spell/say Schuylkill incorrectly. Same for Conshohocken, Bala Cynwyd, Bryn Mawr, Gladwyne...
 
18. You've never walked through a human heart
The model at the Franklin Institute is a childhood rite of passage for everyone who grew up around here.
 
19. You don't know more than three people who went to Penn State
And it only counts if it's the Main Campus.
 
20. You have no feelings about Chio in the Morning, Preston & Steve…
We for some reason take our radio personalities rather seriously here. Also, RIP Y100.
Sign up here for our daily Philly email and be the first to get all the food/drink/fun in town.