The Most Bone-Chilling Haunted Places in Philadelphia
From a famous abandoned penitentiary to a haunted performance venue.
In a relatively ancient city like Philadelphia, there are plenty of spots that may very well be haunted. So skip the haunted houses with teenagers dressed up in masks and take your spooky season up a notch by going to a house that's actually haunted. After all, you have plenty of options in our dear city. From a famous abandoned penitentiary to one of America's oldest bars, here are the 11 most haunted places in Philadelphia to check out… if you dare.
Rittenhouse Square
A few venues on Avenue of the Arts are said to be haunted by phantom voices (not to the level of falling chandeliers, but still), and if you sit in one of the seats up top (which are the only ones you can afford anyway) you can watch for phantom hair pulling and pinching. Don't be surprised if that empty seat next to you has some mysterious wrinkles on the cushion either.
Mount Airy
Some say, on foggy nights, a headless horseman from the Revolutionary War rides around on this street after dark—carrying around his own head. It doesn't get more quintessentially American than that.
Chestnut Hill
Paranormal sightings are par for the course at this century-old Chestnut Hill estate—including, curiously, the ghost of Thomas Jefferson. Other ghosts, including former inhabitants of the house, and phantom cars driving toward the house have reportedly been spotted, too. If you find yourself here, just stay out of the haunted death chair, a more than 200-year-old chair that allegedly causes everyone who sits in it to die soon afterward.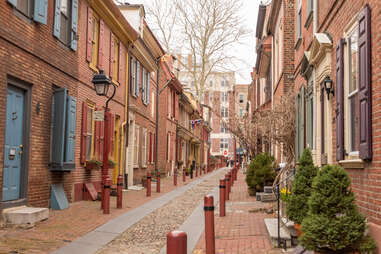 Old City
The nation's oldest continually inhabited residential street has housed more than 3,000 people over 300 years, which means there are plenty of former residents who hang around the tiny street. One legend says a Revolutionary War spy was hanged in Elfreth's Alley and his ghost lingers to this day.
Merion
This Merion building, once investigated by Unsolved Mysteries, has a creepy history that started in 1704 goes all the way to 1996, when the co-owner murdered his business partner in his office. Soon after, the killer's girlfriend/employee committed suicide. After some attempts to revive the space as the long-standing restaurant and inn it once was, it is now maintained as a synagogue. The ghosts of Edgar Allen Poe (who frequented the inn during his life) and Hessian Soldiers allegedly haunt the space.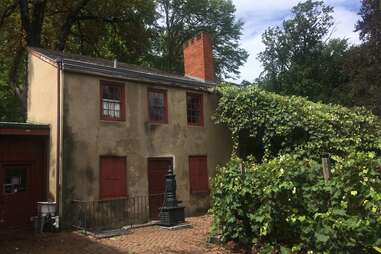 Germantown
This Germantown estate built in 1744 was home to the Wister family until they were pushed out by the British during the Battle of Germantown. One of the British generals, James Agnew, bled out on the floor of the estate, and the blood stains can still be seen to this day. So, of course, his ghost is said to haunt the grounds. The home also served as the Wister family's hideaway during the yellow fever epidemic, and the grounds are said to be haunted by a housemaid named Justina.
Penn's Landing
These days, the Moshulu is a restaurant and party space, but throughout her more than 100-year lifespan, the tall ship was used for shipping, was named the fastest cargo ship in the world, and was pillaged by Nazis. A Lantern Ghost reportedly re-lights lanterns on tables at night and a whispering ghost tells hushed secrets during the early evening.
Society Hill
Powel House is home to manifestations of French nobleman Marquis de Lafayette who apparently comes to visit, despite being buried in France. A disgruntled Benedict Arnold is also rumored to haunt the space, as well as a woman in a lavender dress who occasionally greets tourists.
Washington Square
Ghostly apparitions at Washington Square have inspired poets and tourists alike who think they can hear the voices of those put to rest when the square served as a burial yard in the 1700s. Even a Philly police officer once claimed to see the ghost of a Quaker woman named Leah who protected the burial ground from grave robbers.