In a relatively ancient city like Philadelphia, bad decision bars (and the things you do in them) aren't the only places in town that'll haunt you. No, there are plenty of spots -- from an abandoned penitentiary to one of America's oldest bars -- that might very well be haunted by our angry ancestors, especially during this time of year, so as a sort community service, we rounded up the 13 most haunted places in Philly...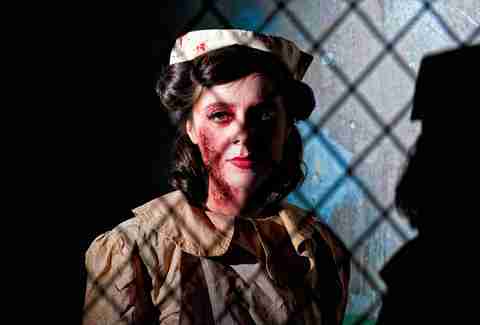 Fairmount
Even if you tour this place on a lovely spring day, you will still have nightmares. Add the theatrics of the annual Terror Behind the Walls and you should probably... well, not go, especially because there have been ghost siting at the 11-acre prison (once featured on Ghost Hunters) since the 1940s, and they've increased since it was abandoned in the 1970s. Check out the haunted house through November 8 or just head there anytime to be creeped out by Steve Buscemi's audio tour.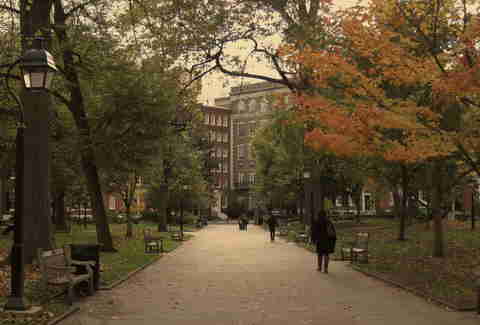 Washington Square
Ghostly apparitions at Washington Square have inspired poets and tourists alike who think they can hear the voices of those put to rest when the square served as a burial yard in the 1700s. Even a Philly police officer once claimed to see the ghost of a Quaker woman named Leah who protected the buried, Helena Ravenclaw-style.
 
Chestnut Hill
Take a tour of this 103-year-old Chestnut Hill estate and word on the street is you can hang out with Thomas Jefferson. In addition to the mansion's most famous apparition, seven other ghosts have been reported by both guests and the deceased owner George Meade Easby. If you find yourself here, just make sure not to sit in the death chair.
Fort Mifflin
Fort Mifflin is the oldest Revolutionary War battlefield still in tact. It's considered one of the most haunted places in America and is reportedly frequented by the spirits of colonial soldiers and a screaming woman who (rumor has it) was so loud that the Philly cops even went to investigate. Oh, and if that's not spooky enough, it's right by the Schuylkill River.
Old City
It got an honorable mention on a list of the best oldest bars in Philly, but there's something scarier than men dressed in period-costume tights haunting the space. Ask to dine in the "haunted section" and maybe you'll see an apparition of the young bride who is said to have been killed in the tavern's 1854 fire. Images of the young woman allegedly appear in some photographs hanging in the restaurant and match the descriptions from patrons' sightings.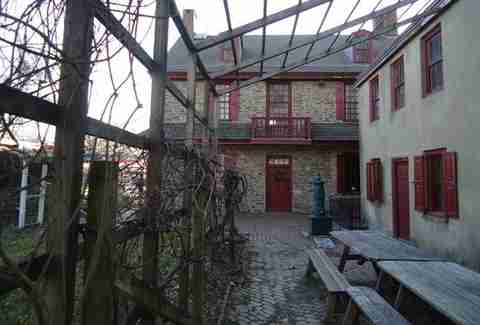 Germantown
First, awesome name. Second, this Germantown estate built in 1744 housed the Battle of Germantown, which caused the permanent blood-stains from a British General that still adorn the front parlor and makes this one of today's creepiest museums. The home also served as the original family's hideaway during the yellow fever, and the grounds are said to be haunted by an orphaned girl named Justinia who lived with the family during those years. Plus, she liked to bake bread, and many visitors claim the smell of dough pervades the space -- although probably not in any savory kind of way.
Merion
This Merion building, once investigated by Unsolved Mysteries, has a creepy history that started in 1704 goes all the way to 1996, when the co-owner murdered his business partner in his office. Soon after, the killer's girlfriend/employee committed suicide. After some attempts to revive the space as the long-standing restaurant and inn it once was, it is now maintained as a synagogue. The ghosts of Edgar Allen Poe (who frequented the inn during his life) and Hessian Soldiers allegedly haunt the space.
Fairmount Park
Man, not even the zoo's off limits? Apparently not. The zoo's Treehouse building, Pennrose building, and John Penn House have all been credited with paranormal activity, highlighted by the ghost of a woman who hovers over staircases wearing a white dress. The zoo was a subject on Ghost Hunters, so tour the grounds and see for yourself... at your own risk.
 
Rittenhouse Square
A few venues on Avenue of the Arts are said to be haunted by phantom voices (not to the level of falling chandeliers, but still), and if you sit in one of the seat up top (which are the only ones you can afford anyway) you can watch for phantom hair pulling and pinching. Don't be surprised if that empty seat next to you has some mysterious wrinkles on the cushion either.
East Falls
The East Falls cemetery hosts events all year long, which means you can soak in their eerie spirits without any artificial haunted mazes or bloodied up performers. As one of the country's oldest cemeteries, it takes normal gravestone fears up a notch and even hosts paranormal investigations.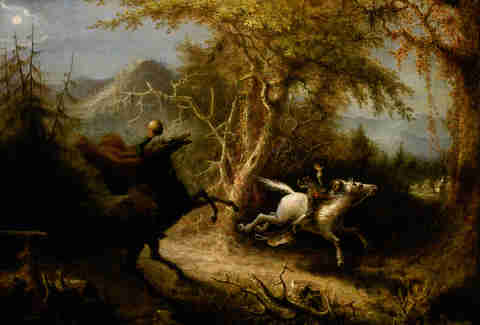 Mount Airy
Despite everything you've already read, Allen Lane in Mount Airy is STILL supposed to be Philly's most haunted street, where none other than a headless horseman from the Revolutionary War rides around after dark.
Germantown
Revolutionary War blood-stains and colonial soldiers allegedly haunt this Germantown Ave space, where a reported 57 soldiers lost their lives. Take the tour and maybe you'll meet the elderly headless woman who is also known to roam the halls here.
Society Hill
Near City Tavern, Powel House is home to manifestations of French nobleman Marquis de Lafayette (supposedly a pal of George Washington) who apparently comes to visit, despite being buried in France. A disgruntled Benedict Arnold is also rumored to haunt the space, as well as a sweet hostess in a lavender dress who occasionally greets tourists.
Sign up here for our daily Philly email and be the first to get all the food/drink/fun in town.