Philadelphia Summer is great because you can drink at rooftop bars, eat at new restaurants, and because she dressed up like Wonder Woman for Seth Cohen (and everybody watching). Oh, and because it's got lots of great outdoor parties. And by "lots", we mean these five...
Thursday, August 21st: Tonight is the last outdoor concert before Spruce Street Harbor Park closes shop Labor Day weekend. Local band Pattern is Movement will be performing, and if you come early you can listen from a hammock. Continue Reading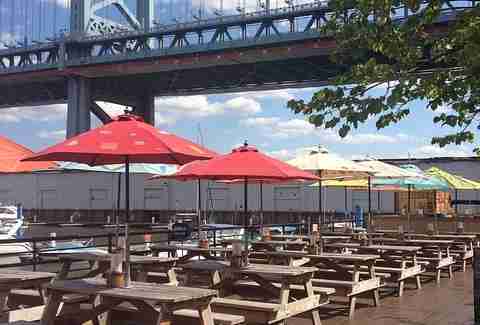 Saturday, August 23rd: You can also head to Doylestown's Fonthill Castle for the their outdoor Beer Fest to get a little Downton Abbey with your craft brews.
Saturday, August 23rd: The second round of City Tap's Brooklyn Brewery Summer Concert Series continues with live music featuring Philly's own Clap Your Hands Say Yeah on that sweet outdoor deck. Admission for the day is $15 and festivities begin at 3pm.