A new workshop for sporting wood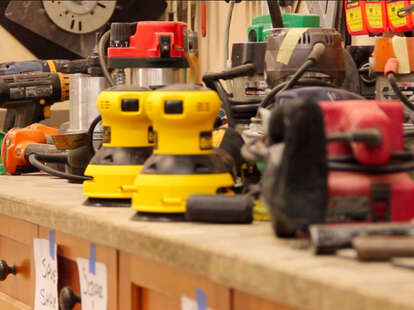 Bringing more tools to Manayunk than [insert Manayunk bar here], Philadelphia Woodworks is a members-only chapel of carpentry staffed by expert craftsmen who'll teach you the manly art of woodworking, and give you full access to a lumber yard-equipped shop with a slew of professional-grade machines, which include more sanders and squares than the 2004 NFL Hall of Fame class (you nerd, Carl Eller). Join PW and you can learn to make awesomeness like:
A Game TableThe Class: Essentials of Woodworking The Tools: This three-course training sesh will familiarize you with a majority of the shop's machinery (from band saws to planers) as you learn the basics of furniture-making and construct everything from wooden bowls to Texas Hold 'Em tables -- so, anything that lets your buddies steal your chips. Don't Be Alarmed When Someone Says: "Move the belt (sander). I wanna take a look at your wood."
A Liquor CabinetThe Class: Wall Cabinet Projects The Tools: You'll get comfortable using powered blades ranging from compound mitre saws to hulking, industrial table saws as you learn box-, storage-, and cabinet-making, allowing you to craft a place to store the booze that makes crafting unsafe. Don't Be Alarmed When Someone Says: "Yeah, your box is pretty, but mine holds more."
A Sweet PenThe Class: Turning The Tools: This seminar'll arm you with chisels & knives and have you spinning chunks of hardwood, before carving them into a sweet set of assuredly-only-for-massive-steak-seasoning salt & pepper shakers, chess pieces, or a fine wooden pen. Don't Be Alarmed When Someone Says: "You really want to work the shaft."
Before you do any of this, you gotta get your membership and take a safety course, which the 2004 HOF class didn't follow, even though Donnie Shell was eligible!