The Most Fun Philly Dates to Go on Right Now
It's time to get cozy.
It's cuffing season! As the temps drop and the pheromones pull you toward a cutie to hunker down with, it's time to consider how you'll woo them all season long. Here in Philly, we have plenty of date options with local flare, from local theater performances to beer drinking all around town. Whether you've been together for years or are hoping a new spark will catch fire, make plans now for a uniquely Philly date.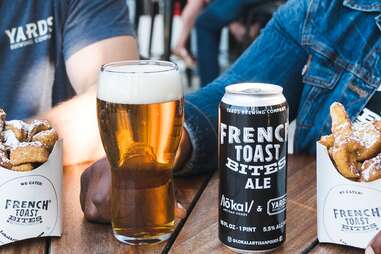 Try new locally made beers
Various locations
For the craft-beer loving couple, the Greater Philly area is rife with new breweries and beers. Charisse McGill of Lokal Artisan Foods fame (perhaps you've tried her to-die-for French Toast Bites?) is collaborating with Yards Brewing Co. for a French Toast Bites Ale, a smooth ale brewed with cinnamon, brown sugar, and vanilla. It's available now at Yards' Spring Garden taproom. Philly's first Black-owned brewery, Two Locals, which debuted in March, is selling beer online and at Craft Hall. Don't miss the brewery's Nubian Brown Ale, featuring hints of fresh baked bread and medium roasted coffee, and Prolific Hazy IPA, which has notes of mango nectar, guava, and pineapple. Out in Norristown is the new von C Brewing, whose owners come from a family line of beer makers. They've got lagers, IPAs, witbier, and more. New Jersey brewery Source Brewing opens a Fishtown outpost in the space that once housed Fishtown Brewpub on Frankford Avenue. And stay tuned for a forthcoming 14,000 square foot Victory Beer taproom in Logan Square, complete with a rooftop patio, sometime soon, too. Drink up, lovebirds!
Make the pilgrimage to the Jersey shore
Cape May, New Jersey
Cape May may be a beach town, but it's worth visiting any time of year. Whether you're in need of a weekend getaway or are looking for the ultimate couple's escape, make sure you're lodging in style at Lokal Hotel's Cape May micro-resort. With eight apartment-style hotel rooms complete with balconies and access to a heated pool, you might not even make it out of the hotel. (Though you should.) Don't miss any of Cape May's breweries, historic houses, shopping, and other fun things to do, either.
The Wayward
They say oysters are an aphrodisiac, and lucky for you, the seafood tower at The Wayward has plenty to go around. The restaurant's chilled seafood selection includes gulf shrimp, assorted oysters, niçoise tartare, and lobster. Available in two sizes, petite and grande, though we say go big or go home.
Return to the theater
Various locations
The curtains at Philly's theaters have risen once again! Take your date to the theater and impress them with your highbrow taste. This fall, touring productions of "Hamilton" and "Anastasia" come to the Kimmel Cultural Campus; the American premiere of an Irish play by Inis Nua Theatre Company takes over The Drake; Philadelphia Theatre Company presents the tale of two unlikely friends on the same route in the sanitation department in "The Garbologists"; '60s music takes center stage at the Walnut Street Theatre; and a world premiere by a Philadelphia playwright kicks off Azuka Theatre's 2021-22 season.
Various locations
If your romance is more down-and-dirty than French brasserie, head to any nearby farm or orchard to pick your own produce. New Hope's Solebury Orchards, Linvilla Orchards in Media, Johnson's Corner Farm in Medford, and Yardley's Shady Brook Farm are great for apple and pumpkin picking this fall. Just think of the delicious apple pies you'll make after.
Make it a photo-worthy moment
Fashion District
Inside the new mall at Market East is not one, but two interactive art exhibits: Candytopia and Wonderspaces. The former features a replica of the LOVE statue made entirely out of candy (plus dozens of rooms with other photo-worthy candy recreations) while the latter has a hanging garden of plants that react to human touch and a room full of lights that change color in time with music. Be prepared to take lots of selfies like the cuties you are.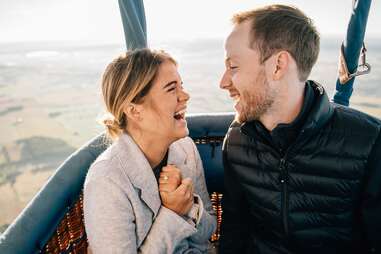 Lancaster County, Chester County, Bucks County
Not for the faint of heart, but hot air balloon rides stand as one of the most impassioned dates of all time. With three launch sites—in Lancaster, Chester, and Bucks counties—you can take your pick as far as which part of Southeastern Pennsylvania you want to see from above. The three-hour experience features the inflation of the balloon, your ascent up to a mile high, an hour-long flight, and refreshments once you're back on the ground.
Check out one of the city's lesser-known museums
Neon Museum of Philadelphia, 1800 N. American St., Unit E
Sure, Philly's chock full of storied museums like the Philadelphia Museum of Art and the Barnes. But for a museum date that's off the beaten path, don't miss the Neon Museum of Philadelphia. Consisting of over 150 pieces, from historical Philadelphia signs to neon folk art, the museum is the perfect opportunity to hang out with the lights down low.
Grab a bite at the city's cutest streeteries
Various locations
Sure, indoor dining has resumed, but take advantage of the crisp temperatures and fully embrace fall al fresco city dining. Some of the city's cutest outdoor enclosures include Wm. Mulherin's Sons' setup, with wood-fired pizzas and pastas under a sturdy roof; moody booths at at Charlie was a sinner., where you can enjoy plant-based dishes and cocktails; pasta and gelato hotspot with unique lighting fixtures, Gran Caffe L'Aquila; and laid back bar vibes on Girard Avenue at Johnny Brenda's.
Kennett Square
Longwood Gardens is a solid date idea even when it isn't decorated for the holidays. In the fall, the wildflowers in the Meadow Garden bloom with gold hues, and the trees burst with color, giving the grounds a lively glow. In the Conservatory, some 5,000 chrysanthemums are arranged into clouds and umbrellas. On weekends, come after sunset to see illuminated fountain performances and hang in the beer garden. It's a refined kind of date experience. Just remember to book your ticket ahead of time (no walk-up ticketing).
Various locations
Whisk your date away to Pennsylvania wine country for a day trip—you'll need a car, but beautiful rolling hills and delicious grape juice (the fun kind) are just a short ride from Philly. Head to the acclaimed Chaddsford Winery, just 45 minutes away, and grab a couple of wine flights. Wineries along the Bucks County Wine Trail (about an hour drive) are also open for tastings or follow our curated winery tour, starting in the Brandywine Valley and ending in Bucks County.
Eat your way around the city by foot
Various locations
For a date you'll both savor, get a real taste of Philadelphia on a City Foods Tour. From Flavors of Philly (oh, there will be cheesesteaks) to tours highlighting the stellar eateries on East Passyunk, you'll walk the city and indulge your taste buds at some of Philly's best family-owned hidden gems. Each delectable outing runs two to three hours. Come hungry for knowledge as well—you'll get a rich history lesson, and some architectural sightseeing along the way. Masks are required for all guests, except when you're eating or drinking. Want to make the experience even more romantic? Try a self-guided tour, just the two of you.
Bike along the Schuylkill River (and beyond)
Various locations
Feeling active and exploratory? Rentbikes together and pedal along the city's waterfront in a self-guided tour amid the crisp air. Start your journey on the road less traveled at the Schuylkill Banks; pass the scenic Boathouse Row, ride along the river, under historic bridges, and take in some public art along the way. Keep going towards the Manayunk Canal Towpath lined with old rail lines and wildlife, then ride straight through Valley Forge National Historical Park. The open air is perfect for pandemic safety and the exercise isn't bad, either.
DIY your own ice cream tour
Various locations
For couples with a sweet tooth, share a scoop at any number of ice cream shops throughout the city. Start in Old City at Franklin Fountain for cones, sundaes, sodas, ice cream sandwiches, and milkshakes in historic digs, then head to the Italian Market for La Guerrerense (traditional Mexican ice cream with chamoyadas and aguas frescas, too). Then make your way to Rittenhouse to wrap up your tour and try the city's two newest transplants: Van Leeuwen and very soon, Jeni's.
Catch a sexy dinner and a show
Various locations
When the lights are turned down and the performers take the stage, you can cuddle up to your date and let your body language do all the talking. Kill two birds with one stone at some of the city's best dinner and event spaces, like Fabrika in Fishtown, where you can see jazz, cabaret, and drag performances in a lofty industrial space. For more jazz, enjoy upscale Southern cuisine and jazz at SOUTH on North Broad and whiskey and tunes in the warmth of Midtown Village's Time.