Between dating apps, the bar scene, and the temptation to give in and spend your chilly Philly night binging Netflix, sometimes simply finding a date in this city is tough enough. That said, once you do end up convincing someone to spend time with you, it shouldn't have to be a struggle deciding what to do together. Whether you're in the early stages of a new romance or have been cuffed up for awhile, let these ideas be your guide for Philadelphia dating bliss.
Northern Liberties
With its Spring Garden location that boasts a warehouse-meets-biergarten vibe, Yards Brewing Company is now equipped with 20 beers on tap, a full kitchen, longer hours, live music on Fridays, and an outdoor space that pairs delightfully with their Grapefruit Pale Ale. Plus, tours of the brewery run every 30 minutes at only $5 a person.
Eat your way around the city by foot
Various locations
For a date you'll both savor, get a real taste of Philadelphia on a City Foods Tour. From Flavors of Philly (oh, there will be cheesesteaks) to tours that specialize in real-deal pizza, gourmet, and international foods, you'll walk the city and indulge your taste buds at some of Philly's best family-owned hidden gems. Each delectable outing runs two to three hours. Come hungry for knowledge as well -- you'll get a rich history lesson, and some architectural sightseeing along the way.
Learn about dinosaurs while you drink beer
University City
Science is fun… especially when you're learning all about the T. rex with a beer in hand. On the fourth Friday of every month, The Academy of Natural Sciences at Drexel University remains open until 8pm for Dinos After Dark, which includes a pop-up beer garden in Dinosaur Hall. All the galleries and special exhibits -- from Xtreme Bugs to Butterflies! -- stay open for your perusal and education, and there are also live animal presentations. Pay-as-you-wish admission is still in play.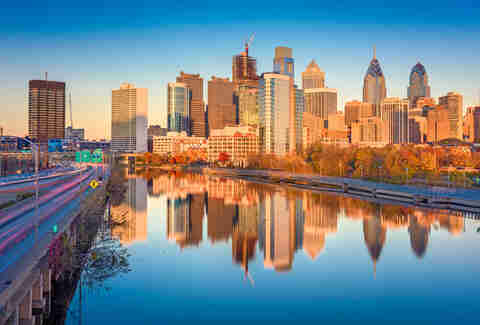 Bike along the Schuylkill River (and beyond)
Various locations
Feeling active and exploratory? Rent bikes together and pedal along the city's waterfront in a self-guided tour. Start your journey on the road less traveled at the Schuylkill Banks; pass the scenic Boathouse Row, ride along the river, under historic bridges, and take in some public art along the way. Keep going towards the Manayunk Canal Towpath lined with old rail lines and wildlife, then ride straight through Valley Forge National Historical Park. From there, you can cycle the 13 miles home if you're feeling ambitious, or hop SEPTA back to Center City. Pro tip: Renting a tandem bicycle will test your teamwork skills and guarantee Instagram-worthy pics.
Fairmount Park
If you and your date are adrenaline junkies, soar through the treetops at lightning speed at Fairmount Park's brand-new zip-line. There's also a 60-foot-high obstacle course to scale together, complete with tightropes, balance beams, swings, and stunning bird's-eye views of the park. Book online for cheaper tickets ($49 each).
Northern Liberties
If you haven't been to North Bowl yet, you're missing out on a great date location. Filled with cool decor, arcade games, a full bar, and a kitchen serving up delicious tacos, tater tot combos, and more, it has all you could need for a little competitive night out. make sure you and your date check out the photo option on the scoreboard for some extra LOLs throughout the game?
 
Taste 17 whiskeys at New Liberties Distillery
Olde Kensington
At one point in time, more whiskey was produced in Pennsylvania than Kentucky -- so what better place to beat the heat and get into some whiskey business than at New Liberties Distillery in North Philly? The historic three-floor facility is a former horse barn that is now open for tours, where very knowledgeable staff guide you through the whiskey-making areas, rick house, and tasting room. Craft bourbon and rye tastings are included, but why stop sipping when the upstairs bar serves delectable mixed cocktails? Have the bartender make you both a Strawberry Smash -- you won't regret it.
From garden to rooftop: outdoor brunch and cocktails
Various locations
Grabbing a bite and drinks risks being "just a typical date" -- but you can make it summer-ready and unique with a self-made theme like "from garden to rooftop". Start your afternoon off with a delicious al fresco brunch at Talula's Garden in Washington Square -- the farmhouse-chic decor and botanical ambiance pairs well with a fresh vegetable frittata and morning scones. Next, take a sunny stroll (30 minutes by foot) and head on up the impressive Continental Midtown roof deck lounge for sky-high martinis (and spicy ravioli if you still have room).
Various locations
Hosted in different neighborhoods on most warm-weather weekends, these outdoor flea markets are awesome for scoring eclectic trinkets and Philly-specific finds. Grab a morning coffee and head there early when the pickings are best. Bring cash, weave your way through tons of vendors, and impress your date with your haggling skills.
Indulge in a decadent class at Cook
Rittenhouse Square
If you're looking to really (like, really) impress your date, a class at Cook will certainly deliver. In this intimate demonstration kitchen, you'll sip delectable swills and watch a meal get prepared by one of our city's best chefs… and then you'll get to eat it. (Maybe you'll even pick up a few tips in the kitchen -- a gift that keeps on giving!). Scrumptious seasonal classes include: Rosé All Day, Summertime On The Bay, Vegan Beach House Happy Hour, Girl Meets Grill, and many more. Demos sell out fairly quickly, so check back soon for the July schedule.
Center City
Reading Terminal (one of America's oldest and largest public markets) is a culinary Eden where you can literally eat everything -- and you should, since bringing a date means doubling the amount of socially acceptable orders. Come hungry, peruse the aisles, and be sure to check out our must-stops: donuts from Beiler's, cookies from Famous 4th Street, and roast pork from DiNic's.
Do a tour and tasting in wine country
Various locations
Wisk your date away to Pennsylvania wine country for a day trip -- you'll need a car, but beautiful rolling hills and delicious grape juice (the fun kind) are just a short ride from Philly. Head to the acclaimed Chaddsford Winery (a 45-minute drive) and splurge for a Reserve Tasting + Winery Tour for two ($20 each online), where you'll learn about winemaking, tour the Brandywine Valley grounds, and then enjoy artisanal wine and food pairings. The Bucks County Wine Trail (about an hour drive) is also hosting seasonal events, including the Wine and Music Series at Crossing Vineyards and Winery and puppy photo shoots at Bishop Estate Vineyard and Winery. Set up shop at one vineyard, or hop around all eight using the Lyft code "#VisitBucks" for $10 off your first ride.
West Fairmount Park
This gorgeous, open-air venue was originally founded as the summer home to The Philadelphia Orchestra. You can catch amazing shows all season at this two-stage arena, making for the perfect summer date night -- the schedule has something for everyone, including jazz, pop, and rock concerts, South American dance shows, and even Jaws: The Musical.
Go masterpiece sightseeing by trolley
Various locations in West Philly
Assuming you have eyes, you've seen at least some of the 3,800 amazing public artworks around Philly (it's the mural capital of the world, after all). But an up-close look at the city's iconic works of art with a history lesson aboard a trolley is the recipe for perfect date. Mural Arts Philadelphia's guided tours by antique vehicle are two hours long ($32 a person), and have different routes and themes: Celebrated Civic Heroes, Journey South Philly, Reimagined Landscapes, Masterpieces East of Broad Street. Each one will immerse you and your plus-one in the diverse neighborhoods you're trolley-ing through.
Fishtown
Philadelphia's packed with awesome, must-see museums -- so it comes as no surprise that the world's first pizza museum also calls this city home. For a delicious (and inexpensive) date, start by getting the full experience at Pizza Brain with some culture and thin-crust slices (eh, make that a full Kira Tierston pie). Then, save some room and head next door to Little Baby's with an open mind; quirky-yet-delectable ice cream flavors like balsamic banana, bourbon bourbon vanilla, cherry hibiscus, and even pizza (if you haven't had enough) are perfect for a summer's night. There are tons of non-dairy and vegan options, too.
Need more ideas? Check out out guide to even more actually cool things to do in Philly, all of which are better with two people. 
Sign up here for our daily Philly email and be the first to get all the food/drink/fun in town.