17 Things People From Philly Can Rightfully Brag About
When your city's over 300 years old, it's no surprise that there are a lot of things the people of Philadelphia can lay claim to: Independence Hall, the Liberty Bell, heckling Santa Claus... we'll skip that one. With all the great milestones and traditions that take place in Philly, we've earned the right to boast a little bit about what makes the City of Brotherly Love such a kick-ass place to live.
1. We can reap the benefits of New Jersey without having to be New Jersey
We love to dump on Jersey as much as the next living, breathing person, except when it's convenient to head to Cherry Hill for cheap gas and groceries -- but we really, really love the Shore during the summer... and the occasional jump in the ocean during winter for Polar Bear Plunge.

2. We invented the soft pretzel
And it's totally acceptable to eat one for breakfast (or any other time of the day).

3. Philly's a city of firsts
Given the history of Philadelphia, it's no surprise we had the country's first newspaper, hospital, university, park, zoo -- should we go on?
4. We have the nation's oldest still-operating ice cream shop
Bassetts Ice Cream, in Reading Terminal, was established in 1861, the same year that the Civil War broke out. Think about that for a second before you immediately go back to thinking about ice cream.

5. You won't get a better cheesesteak outside of Philly
Avoid the lines at tourist traps (Pat's, Geno's) and go to dozens of other options, including a few that are decidedly underrated.

6. We crush it when it comes to BYOBs
While Pennsylvania liquor laws might be a pain in the ass, we have more than 200 BYOBs throughout the city. Enjoy your $15 glasses of wine, New York.
7. The Citywide Special
Every city has happy hours, we know. Aside from Center City Sips, we're really talking about the Citywide Special -- a shot and a beer -- which you can get at most places for around $5.

8. One word: Wawa
Another tongue twister for non-Philadelphian's (and South Jersey). Wawa (name taken from the Lenni-Lenape for Canada Goose), it's the only quasi-convenience store/deli/gas station -- depending on which one you go to -- where you can eat three different meals throughout the day and not feel like a complete waste of life. Also, WAWA chocolate milk is so addictive you may need a support group to kick it.


9. We know how to confuse the hell out of tourists
Bryn Mawr, Conshohocken, Bala Cynwyd, The Schuylkill, Passyunk -- we love making things difficult to pronounce.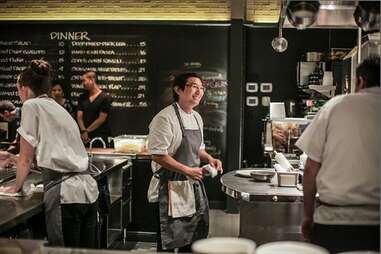 10. We have a criminally underrated restaurant scene
Seriously. Chefs like Peter Serpico are actually leaving New York to come set up shop in Philly. We also have our fair share of homegrown talent, too (see Elmi, Vetri, Solomonov, Sbraga, Garces... etc.).

11. Cheap rent for a city
Just to throw a little more shade on NYC -- not that we have an inferiority complex or anything -- rent is almost 50 percent cheaper in Philly than New York. With all that extra money, we can actually afford to leave our tiny apartments. [Insert counterargument about how there's no city like New York, people make more money there, yada yada yada I mentioned the bisque.]

12. You can get some awesome wooder ice here
Rita's is good, but there are too many great local options serving legit Italian water ice. Check out John's or Italiano's for the real deal.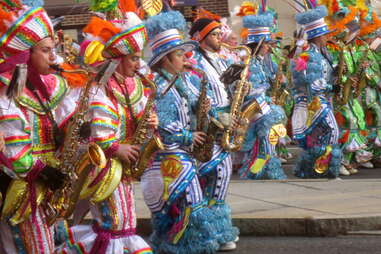 13. Mummers is the best parade (and day drinking) outside Mardi Gras
Seriously -- if you've never been to Mummers Day in Philly, you should reevaluate your life. For the non-Philadelphian, Mummers is an all-day parade that goes through the city, finishing on Two St, with drinks consumed liberally throughout.

14. Tastykakes
Butterscotch Krimpets > Twinkies, Ho Hos, Ding Dongs, and Snowballs combined. Okay, combining those would be gross, but still, even separately, Tastykakes reign supreme.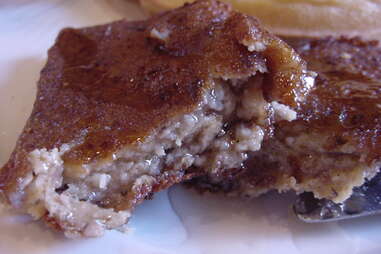 15. Our palates are equipped to handle scrapple
Before the nose-to-tail movement was a thing, we were eating scrapple for breakfast. Don't tell your squeamish friends what's in it until after they're finished.

16. We've got the most passionate sports fans
Notice we did not say "best" or "most humane" fans, but the fire is here. It might be a fire we set under Joel Embiid's ass, but it's here.

17. We gave the world Rocky
Outside of the historic side of the city, probably the best-known contribution Philly has made to pop culture is Stallone's seminal character. You can thank us for Rocky I, II and IV; to a lesser extent, Rocky III; and to a much, much lesser extent Rocky Balboa. We don't need to talk about Rocky V.
Sign up here for our daily Philly email and be the first to get all the food/drink/fun in town.