Sure, Philadelphia has its secrets, but one thing that pretty much everyone knows is that having a crappy experience at Philly International is pretty unavoidable -- it is, after all, ranked as one of the worst airports in the country. Lucky for you, we're giving you eight hacks to help make your time at PHL a little easier.
 
Get picked up at the airport with your own car
If you have to drive to the airport, skip the long-term budget lots and park at Winner Parking. For a $14 fee -- in addition to the daily rate -- you can call ahead and have your car waiting curbside at baggage claim. Not having to take the shuttle is worth 14 bucks.
Recommended Video
Timothy DeLaGhetto and David So Devour all the Bacon at the Blue Ribbon Bacon Festival
Check out wait times (before) heading to the airport
There are two types of people in this world -- those that have to get to the airport super early and those that want to wait until the very last minute (think the McCallisters in Home Alone). Or if you're smart, you can use the TSA's website to check real-time status for security checkpoints to hit and get to the airport in that Goldilocks zone of not too early, not too late.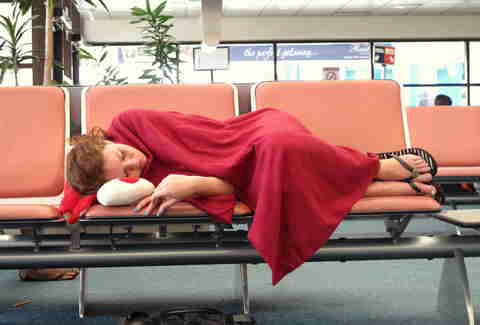 Get your free overnight swag
If you have the unfortunate luck of having to spend the night at the airport, the free information desk (open 24 hours) will give you a blanket, pillow, and bottle of water. It's not much, but 1) it's free and 2) it's better than trying to curl up into the fetal position on one of the chair/bench thingies.
 
Check out (a book) at the Virtual Library
If you failed to heed our advice about getting through security at the proper time and have some time to kill, you're in luck. The Philly Airport has a free digital library located in the walkway between Terminals D and E. You can check out e-books, podcasts, and other digital content to help pass the time.
 
Connect to free wireless
This ones pretty straightforward: Philadelphia Airport has free Wi-Fi access at all terminals. It might not be fast enough to stream Planes, Trains and Automobiles but you can still check your email and browse the web. Can't really complain when it's free, right?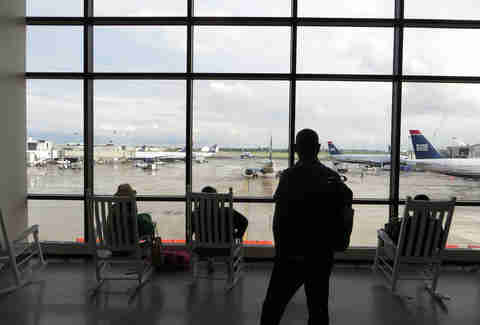 Catch the shuttle from Terminal F
As we all know, there's a reason that Terminal F is referred to as Terminal F'd: it's isolated from the rest of the airport, so if you have a connecting flight in one of the other terminals, you'll have to deal with TSA again to get to any of the other gates. That is, unless, you take the free shuttle connecting Terminal F to Terminals A and B/C (separate shuttles so don't get that confused). It might not always be on time but it still beats having to trudge through security a second time. 
 
Grab a beer at Local Tavern
And as long as you are in Terminal F, grab a beer (or two) at Local Tavern. From Philly Iron Chef Jose Garces, Local has a tap selection that would rival some of the better beer bars in the city, making it a good spot to get over those pre-flight jitters.
Fly out of Newark
This might seem counterintuitive, but if you're looking for a cheap flight out of Philly, Newark Airport might be your best bet. Search for flights out of ZFV, which is the airport code for 30th Street Station. From 30th, you can take the train to Newark Int'l -- it might add a bit of time to the trip but you could save some big bucks.
Sign up here for our daily Philly email and be the first to get all the food/drink/fun in town.
Dan actually wrote this while at PHL, so [most] of the above has been personally verified. You can follow him on Instagram or Twitter at @dannypageviews.