The 5 best ways to hit the water in and around Philly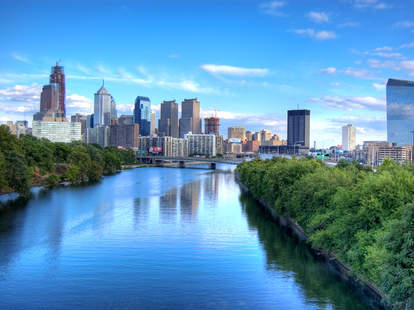 Did you know Philadelphia has more public pools than anywhere else in the country? Of course you did -- they're everywhere. So set out for uncharted waters with our guide to the tightest inlets for beach-clubbing and country-tubing on both sides of the Delaware (and in it, too).
5. Bucks County River Country
2 Walters Ln; Point Pleasant; 215.297.5000
Drop your apple bottom in the Eden of the East and spend the day tubing down the slow-flowing Delaware in an inflatable, and, assuming that doesn't also describe your girlfriend, opt for the Point Pleasant camp's Snuggle Tubes for two.
4. Schuylkill Banks Kayak Tours
Walnut St Docks (Schuylkill River Trail); 215.222.6030
The most legal fun you can have under the Walnut St Bridge -- spend an hour paddling the banks of the Schuylkill with Hidden River Outfitters on moonlit nighttime excursions that cruise through all the West Philly wildlife that never makes the papers.
3. Six Flags Hurricane Harbor
Six Flags Blvd; Jackson, NJ; 732.928.1821
The Schuylkill not flowing fast enough? Abandon Boathouse Row for the winding land river that's the NJ Turnpike and shore up your courage for Great Adventure's next door splash park packed with more than two dozen 21st-century water thrills, including the newly launched Big Wave Racer, where you launch yourself head-first down an 1800ft aerodynamic slide.
2. The Pool After Dark at Harrah's
777 Harrah's Blvd; Atlantic City; 800.645.6774
Lines not your thing? Skip the velvet rope at The Pool After Dark, where Harrah's glass-domed biosphere is swimming with floating go-go dancers, party hosts like Paris Hilton, and freshly tanned Jersey girls who you'd swear sport their own floatation devices, and where bottle service banquettes sit above your own private hot tub.
1. HQ Beach Club at Revel
500 Boardwalk; Atlantic City; 855.348.0500
Don't want the party to stop come sunrise? Conquer the EDM dance parties going down every weekend at Revel's luxe dayclub, where trunks and bikinis are the only dress code, cocktails come by the pitcher, and models on surfboards deliver champagne to your own elevated plunge pool, perfect for snuggling -- no tube required.