Too often, you send guests home from Philly with little more than a Whiz stain on their favorite... well, everything... and hazy memories of the hundred local drafts you readily recommended for spilling on that Whiz stain to keep it from setting in. But not every visitor can be entertained on beer and cheesesteaks alone, so take Thrillist Philly's advice for handling anyone who comes your way. THE GUEST: YOUR SISTER AND HER THREE-YEAR-OLD KID Remember when you were three and the only things that made hanging out with your sister tolerable were video games and ice cream? Your nephew probably feels the same way, so improve his hand-eye coordination, glucose levels, and ability to drive her crazy with this high-scoring tyke tour that demonstrates your brotherly love. Sundaes at Franklin Fountain, 116 Market St; 215.627.1899 Give the kid the scoop on American ice cream history with turn-of-the-century sundaes dished out in an old-world soda shop.
Breakfast at Honey's Sit'n Eat, 800 N 4th St; 215.925.1150
The South St breakfast spot's got ample stroller parking, a rainbow of menu-friendly crayons atop the table, and massive portions of syrupy, bacon-stuffed pancakes even more tempting than that Banana Mania yellow.

The Franklin Institute, 222 N 20th St; 215.448.1200
The MFA may as well be called the Please Don't Touch Museum, so go to the Franklin Institute to get a feel for mad science, like liquid nitrogen air shows and epic soap bubble monsters.
Pizza Brain, 2313 Frankford Ave; 215.291.2965
Want to do more than touch? Eat your way through the world's first pizza museum in Fishtown.

Dave & Buster's, 325 N Columbus Blvd; 215.413.1951
Right beside adult playground Morgan's Pier, D&B doesn't just serve It' Always Sunny's favorite steak -- it has every arcade game under the sun, even though it's actually more under a bunch of fluorescent lighting.


THE GUEST: YOUR GRANDPARENTS
Show your grandparents there's more throwback action in Philadelphia than that Randall Cunningham shirt at Mitchell & Ness, when your birthday's only five weeks away, and it's the last one in your size, and it's almost football season, and...

The Flea at the Piazza at Schmidt's, 1050 N Hancock St; 215.467.4603
Reclaim everything you broke when you were little -- like last Thanksgiving -- during the Brooklyn Flea's Sunday pop-ups in NoLibs.
National Constitution Center, 525 Arch St; 215.409.6600
Take pride in outliving the hippie movement at the NCC's 1968 exhibition.

A Show at the Kimmel Center, 300 S Broad St; 215.670.2300
Bring the night home down the block at the Kimmel for off-Broadway Broadway shows like Wicked, Once, and Footloose.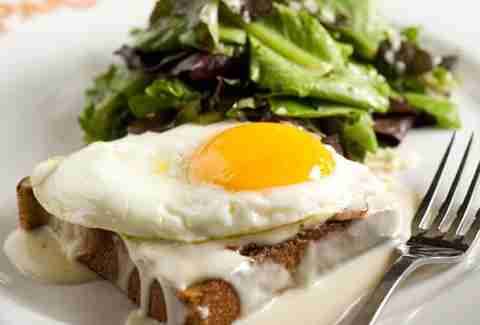 Parc, 227 S 18th St; 215.545.2262
You can sit in the park when you get home -- start your stay on the park at Stephen Starr's open-air Rittenhouse-side brasserie.

Happy Hour at 10 Arts at the Ritz Carlton, 10 Avenue of The Arts; 215.523.8273
$5 gourmet apps make an early bird date night at prices from back when they were actually dating.


THE GUEST: YOUR FRAT BUDDY WHO CAN'T DRINK ANYMORE FOR VARIOUS REASONS
Remember that time your buddy thought it best to ride the SEPTA naked because he wanted to let his clothes dry after swimming the Delaware? He doesn't. So give him a weekend he'll never forget with a booze-free bender of food trucks and naked girls, neither of which he'll be tempted to lift. This time.

The Food Trucks at Drexel, Multiple Locations
Binge, uh, eat down a two-block crawl of the city's most gluttonous food trucks and drink in bowls of Buffalo chicken mac & cheese and Old Bay tots.
Barcade, 1114 Frankford Ave; 215.634.4400
Crush your boozily diluted friends and their Tapper high score aspirations at Fishtown's old-school video game-lined bar.

SugarHouse Casino, 1001 N Delaware Ave; 267.232.2000
Play all day on the Delaware without getting wet inside Philly's first gambling den. Citizens Bank Park doesn't count.
Crusader Paintball, 225 Lincoln Highway; Fairless Hills; 215.949.4600
You know you guys probably have some issues left over from back in the day to work through, and what better place to do it than this massive outdoor paintball facility just outside the city?

Burlesque at PhilaMOCA, 531 N 12th St; 267.519.9651
Better than taking your Fodor's in the bathtub, see Naked Girls Reading's monthly themed stripteases in a former Chinatown mausoleum guaranteed not to be in any guidebook.