40 Signs You're a Philadelphia Douchebag
There are 1.5 million people in Philadelphia, and approximately 1.499 million of them are douchebags. Are you one of 'em? Probably. Especially if you're tripping one of these 40 red flags that broadly define our peculiar brand of chest-thumping, booze-fueled, screw-everyone-if-they're-not-an-Eagles fan douchery. Sound like anyone you know?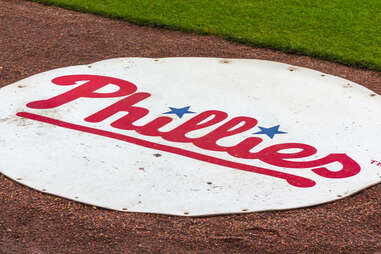 1. You're a Philly sports fan
There's a reason everyone thinks that we have the worst fans in America.

2. You've already purchased a Tim Tebow jersey
3. You wear a Phillies jersey in January
4. You're Ruben Amaro
No explanation needed.

6. You only go to Chinatown after midnight
There's more to Chinatown than drunken dumplings at David's Mai Lai Wah.
7. You bust out an Eagles chant at inappropriate times
Which, as it turns out, is any time you aren't actively watching a 'Birds game.

8. You've never been to one of the city's BYOBs
9. You've taken the Erin Express this past year...
... and you're over the age of, like, 22. OK, maybe 25.

10. You still go out on Friday nights in Manayunk and you're over 30
11. You were sad when McFadden's closed
12. You mock Jersey but still go there for your gas, groceries, and, of course, the shore
13. You moved back from NYC but can't stop talking about how much better things are in NY
We liked it better when you were living there too.

14. You drive 20mi under or 30mi over the speed limit on Kelly or Lincoln Drive
15. You have a car in the city but never move it
16. You're Howard Eskin
17. You've eaten a Philly taco
It's even worse if that's why you were on South Street to begin with.
18. You spend your weekend mornings rowing on the Schuylkill
Good for you. Most of us (me) prefer to spend Saturday morning shamefully eating leftover pizza and watching Netflix.

19. You left your credit card at Ladder last night
20. You save your parking spot with an old chair
Just because it's a Philly thing doesn't make it acceptable.

21. You hold up traffic taking a selfie in front of City Hall
22. You went to the Prep
FTP.

23. You work for the PPA
24. You've only visited the Museum of Art to run the Rocky steps
25. You ignore the personal space rule on the benches at Rittenhouse Square
Just like the urinal at work, don't take the middle spot.

26. You lost my bag the last time I flew out of Philly
So this applies to 99% of all people working at the airport.

27. You go to Parc to "people watch"
We guess it's not creepy if you are paying $15 for a glass of wine.

28. You are willing to wait in a line that stretches into the parking lot at Trader Joe's
Nothing is worth waiting in line for that long. Besides, Wegmans > Trader Joe's.

29. You're a driver that doesn't understand what the bike lanes are for
30. You're very Philly
31. You humblebrag about how easy the Broad Street Run was
Listen. It might not be the hardest race in the world but it's still 10mi.

32. You've been to the Wing Bowl
33. You take out your trash days before trash night
34. You cruise up and down South Street trying to show off
Nice rims on a crappy car = crappy car.

35. You litter
Stop. Trashing. Our. City.

36. The only time you leave PA is to head down the Shore
37. You only order lagers at the bar
38. You complain about how bad the drivers are in Philadelphia
Every city has terrible drivers, suck it up.

39. You're a terrible tipper
Restaurant workers rely on tips, Shady.

40. You don't have a sense of humor about lists like this
Like we said before, every city has its fair share. So don't lose that edge that makes Philly, Philly. E.A.G.L.E.S. EAGLES.
Sign up here for our daily Philly email and be the first to get all the food/drink/fun in town.