Block parties, beer ice cream, and moonshine milkshakes
Philadelphia Event of the Week
Saturday, July 12th: Head to Festival Pier and enjoy performances by Neon Trees, The Fray, and others at the Radio 104.5 Summer Block Party. But get there early to claim a space away from the... um, fray.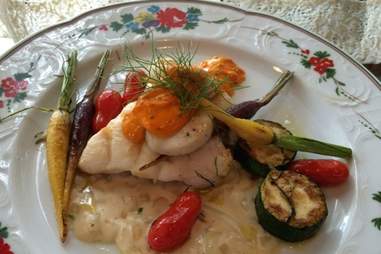 Peter Brewslow PR
Friday, July 11th: Paris Bistro serving a special Storming the Bistro prix fixe menu in honor of France's national holiday. That means you get four courses with wine pairings for $60 max. The deal continues throughout the weekend. Continue Reading
Saturday, July 12th: London Grill is also making a weekend of Bastille Day, so celebrate it like a true Frenchman and enjoy casually smoking and not having a job! Just kidding, enjoy a post-Eastern State Reenactment party that includes street dancing and beaucoup de vin starting at 6:30pm.
Ongoing: On Saturdays for the rest of the Summer, score $4 moonshine milkshakes from JJ Bootleggers, which we'll be ordering alongside the restaurant's wings, which're also made with said hooch.


Joanne Jordan
Ongoing: July is National Ice Cream Month, so naturally, Victory has created three beer-inspired flavors, including Hopped Up Devil, which is based on HopDevil IPA wort, and one called Triple Monkey, which uses wort from their popular Golden Monkey and then adds banana and a pecan swirl.