Actually Cool Things to Do in Philadelphia This Fall
Oktoberfest, pumpkin patches, and more Gritty sightings than ever.
When the weather cools down to anything below a steamy boil, the events calendar heats up in Philly. This fall, we'll see the continued return of in-person events, including many of the city's premiere events like parades, film festivals, and Oktoberfests. After a year without them, make it your mission to attend as many cornerstone fall celebrations as possible and get out there this fall to some of the coolest events and activities our city has to offer.
Thursday, September 9 – Sunday, October 3
Various locations
FringeArts' Fringe Festival returns for another year, held primarily in-person this year, with four weeks of programming, which includes a comedic, historic, and magical tour through Old City, a beach-set opera, and hundreds of other thrilling acts.
Cost: Varies by performance
Friday, September 17 – Sunday, September 19
Wiggins Park & BB&T Pavilion
Usually held mid-summer, the WXPN XPoNential Music Festival will take place right on the cusp of fall this year. With acts scheduled to play on multiple stages in Wiggins Park during the day, and headliners slated for BB&T Pavilion at night, the weekend promises non-stop music. Buckle up for sets from Tedeschi Trucks Band, Adia Victoria, Dawes, Los Lobos, and more.
Cost: $170 three-day pass, $60-70 single day pass, $20-372 BB&T show tickets
Friday, September 17 – Sunday, September 19
Rittenhouse Square
The Rittenhouse Square Fine Art Show, the nearly century-old al fresco display of exquisite artistry, returns to the square, bringing more than 100 exhibiting artists showcasing for-sale paintings, prints, sculpture, mixed media, and more.
Cost: Pay-as-you-go
Saturday, September 18
Brauhaus Schmitz
Under a big ole tent, no one will know the difference between South Street and Germany. Brauhaus Schmitz's yearly Oktoberfest features 10 German beers, roast pork and sausage, sauerkraut, bratwurst, folk dancing, and traditional music. (Capacity is restricted to 1,000 people this year, so try to get there early to ensure you get in without too much of a wait.)
Cost: Pay-as-you-go, depending on much drinking you want to do
Saturday, September 18 – Thursday, September 30
Various locations
The fall edition of Center City Restaurant Week provides three-course $20 lunches and $40 dinners—deals are offered for indoor, outdoor, or to-go dining—at a number of eateries across the city's hub, including Bank & Bourbon, Gabi, SOUTH Kitchen & Jazz Club, and more.
Cost: $20-40
Sunday, September 19
N. 5th St. between Huntingdon and Somerset Streets
Feria del Barrio, an annual block party organized by Taller Puertorriqueño, promoting Latino art, culture, education, health, economic development, and community, returns to the Centro de Oro neighborhood. Expect live Latin music and dancing, excellent food, arts and crafts, and more.
Cost: Pay-as-you-go
Sunday, September 19
Lincoln Financial Field
The Eagles take on the San Francisco 49ers in their 2021-22 season home opener. Kickoff is at 1 pm, but we all know you'll be tailgating before then.
Cost: $168 and up
Friday, September 24 – Sunday, November 7
Linvilla Orchards
Media's Linvilla Orchards will transform into an autumn lover's dream for Pumpkinland. Between hayrides around the farm and a corn maze to pony rides and pick-your-own apples, there's plenty of fall goodness to go around. Oh, and apple cider.
Cost: Pay-as-you-go
Friday, September 24 – Saturday, November 13
Eastern State Penitentiary
Eastern State's storied Halloween exhibits will get an update this year. Instead of Terror Behind The Walls, the penitentiary hosts Halloween Nights, featuring 15 attractions in the cell blocks, including two scary haunted houses, four themed bars, three interactive performances, and more.
Cost: $34-49
Sunday, September 26
Benjamin Franklin Parkway
With music, poetry, and dance, the annual Puerto Rican Day Parade is always a sight to behold. The Benjamin Franklin Parkway will be awash in flags, traditional attire, and ornate floats, so don't miss out on this annual celebration.
Cost: Free
Sunday, September 26
Germantown Avenue, between Willow Grove and Rex Avenues, Chestnut Hill
More than 100 artists will set up shop in Chestnut Hill, selling their original work—like oils, watercolors, etchings, photography, sculpture, pottery, wood crafts, and jewelry—to the masses for the Chestnut Hill Fall For The Arts Festival. Plus, live music, kiddie rides, and al fresco dining at the neighborhood's eateries.
Cost: Pay-as-you-go
Wednesday, October 6 – Sunday, October 10
Various locations
Live music is back! Over the course of Philly Music Week, we pat ourselves on the back with five nights of locally-billed shows of all different genres at a different independent venue each night. Lineup faves include The Menzingers, Alex G, Hop Along, Moor Mother, Son Little, West Philadelphia Orchestra, and more.
Cost: Free-$39
Wednesday, October 6 – Sunday, October 17
Various locations
DesignPhiladelphia, the city's festival dedicated to architecture and design returns for another year with parties, exhibitions, and design-focused events. The extravaganza kicks off with a party at Cherry Street Pier and continues with a multi-site exhibition centering on design and motherhood.
Cost: Varies per event
Thursday, October 7 and Saturday, October 9
King of Prussia Mall
Sample from more than 100 brews from the likes of Double Nickel Brewing Company, Evil Genius Beer Company, Sly Fox Brewing Company, and more at the King of Prussia Beerfest Royale. If food is more your thing, get tickets to October 7's King's Plate event which features food and beer pairings, or come for the Main Event on October 9 to explore a full lineup of breweries, food, music, lawn games, and more.
Cost: $15-75
Sunday, October 10
Broad Street
Blue Cross Broad Street Run, Philly's iconic 10-mile race down Broad Street, returns for 2021 with a new fall date, but all the same revelry down the center of the city. Spectators aren't allowed at the start or finish line, but give those runners some hoots and hollers if you see them trotting.
Cost: Free to spectate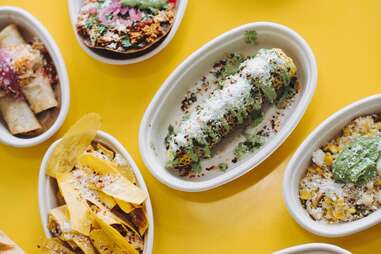 Monday, October 11 – Friday, October 15
Various locations
Organized as a means of supporting Latino-owned restaurants impacted by the pandemic, Dine Latino Restaurant Week offers indoor, outdoor, and to-go dining deals. All you have to do is make plans to eat at restaurants like El Merkury, La Cazuelas, and Los Cuatro Soles, order two dinner entrees and you'll get an appetizer or dessert free.
Cost: Pay-as-you-go
Friday, October 15
Wells Fargo Center
It's hockey season, baby! In their home opener, the Flyers face up against the Vancouver Canucks. There will be ice. There will be Gritty. Plan accordingly.
Cost $63 and up
Wednesday, October 20 – Sunday, November 28
Academy of Music
Maybe you streamed it non-stop during the pandemic. Now, you'll have a chance to see Hamilton live on stage. Lin-Manuel Miranda's smash musical telling the story of Alexander Hamilton through hip hop will come to Philly this fall for a five-and-a-half week run, and you know tickets are going to go fast. So don't wait.
Cost: $39-399
Thursday, October 21 – Sunday, October 31
Philadelphia Film Center, PFS Bourse Theater, PFS Drive-In at the Navy Yard
For the 30th year, the Philadelphia Film Festival is bringing a slate of acclaimed features, documentaries, shorts, and more to the city for the last week of October. This year marks a return to in-person screenings, panel discussions, actor and director Q&As, and parties, so don't miss it.
Cost: $175-1500 for badges, TBD for individual film screenings
Friday, October 22
Wells Fargo Center
In another home opener at the Wells Fargo Center, our professional basketball team, the 76ers, (maybe you've heard of some of their players, like Matisse Thybulle and Joel Embiid?) welcome the Brooklyn Nets to Philly to kick off the season. Yay sports!
Cost: $140 and up
Saturday, October 23
Ridge Avenue between Lyceum and Leverington Avenues, Roxborough
An Oktoberfest actually set in October takes place in Roxborough with brews, polka band performances, and delicious bites. Leave the drinking to the adults; there will be activities for attendees of all ages.
Cost: Pay-as-you-go
Saturday, October 30
East Passyunk Avenue around the Singing Fountain
It's the ultimate day of fall fun in South Philly at the East Passyunk Fall Fest and Spooky Saturday. Kids can enter a costume contest, decorate a pumpkin, and go trick-or-treating along the avenue while the grown ups can peruse arts vendors and sip on seasonal cocktails.
Cost: Pay-as-you-go
Thursday, November 4 – Sunday, November 14
Various locations
A number of AAPI filmmakers and storytellers share work spotlighting the Asian experience during the Philadelphia Asian American Film Festival. Hang tight for official film selections and event lineup for the 10-day festival.
Cost: TBA
Saturday, November 6
Wells Fargo Center
Put on your best Gritty-inspired running gear, lace up your shoes, and go for a three-mile trot around the sporting complex area for the Gritty 5K. Running fast is totally optional. There may or may not be flying cakes.
Cost: $50
Friday, November 5 – Sunday, November 7
Pennsylvania Convention Center
Nearly 200 craft artists, specializing in mixed media, wood, leather, basketry, and more, will show off their work at the Convention Center for the Philadelphia Museum of Art Contemporary Art Show, with ticket proceeds directly benefiting the art museum.
Cost: $20-25
Sunday, November 14
Sly Fox Brewery, Pottstown
No wheels? No problem. Watch on as cyclocross racers pedal through a multi-terrain course out in Pottstown. You, on the other hand, can drink Sly Fox Brewing Company's beer and eat food.
Cost: Pay-as-you-go
Friday, November 19 – Sunday, November 21
Benjamin Franklin Parkway at 22nd St.
The Philadelphia Marathon will again bring thousands of runners to the city streets in November, but if 26.2 miles seems too daunting, there's a half marathon (13.1 miles), as well as an 8K you can run. If you'd prefer to stick to the sidelines, that's cool, too. Just arm yourself with a sign and head to a cheering section.
Cost: Free to watch; marathon registration is $155, half-marathon registration is $140, 8K registration is $40
Thursday, November 25
Benjamin Franklin Parkway
A time-honored tradition, the 6 ABC Philadelphia Thanksgiving Day Parade is back again this year and bringing plenty of floats, balloons, bands, dancers, performers—and, of course, Santa, to offer a peek into next season.
Cost: Free