If you were raised on the East Coast between DC and Boston, there is a distinct possibility that you visited Philadelphia on a field trip and stared vacantly at the Liberty Bell. Very neat. But now you're all grown up, and a visit to Philly -- whether your own or your visiting friend's who you must impress -- no longer requires interacting with someone dressed like Ben Franklin (though we have nothing against that). From five-star cuisine to hidden cocktail lounges to museum dance parties to interactive feasts for the eyes, Philly has tons more to see beyond the places where National Treasure were filmed. Check out our picks for how to spend your time in Philly.
Recommended Video
Please Don't Hang Up: Miami
Wonder as you wander through Wonderspace
$
Fashion District 
New to Philly this year is Wonderspace, an interactive gallery of modern and experiential art from around the world. Wonderspace first got started with pop-ups in San Diego, but this new Philly gallery is its first East Coast expansion. You'll find it in the ever-growing Fashion District mall, where you can wander through fields of dancing lights or try out the virtual reality experiences that make it well worth the $24 ticket (plus discounts for students, seniors, military, and kiddos).
Turn your pizza party into a dance party at Porta
$$
Market East
Porta has a huge, multi-level space on Chestnut Street that not only boasts amazing house-made mozzarella, mouth-watering pasta, and perfectly doughed pizza, but the Philly outpost of the Asbury Park original also has an elevated loft space where you can get your groove along with help from area DJs, without a cover fee. In for something more low key? Big TVs make it a perfect place to watch the game, or head over on Tuesdays for trivia night.
Have some drag with your brunch at Cuba Libre
$$
Old City
Restaurant and rum bar Cuba Libre has always moonlighted as a dance club, but now when you head over early you can catch a new kind of show. Cuba Libre is the latest Philly restaurant to hop on the drag brunch train, rolling out themed drag brunches alongside a buffet of Latin pastries, brunch paella, and more from James Beard-winning chef Guillermo Pernot. Dish out an extra $25 and you can make your brunch bubbly and boozy.
Head to NoLibs for some hipster bowling at North Bowl
$$
Northern Liberties
Sure, bowling might have been that activity you all did in high school when you had officially given up, but it's a whole new world and Philly is home to several boozy and decidedly hip bowling destinations. North Bowl is on Northern Liberties' main 2nd Street drag, home to two bars, bowling lanes, and a loft space for chilling and playing pool. The food and drink does not disappoint, either: expect local beers, specialty cocktails, tacos, and so much mac n' cheese.
Experience dinner theatre, revisited, at Fabrika
$$
Fishtown
The long-awaited Fabrika is finally open in 2020, giving visitors a chance to try a unique menu of eastern Mediterranian and Levantine cuisine in a freshly rehabbed warehouse that boasts a big ol' stage right in the middle for cabaret, contortionists, and any other act that fits. Fabrika also has a diverse global wine list and a kitchen that stays open 'til 1am on the weekend.
Gather at Navy Yard for the boozy festival of the season
$$
The Navy Yard
This spring a new festival, Spiked, is premiering in Philly at the Navy Yard, where you can sample anything "spiked" except beer. That means hard seltzers (v big rn), ciders, spiked coffee, and whatever other creations are all up for grabs. Philly will be the first city to host Spiked before moving on to other cities, but even when the circus leaves town there is always another Navy Yard bash around the bend, often from Spiked creators Starfish Junction Productions. It makes for a great excuse to visit this interesting and oft-overlooked part of the city. 
Grab everything on the conveyor belt at Chubby Cattle
$$
Chinatown
As Philly's premier hotpot destination, Chubby Cattle is the perfect experiential dining option no matter what you're craving, whether you're springing for the wagyu beef or just sticking with noodles. Select your broth of choice for making your food (and try all your friends') and keep your eyes peeled for the treats that cross your path on the ever-moving (and refrigerated) conveyer belt. It's a one-of-a-kind dining experience in Philly.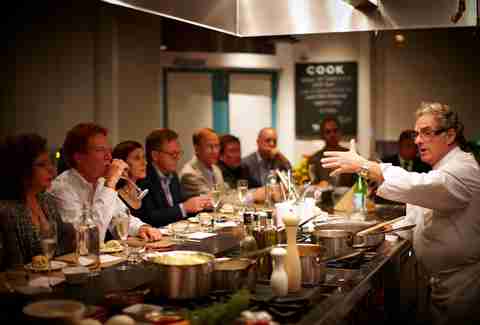 $$$
Rittenhouse
Fancy yourself a foodie? Cook hosts classes almost every day to prove to you that you may have a long way to go. What set this apart, however, is the intimate size of the class -- everyone gathers around one big counter space for learning (and tasting), and the impressive caliber of Cook's instructors, almost always tapped from Philly's favorite restaurants. Classes typically sell out right away, so keep track of what's on the menu here.
Grab some drinks and a bite over your new favorite board game
$
Multiple locations
For gaming nerds who need an activity with their bar outing, there are plenty of spots in Philly for capitalizing on the "gamify-your-drinking" trend. Head to Fairmount for Thirsty Dice, a bar with hundreds of games and on-staff experts to guide you, or you can try Roxborough's Basement Board Game Cafe -- a BYOB where a $10 cover gets you access to more than 500 games. Also in on the trend is Queen & Rook, a cozy spot in the Headhouse District that offers femme and nonbinary game nights, plus a full menu including weekend brunch.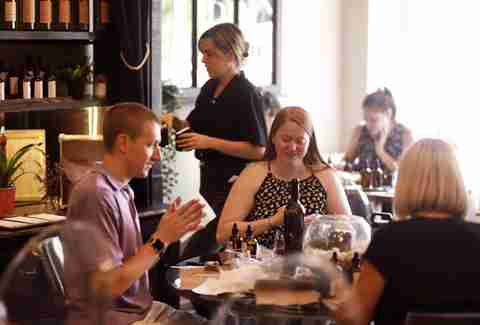 Find your signature scent and let it burn
$$
Multiple locations
Wax + Wine has been growing in popularity since opening in Philly in 2018, welcoming candle-loving sniffers to BYOB whilst mixing hot wax in their own custom-created scent. Since then the trend has spread throughout Philly, with a location of Paddywax, another candle-making experience, opening on Chestnut Street late last year as an extension of the nationwide brand. And we're not done yet. Another addition is Old City's The Candle Studio, where you can blend your own candles in different jar sizes.
Sip fancy drinks & put your phone away at Philly's best speakeasies
$$
Multiple locations
Okay. Sometimes it's not easy to get in, but it's all for a relatively understandable reason: limited seating means ultra luxe comfort once you're inside. Philly is peppered with pseudo-hidden bars, each usually with a waitlist and some strict guidelines once you pass through -- like never wear shorts or whip out your phone at the cash-only Hop Sing Laundromat. You can also walk through the kitchen at El Rey to access the hidden stairway to the Ranstead Room, the dim and romantic cocktail lounge covered with ornately framed nude paintings.
Free
Old City
After renovations closed the pedestrian accessway to the Benjamin Franklin Bridge for over a year, the new bridge access ramp is now open, allowing pedestrians, runners, and bikers easy access to the pathway along the bridge. Grab an Indego bike share and take a cruise from Philly into New Jersey and back, a three-mile round trip. Not in for the cardio? You can also check out regular free yoga classes at the Race Street Pier with still stellar views of the iconic bridge. 
Head out to the Main Line for a mini beer crawl
$$
Main Line
If you're feeling adventurous and want to introduce visitors to craft beer they haven't already heard of, hop a train out to Ardmore and show off the Tired Hands Fermentaria (or the smaller brew cafe) where you can sample beers and savory bites. Then swing two towns over to Bryn Mawr's Tin Lizard Brewing, where authentic BBQ is on the menu with craft beer and wine.
Hit up the can't-miss breweries and newcomers of Philly's beer scene
$$
Various location
There's plenty of locally brewed craft beer to check out throughout Philly, whether you opt for the expanded Yards venue in Spring Garden, or want to sample brews from newer Love City. Venture to East Kenzo/Fishtown for some '80s and '90s nostalgia at Evil Genius Beer, then walk to the Piazza for some brews (and really good bar food) at Urban Village. Be sure to see the bougie and beautiful way a brewery can be decorated at Hops Brewerytown before heading to West Philly or Point Breeze for one of the two Dock Street locations.
Find your seat at Philly's loveliest rooftop bars
$$
Various locations
Philly actually does have some amazing views, and come time for warm weather, everyone is clamoring to find them. Whether you're counting the days until Bok Bar reopens for the season or you've been enjoying the all-year rooftops of Attico and newcomer El Techo, there are many Philly rooftop bars calling your name.
See a comedy show followed by go-go dancing
$
Chinatown/Callowhill
Philadelphia is home to some decent comedy clubs, but you have to pick the right ones. Chinatown's Good Good Comedy Theatre has a great community of diverse comedians performing both scripted sketches and improv. The best part? After seeing a BYO show, you can walk just a few blocks up and hit up the Trestle Inn, where the theme is strong whiskey and go-go dancers. If the season is right, you can hop over a block to The Patio, the outdoor bar beneath the Rail Park that looks straight out of 1965 Palm Springs.
Check out Philly's bookstore renaissance
$
Citywide
Even as online retailers continue to rule the world, shoppers are thirsty for a return to brick-and-mortar shopping, as evidenced by the growing number of cute, boutique-style bookstores opening around Philadelphia. Head to Shakespeare & Co., the first non-NYC location of the Manhattan institution, which opened on Walnut Street in 2018 and features its very own print-by-request book printer. Check out South Philly's A Novel Idea on Passyunk as well, where you'll find ongoing author readings and writing events or Uncle Bobbie's Coffee and Books in Germantown -- opened by Temple University professor and CNN commentator Marc Lamont Hill -- which scores high on communal hangs, coffee, and author visits.
 
See public art up close and personal on a Mural Arts tour
$
Citywide
We don't mean to brag, but buildings and facades in all of Philly's neighborhoods are decorated with thousands of murals. Mural Arts Philadelphia is dedicated to preserving existing murals, commissioning new ones, and engaging the public to marvel at them. Luckily, you can feast your eyes on our city specific art via a Mural Arts tour, led by one of Mural Arts' experts. You'll be guided either by foot, by train, or by trolley.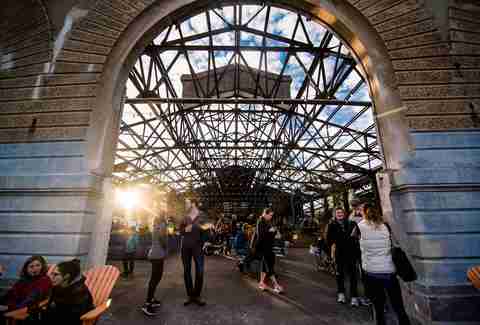 Explore the Delaware River Waterfront
Free
Penn's Landing/Columbus Boulevard
Regardless of the time of year, there are plenty of attractions and events along our easternmost riverfront. In the summer, take a few laps around the outdoor roller rink at Blue Cross RiverRink Summerfest or hang in a hammock at Spruce Street Harbor Park. Come wintertime, the roller rink turns into an ice rink, complete with a cozy lodge and warm comfort foods. All year long, check out art installations, artisan markets, movie screenings, and kids activities at Cherry Street Pier, or head to a cultural or community celebration at the Great Plaza at Penn's Landing.
$
Old City
After an extensive renovation, the new food hall at the historic Philadelphia Bourse (seriously, it was founded in 1891) is home to some of the city's most exciting eateries. Try Filipino comfort food at Lalo, Chinese dumplings at Pinch, fried chicken at Freebyrd Chicken, or ice cream at Scoop DeVille. We dare you to make it a marathon sesh, trying a little bit from each of the 30 food and drink vendors.
Get cozy at the Random Tea Room
$
Northern Liberties
For a taste of what the Philly arts scene has to offer, there's no easier method than settling in at the Random Tea Room and checking out the spot's alternating art exhibits, performances, and extremely random treasures, plus tarot card readings in the back.
Have an after-hours night at the museum
$
Logan Circle
The exhibits and mainstays at the Franklin Institute are, let's face it, designed for hordes of school-aged kids on a field trip, but are just as cool when you're grown up. Head to a Science After Hours event, where you can drink openly and wander around the museum while taking in the sights of the night's theme. Past themes have been speakeasies, Harry Potter, the cosmos -- the sky is literally the limit.
Free
University City
Sometimes the biggest acts touring in Philadelphia will throw in a bonus midday concert for fans, completely free. You can find these shows at noon on most Fridays at the World Cafe Live, where WXPN is headquartered -- just make sure you reserve your tickets online ahead of time before they "sell" out.
$$$
Various locations
While it's not a simple feat to get a table at Zahav, there's no better time than when you have guests in town to eat somewhere fancy and spring for that extra bottle of wine for the table. Whether you want to sample Lebanese fare at the beloved Suraya or devour a 10-course Japanese dinner at Double Knot, Philly has you covered. There's no better time to be adventurous than when you're hosting visitors.
$
Kensington
At Keystone, you'll get to relive a favorite childhood pastime with the added benefits of adulthood -- i.e., alcohol. Keystone is BYO, meaning your own food and drink are both welcome, and they won't even be mad if you hang on to your beer while trying to get a hole-in-one (though you probably won't). Pace yourself, though, because the course is tougher than it looks.
Attend Philly's hottest events of the season
Free-$$
Various locations
There are lots of evergreen, year-round activities worth doing in Philly, but we've got just as many (if not more) one-off events worth your time -- which is why we took all those great events, and put them into a comprehensive seasonal calendar.
Explore the Italian Market
$
Italian Market
The stretch of 9th Street from Fitzwater to Wharton is home to many merchants serving up Italian delicacies, from the iconic cheese and meat shop DiBruno Bros. to Sarcone's Bakery. Plus, let's not forget the authentic Mexican eateries along the corridor: Blue Corn Mexican Restaurant and Bar, South Philly Barbacoa, and Tortilleria San Roman. If this is all too much to remember, sign up for a walking tour, where a guide will take you to numerous Italian Market hotspots for quick bites. 
Go to Chestnut Hill for the festival formerly known as Harry Potter
$
Chestnut Hill
Formerly known as the Chestnut Hill Harry Potter Festival, the Witches & Wizard weekend allures people to the Hogsmeade-esque aesthetic of Chestnut Hill for a bewitching pop up every October. Expect a Halloween-themed bar crawl, a Quidditch tournament, hay rides, and other festival fare.
Dance to everything from Latin music to club bops
$
Various locations
Don't discount Philly's nightlife scene. Whether you're up for an Old City/Center City club experience -- like Concourse Dance Bar, Cuba Libre, or Woody's -- or a grittier experience at the Dolphin, the Barbary, or Ulana's, Philly's got something to fit every mood.
Tour Philly's growing distilleries
$$
Various locations
We've always been a good town for craft beer, but more distilleries are on the rise downtown than ever before. Try Manatawny Still Works -- the tasting room is on Passyunk Avenue -- for all kinds of locally made liquors, then head up to Kenzo's Federal Distilling for some Stateside Urbancraft Vodka.
Catch a FringeArts act at La Peg
$$
Penn's Landing
The FringeArts building overlooking the Benny Franks bridge and Delaware River is a sprawling space perfect for most occasions -- from casual outdoor fire pit drinking to bourgeois theater viewing experiences. Whether you prefer dirty cabaret acts or conceptual artists, there are tons of shows at La Peg every month, all of which you can enjoy while grabbing a drink (or a three-course meal) at the restored warehouse space.
$-$$
Various locations
Yes, your beloved local dive undoubtedly has the best Citywide Special in town, but that doesn't mean you shouldn't class things up every now and then. Whether you're entertaining friends or just looking to be entertained with a drink in hand, you should make it a point to try each of Philly's best bars at least once -- which is why we went through the trouble of pointing them out.
$-$$
Various locations
When you get a dining scene as diverse as the one in Philly, you end up with a laundry list of must-try items like bacon grease popcorn, Crabfries, tomato pie, and of course, many, many cheesesteaks. Whether you're a local or a visitor, there's bound to be something on our bucket list of Philly foods that you've never tried before… so, go and try that thing.
Check out the bridges and brews of Manayunk
$
Manayunk
We suggest a walk along the river and over to Manayunk, where you can check out the gorgeous bridges that sit at the bottom of the hilly neighborhood. Stroll through the Main Street shops stretching from Green Lane to Manayunk Brewing, where you can sample yet more craft beer and enjoy outdoor riverside views.
Get spooked at Eastern State Penitentiary
$
Fairmount
Another equally excellent tourist attraction still amenable to Philly regulars is the Eastern State Penitentiary, where you can wander through the now defunct, probably haunted prison where Al Capone was jailed. Try the audio tour, and you'll get a retelling from the one and only Steve Buscemi.
$
Various locations
Some folks who aren't from around here may think donuts and fried chicken are an odd combination. These people are incorrect. Show them why at FedNuts, and order will be restored to the universe.
$
Old City and Northern Liberties
Even if you've already gone a million times, First Friday is never a bad suggestion for a night out, and is a definite must-do for an out-of-towner. Rub elbows with cultured Philadelphians at art galleries serving cocktails on the (wait for it) first Friday of every month, then hit up places like the Victoria Freehouse to catch a drag or comedy event, which always seem to be scheduled for First Friday as well.
$$
The Parkway
Speaking of artsy, end-of-week happenings, try the Philadelphia Museum of Art for its Friday series where cocktails, small bites, and live music (plus after-hours museum access) are always on the menu. Depending on the night you go, you could see a jazz quartet, folk music, or even Dan Deacon. The best part? Your admission -- the price of one ticket to the museum -- is redeemable all day long the following day.
$
Queen Village
Everyone in Philly can recognize the work of Isaiah Zagar on outdoor mosaics across the city, but his walkable work of art on South Street is an attraction that tourists and locals alike can appreciate -- plus it makes great Instagram fodder, if you're into that.
MORE: Explore the magical world of mosaic art in Philadelphia.
$
Various
It's pretty impossible for any out of towner not to mention cheesesteaks (or Will Smith) when talking about Philadelphia, but it's not as though locals are tired of them either. Stay clear of the flashy tourist traps (you know the ones), and venture to Dalessandro's in Roxborough, stand in line at Jim's, take the El to Girard for Joe's Steaks + Soda Shop, or stay in Center City for Steve's Prince of Steaks. There are obviously dozens more worth the visit -- which is why we've put together a guide to the best cheesesteaks in town.
Sign up here for our daily Philly email and be the first to get all the food/drink/fun in town.