The 17 All-Time Greatest Things to Do in Philadelphia
Run up the 'Rocky' Steps, cheer all the local sports teams, and explore the dive bar scene.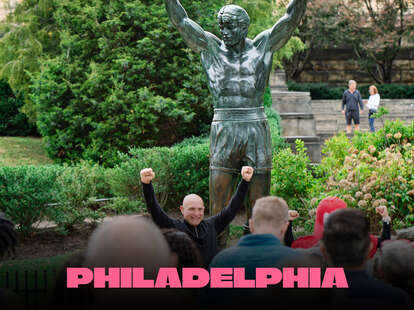 Philadelphia Museum of Art Steps, aka the 'Rocky' Steps

| Photo by Gene Smirnov for Thrillist
Philadelphia Museum of Art Steps, aka the 'Rocky' Steps

| Photo by Gene Smirnov for Thrillist
There's only one Philadelphia. The City of Brotherly Love is where you can find uniquely specific delicacies—like cheesesteak and soft pretzels—along with experiences like the Mummers Parade and Rocky Steps. And while you may have your sights set on Philly's world-class art museums and restaurants, you'll also need some help filling in all the gaps.
After checking out the super hot wine bar scene, make plans for dive bars, a year-round sports calendar (if you haven't heard about Philly's team spirit, you soon will), and essential ways to enjoy the outdoors. Without further ado, here are the 17 all-time greatest things to do in Philadelphia.
Things to Do in Philly in Fall and Winter
6abc Dunkin' Thanksgiving Day Parade
Art Museum Area
As a century-old tradition, the 6abc Dunkin' Thanksgiving Day Parade returns to the Benjamin Franklin Parkway with balloons, floats, marching bands, and plenty to cheer on. Starting at 8:30 am on November 23, expect special appearances by Kelly Ripa, Mark Consuelos and Carson Kressley, and cheer on performances from The Commodores, Village People, the Walnut Street Theatre's production of Beauty and the Beast, and more.
Delaware River Waterfront
Columbus Avenue
From cultural centers located on rehabbed piers to seasonal parks along the river, the Delaware River Waterfront is more than just beautiful views (though it is that, too). Take in such views of the river, the Benjamin Franklin Bridge, and the Center City skyline from Race Street Pier before heading to Cherry Street Pier to check out what local artists are working on in their studios. In the late fall and winter, lace up your ice skates for a few laps around the rink at Winterfest. The festival also features food and drink and games.
Longwood Gardens
Kennett Square
Truly a year-round destination, Longwood Gardens promises seasonal horticultural beauty with different exhibitions timed to peak blooms. In the fall, the Chrysanthemum Festival puts the distinct flower on display. Come winter, both the outdoor grounds and indoor conservatories are awash in lights and holiday decorations for the famous Longwood Christmas. Warm up in the conservatory during Winter Wonder under the glass of the conservatory. Take your time here and enjoy a leisurely stroll throughout the entire grounds.
Founders Philly Freeze-Out
Manayunk
On February 3, Main Street Manayunk transforms into a winter wonderland during the Founders Philly Freeze-Out, an annual event that pairs ice cold beer and, well… ice. Founders Brewing Co. beers will be on special tap at different neighborhood bars and restaurants, while ice sculptors and shopping vendors will take over the streets. Plus, don't miss the annual Chowder Crawl, where you can try tons of—you guessed it—chowder.
7th Ward
Society Hill
Encompassing the areas that are now known as Society Hill and Graduate Hospital, the 7th Ward was the epicenter for Black Americans in 19th century Philadelphia. A new walking tour, held on Saturdays through late February, takes visitors to notable landmarks, like Mother Bethel AME and Engine Company No. 11, to learn about the history and people who defined it like Octavius Catto, Fanny Jackson Coppin, and W.E.B. Du Bois.
Where to Enjoy Sports in Philly
Rocky Steps
Art Museum Area
Recreate one of the most memorable moments in film history by taking part in one of the most quintessential Philly activities. Whether you've watched Rocky or not, you've likely seen the epic training montage that ends with a triumphant jaunt up the Philadelphia Museum of Art steps. Be the star of your own movie and take the steps two at a time and hoist your arms in the air once you reach the top. While you're at it, snap a pic next to the Rocky Statue that sits at the base of the steps. Groutfit not required.
Pro Sports
Stadium Complex & Chester
When you're here, you're a Philly fan. (Sorry, those are just the rules.) Nothing gives you as authentic a taste of local personality as rubbing shoulders with Philly sports fans. During football season, the city bleeds green for the Eagles, who play at Lincoln Financial Field. Right down the road is Wells Fargo Center where the 76ers (Philly's pro basketball team) and the Flyers (our hockey team) hold court during the winter and spring. Take yourself out to the ballgame and check out the Phillies at Citizens Bank Park. Not far out of city limits, in Chester, the Philadelphia Union play a little footie for adoring fans at Subaru Park.
Stadium Tours
Stadium Complex
So maybe there are no home games when you're visiting, but you'd still like to check out where all the athletic action happens. Problem solved: Get a behind-the-scenes look at our teams' home fields. Lincoln Financial Field welcomes fans for both self-guided and private tours where you can get a Bird's eye view from the field, a peek at the locker room, and the post-game interview room. Tours are available to the public at Wells Fargo Center and Citizens Bank Park, too—complete with stops at the Phillies Dugout, the Hall of Fame Club, and Broadcast Booth.
Schuylkill River
Kelly Drive
Out of the nearly 75 miles of trails along the Schuylkill River, 37 of them are in Philadelphia. One of the most popular segments is from Schuylkill Banks to East Falls, where the paved path is particularly amenable to walking, running, biking, and rollerblading. You can access the trail from Schuylkill Banks (take the stairs from Walnut Street down to the river) or at Lloyd Hall by the Philadelphia Museum of Art (800 Boathouse Row). Opt to rent bikes at Lloyd Hall or hop on a bikeshare at the Strawberry Mansion Indego station. Enjoy the particularly idyllic views of the river—made much more scenic in the fall when the leaves change color.
Where to Drink in Philly
Sports Bars
Various locations
If you can't make it in person, there's always the next best thing: A sports bar. Philly is home to plenty of options filled with TVs and likeminded diehards who also appreciate a cold one. There's the classic Chickie's and Pete's, complete with three bars and lots of screens, and Xfinity Live! (more of a party vibe with lots of bars and standing room), both within arm's reach of the stadiums in South Philly. Then there's Cavanaugh's (reserve your table for NFL games); Fado Irish Pub (wake up early for screenings of international soccer games); McGillin's (find drink specials during every local pro sports game); and Bar-Ly (Chinatown's only sports bar) for more beer-and-ball fun.
Cocktails with Activities
Various locations
For unique drinking experiences, pair your booze with a board game, candle-making, and more. For any ping pong lovers among us, SPIN features 16 ping pong tables surrounding a wrap-around bar in a downtown subterranean setting. Wax + Wine combines a wine bar with a candle shop in Old City—and the best part is, you get to make the candles yourself. Craft Beer and putt putt go hand in hand at Francisville's Libertee Grounds. Choose from one of over 1,300 games at Queen & Rook, a board game cafe, in Society Hill. Just a few blocks away is Philly Cheese School, where classes pairing cheese with cocktails, whiskey, and wine are offered.
Rooftop Bars
Various locations
When the weather's nice, there's no better place to imbibe than at a rooftop bar. One of the few breweries with a rooftop patio is Victory Brewing Company, who's seasonal outdoor space boasts views of the Benjamin Franklin Parkway and downtown skyscrapers. Assembly is open year-round and is your spot for both luxe nighttime cocktail sipping and watching the Thanksgiving Day Parade. South Philly's famous Bok Bar is open seasonally but tops the list of unique cityviews. Take an elevator to the 11th floor of the Motto By Hilton hotel and marvel at the Rittenhouse skyscrapers over margs at El Techo, open year-round.
Craft Breweries
Various locations
Philadelphia is a city of craft brew nuts—and we have the cred to prove it. The craft beer boom began locally in 1985 with Dock Street Brewery, a women-owned brewery that's still thriving to this day with locations in Point Breeze and Fishtown. Since then, hundreds of other breweries have called Philly home—and helped make Philly a name in craft beer—like Yards Brewing Co., Philadelphia Brewing Company, Evil Genius, and Love City Brewing. Some newcomers worth checking out include Two Locals Brewing Company, Carbon Copy, Brewery ARS, and Meyers Brewing Company. If you have the whole family with you, there are a number of kid-friendly spots, too.
Dive Bars
Various locations
There's really only one way to drink like a Philadelphian, and that's at a dive bar. The city's greatest characters and friendliest personalities throw back a few at spots like Dirty Frank's, The El Bar, and Oscar's Tavern where the beer is cheap and the lights are low. Bob and Barbara's is the home of the Citywide (a PBR and a shot of Jim Beam), so be sure to order one of those. For a place with really great plant-based food options (in addition to the most memorable graffitied walls), head to Tattooed Mom. Score a free shot on your birthday at Ray's Happy Birthday Bar—or just pay for one any other day of the year.
Where to Explore the Outdoors in Philly
Fairmount Park
East and West Fairmount Park
As the city's largest park, Fairmount Park encompasses just over 2,000 acres on both the east and west sides of the Schuylkill River. This vast green space offers just about any outdoor activity you can think of: hiking, running, cycling, nature-observing, cemetery visiting, picnicking, and more. Some notable trails are the Boxers' Trail and the Trolley Trail that traces a former trolley line. Visit historic mansions from the 18th and 19th centuries to see how the local elite spent their summers in style. And to see where many historic locals were laid to rest, Laurel Hill Cemetery hosts tours of the vast burial grounds, complete with ornate headstones and mausoleums. For tranquility, Pavilion in the Trees is a hidden outpost with 24-foot high views.
Magic Gardens
Bella Vista
Created by artist Isaiah Zagar, Philadelphia's Magic Gardens is a bi-level outdoor sculpture garden and indoor gallery covered with mosaics comprised of handmade tiles, bottles, bicycle wheels, mirror, and international folk art. Since opening in 2008, it's been a feast for the eyes for locals and tourists alike, thanks to their tours, gallery shows, and evening events. Every time you visit is a little different, thanks to the way the light hits the mosaicked walls.
World's Largest Outdoor Art Gallery
Various locations
Dubbed the "Mural Capital of the World," Philly is home to some 4,400 murals, many of which were created through Mural Arts, the country's largest public arts program. The organization hosts a number of different tours by foot, trolley, train, bike, and more. Stick to specific neighborhoods, like Center City or Bella Vista, or cover more ground with a trolley tour that takes you west of Broad Street. The tour schedule is updated seasonally, so take advantage of new offerings.