Sure, we've already told you where to eat, where to drink, what to listen to, and where to shop, but what about the stuff you need to do between now and... well, when you die? Don't worry, 'cause we've assembled a list of things you've gotta do in Philly before you kick the bucket. Or move to New York, at which point you'll be dead to us anyway.
Recommended Video
Meat Flowers Are Here to Give You The Best Valentine's Day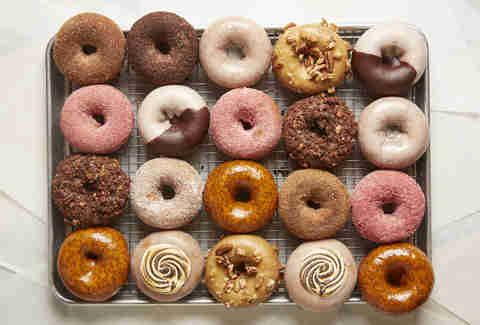 1. Eat the fried chicken (all three glazes and all three seasonings) at Federal Donuts
And the donuts too, duh.
2. Go to the Barbary on a Monday for Tiger Beats
Just don't get caught on the hipster cam if you're poorly dressed.
3. Nosh on Chickie's & Pete's Crab Fries at a Phillies game
You've got to focus on something positive.
4. Go to Voyeur at 2:30am after the bars have closed
You might need the weekend to recover afterward.
5. Go ahead and run up the Rocky steps at the Art Museum
You know you want to.
6. Go to a Friday Free at Noon Concert at XPN
It'll be the best lunch break decision that you ever made.
7. Sample errthang at Capogiro
Just don't settle on some basic jawn.
8. Wander into an artist warehouse on First Friday
It's called ~culture~, friends.
9. Add to your NYE hangover at the Mummers Parade
Aka, it's hair-of-the-dog time.
10. Head to 2 Street on New Year's Day
Enjoy the smell of urine and freedom.
11. Have a romantic moment near the Liberty Bell
It'll light up your date's face in only the right ways. Also, be mindful of security guards watching your PDA.
It's like a grad school field trip plus a bar.
If you're lucky, your special parts may end up on somebody's Instagram feed.
14. Try to impress your OkCupid date at the Barnes Foundation
Bonus points if you can rattle off a summary of The Art of the Steal.
This can happen any time of year if Halloween feels too far away.
16. Or go there for a little Francophilia on Bastille Day
Let them eat Tasty Cakes!
17. Skip work on a sunny day and find the Devil's Pool
Just don't tell anyone where it is once you've found it.
18. Take a peek at the URBN offices in the Navy Yard
It's just like Silicon Valley... only smaller.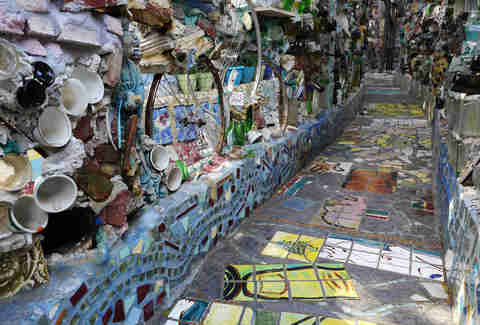 19. Take artsy pictures at the Magic Gardens
As Isaiah Zagar would say, "Art is the center of the real world."
See, Philly isn't that fat.
Rainbows for all!
22. Go down the shore
Re: not Atlantic City. Ocean City, Cape May... some place where the sand doesn't have shards in it.
23. Wait in line all Saturday morning for a Spread bagel
Top-notch Philly bagels are an ongoing anomaly.
So what if you can't sew?
25. Walk across the Ben Franklin Bridge
So. Much. Camden.
Again and again and again. 
27. Make regrettable life choices at McGillin's
Oh, the stories that alleyway could tell.
28. Shop exclusively at Wawa
Didn't know you could do that, did you?
29. Eat a cheesesteak
Blah blah blah blah blah. Just try any of these or these.
Admittance is free. The shame is priceless.
31. Order a turducken at Giunta's Prime Meats at Reading Terminal Market
It is a true specialty.
Or else they will put it away for you.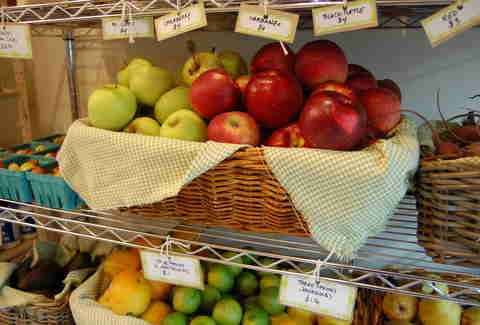 Stock up on some jams at East Passyunk's gourmet market, which perfectly blends what's old and what's new on the Avenue.
34. Get a dessert pizza at Max Brenner
FYI, it stays open 'til 1am.
It makes the Market-Frankford Line worthwhile.
36. Buy freaking SEPTA tokens
Before the antiquated system is actually antiquated and transit makes the citywide switch to a more "convenient" method.
Bring a picnic blanket and some good vibes.
38. Take a free brewery tour at Yards
Tours are free at the brewery weekends noon to 4pm.
It's a nice alternative to everything else in the 'hood.
40. Go broke eating at every single Stephen Starr and Jose Garces restaurant
It will take a while but it's completely worth it, you little foodie, you.
41. Go to Rita's on the first day of spring for free water ice
Even though it's usually still cold mid-March.
For the eerily lit geek in us all.
43. Go to Art After 5 at the Museum of Art
Cocktails just taste better in the Great Stair Hall.
44. Don't move to New York
Or do. Whatever. Just always be proud to rep Philly.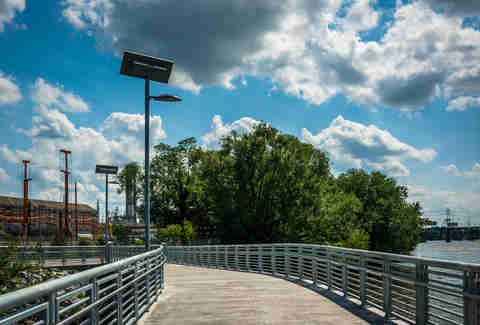 Or walk, or bike. Not only will you stumble across free movie nights during the summer, but you'll also be doing your heart a favor.
Get bread from Sarcone's, cheese from Di Bruno, pastries from Isgro, and a pear from whoever this bozo is.
It'll have a beer garden popping up Friday nights in April, May, and June. Actually, while we're on the subject...
50. Pay what you wish at the Rodin Museum
This place has more of the sculptor's work on display than you'll find anywhere else (outside of Paris).
51. Get up at the crack of dawn for the November Project
Yes, you'll have to hug strangers, but it's a free workout session every Wednesday and Friday. Suck it up, and #justshowup.
Leave your Center City/NoLibs/Fishtown bubble for an afternoon, and roam the 9,200 acres of public green space at Fairmount Park. Those happy hours will still be there when you're done.
53. Browse cocktail gear & clothes at Art in the Age
And on the off chance your home wet bar is already fully stocked/you're a teetotaler, this quirky shop also contains a Warby Parker showroom.
Yeah, it's full of middle-aged ladies taking 1,000 pictures, but there's no better way to welcome spring in Philly -- except, maybe, by posting up at one of our best bar patios.
Sign up here for our daily Philly email and be the first to get all the food/drink/fun in town.