3 beer fests + You = A great weekend
Philadelphia Event of the Week
Saturday, April 26th: Manayunk Brewery's 16th Annual Brew Fest means four intense hours of imbibing Saisons and farmhouse-style beers from local and regional suds-makers (and some international ones!) for $45.
Friday, April 25th, 5pm: Iron Hill Brewery is hosting their local farmhouse suds fest in the form of a Multi-Tap Event that boasts more than a half-dozen Saisons/other brews, and freeeeee farmhouse cheeses, baguettes, etc. for members of their beer club.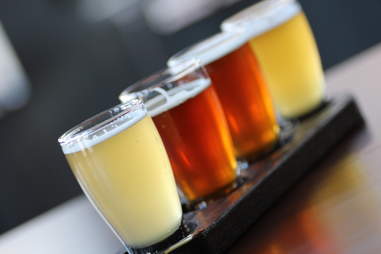 Saturday, April 26th: The Whiskey, Wine & Home Brew Festival is going down in Quakertown, and is pouring a slew of all the above spirits, including local favorites like Founders 4.7 ABV All Day IPA, plus offering up live music, beer pong, etc... as if the whiskey/wine/beer wasn't enough.


Sunday, April 27th: Taste of the Nation got 40 chefs (including the ones from some of your favorite food trucks) to show off their skills at Hotel Monaco. Tickets are $95, which by our math (and hopefully yours too, dummy) is just $2.37 a chef.