100 craft beers, naked (but classy!) women, and the world's largest Tetris game
Philadelphia Event of the Week
Friday, April 4th: Atlantic City kicks off a two-day beer festival with 100 brewers from around the country (including PA), plus a ton of AC eateries slinging wings, burgers, and other suds-appropriate savories, all to the backdrop of live tunes.
Friday, April 4th: The city's biggest nerd-fest, Philly Tech Week, kicks off tonight, meaning you can try your hand at the tallest game of Tetris ever outside the Cira Centre building, and hit the opening party, Arcade @ the Oval, starting at 7:30pm in... waitforit!... The Oval.
Continue Reading
Friday, April 4th: For a limited time, try Victory Brewing Company's new 1337 Ale (a hoppy, caramel malt-flavored affair), or their new beer-and-pretzel combo, which pairs Asher's dark chocolate pretzels with a small-batch, oak barrel-aged version of Victory's White Monkey brew.



Saturday, April 5th: The World Cafe Live is hosting Burlesque-a-Pades, a "Spring fling" featuring the the Pontani Sisters, and promising a "chorus line of cuties" on the upstairs stage. Tickets are $20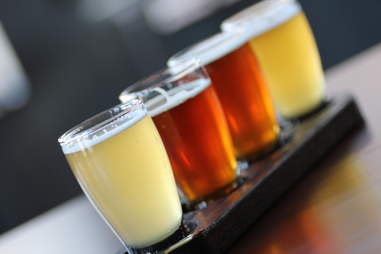 Monday, April 7th: Devil's Den, Old Eagle, and Barren Hill are celebrating the Phillies home opener (and National Session Beer Day) with a free rally towel and discounts on the eminently seasonable Yards Brawler.