Philadelphia Thursday, January 23rd: It's about three weeks into 2014, so it's time to ditch your resolutions... luckily, Rock On Philly's totally down to enable you with a Forget Your Resolution Party tonight at MilkBoy, featuring local Philly band Dayseam. Tickets start at $8.

Recommended Video
This Chinese Festival Is Like 'Frozen' Come to Life
Friday, January 24th: Jackie's King of Seafood Sports Bar is hosting their first annual 3 Kings Chicken & Fish Fry, which is serving up fried surf-and-turf-style eats, and is probably funded with stolen Iraqi gold, since tickets are just two for $25.


Continue Reading
Friday, January 24th, 5pm: In honor of National Peanut Butter Day, which is a thing, Devil's Den is hosting a night of PB-themed food, drafts, and drinks, like the chocolate-peanut butter DuClaw Sweet Baby Jesus and the mocha-tinged Twisted Pine Rhesus Stout. 


Saturday, January 25th: The Malt House is putting on an hour-long lecture on home brewing, which you'll promptly forget since they'll be pouring shloads of suds samples the whole time. Tickets are $15, and you can get 'em here.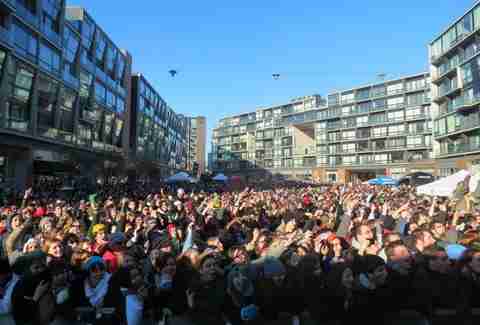 Saturday, January 25th: Philly's "alternative" radio station 104.5 (RIP Y100) hosts its annual Winter Jam at The Piazza at Schmidt's, with five bands (MS MR!) and no need to purchase tickets ahead of time.