So, you've hiked Camelback. It's gorgeous, and the approximately 12.5 million other people who've hiked it also think so. But really, how many times can you do Cholla and Echo Canyon Trail? We recommend taking the dirt road less traveled...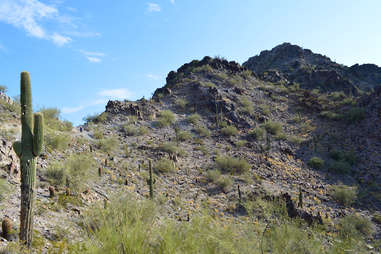 Freedom Trail
Phoenix
Distance: 1.2 miles
The 2,608ft Piestewa Peak, or Squaw Peak if you've lived in The Valley for more than a couple years, is basically Camelback's meaner sister. The Freedom Trail is all uphill and don't count on having the switchbacks and stairs guide you all the way up, they end. But, there is a handy handrail near the top -- just don't look down. If you're looking for solitude, this hike isn't the one. It's well traveled, but still a solid alternative to Camelback. Once you think you've reached the peak, you really haven't. Go to your left and keep hiking, then you'll find the official survey marker. Worth it? Totally.
Superstition Ridgeline
Apache Junction
Distance: 11.1 miles
Only for the bravest Phoenix hikers, the Superstition Ridgeline is exactly that -- superstitious. Don't believe everything you read on the Internet. Most trail review blogs and sites rate this hike as "easy" to "moderate" but we'd rate it "advanced." It's easy to lose your way up there and the trail isn't always marked and obvious. Head out before sunrise to make the most of the daylight and don't do this hike in the middle of summer. Pro tip: wear boots, long pants, and even gaiters. The cacti and prickly, thorny weeds along the 11-plus-mile trail are unrelenting.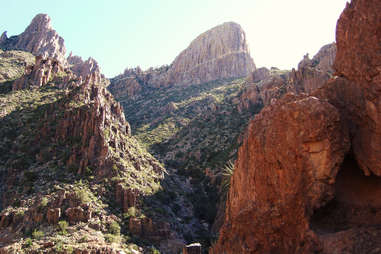 Siphon Draw Trail
Apache Junction
Distance: 4.8 miles
Searching for a hike that will take less than a day to conquer? Check out Apache Junction's Siphon Draw Trail. It's basically the good part of the Superstition Ridgeline without all of the hard work. When the hikers trekking the full 11 miles are coming down, you'll be going up to Flatiron. The towering rock walls make you realize how small you are and if you take this hike at the right time of year (hint: it's not summer) you can catch a glimpse of the waterfall. Wear hiking boots with lots of grip, towards the top the path is well traveled and has become smooth and slippery with time -- less-experienced (or less-agile) hikers might even want to bring trekking poles for extra stability and balance.
Sunrise Trail
Scottsdale
Distance: 5.8 miles
With a 1,300ft elevation gain, this two-hour out-and-back hike offers an enjoyable climb for hikers of all skill levels. Once you reach Sunrise Peak you'll have a 360-degree view of The Valley, including the world-famous fountain in Fountain Hills, Four Peaks, Scottsdale, and Phoenix. Be advised, it gets hot out there (no, really?) and there's not a lot of shady cover. Don't forget the sunscreen. SPF 50 should do it.
Quartz Peak
Buckeye
Distance: Six miles
Located within the Sierra Estrella mountains, Quartz Peak is a "difficult" trail that takes up to five hours to finish. It takes some work getting to the trailhead. The first few miles are a good warmup for the rest of the climb. We should mention that there's some bouldering and climbing required, but all the work is well worth it. The view is phenomenal and the peak is made up of milky white quartz. The road leading into Quartz Peak is rough, so driving your low-clearance car out is not advised. Don't say we didn't warn you.
National Trail
Phoenix
Distance: 14.3 miles
Phoenix's South Mountain Park is a 16,000-acre area made up of sprawling urban hiking paths, including National Trail. It takes just over a mile to get to the trailhead from the parking lot, but don't worry, it's mostly flat -- great for all the trail runners and cyclists out there -- and the rocky Sonoran landscape makes you feel like you're miles away from the city. On the way in you'll pass other trails like Marcos de Niza (0.9 miles) and Beverly Canyon (1.5 miles). At the start, keep left. If you hang a right you'll end up on Mormon Loop (1.3 miles). There's plenty of turf to check out, just be careful, if you plan to veer off National, carry a GPS, just in case, and always stay on the marked paths (don't be "that guy").
Tom's Thumb Trail
Scottsdale
Distance: 4.2 miles
Just 50 minutes from Downtown Phoenix, located inside of the McDowell Mountain Regional Park, Tom's Thumb Trail is an out-and-back hike that takes about two hours to complete. The first half of this hike is no walk in the park, and there are lots of switchbacks. Throughout the hike you'll witness rock formations that are unique to the Southwest as well as natural caves along the side trails and a view of the McDowell Mountain Range. Tom's Thumb Trail proves that there is beauty in the desert. It's closed in the summer but will reopen in November.
Papago Park
Phoenix
Distance: 2.2 miles
Great for hikers just starting out, Papago Park is a 2.2-mile loop located right in the middle of Phoenix. The mostly flat trail is easily accessible, just park East of Galvin Parkway or on McDowell. The paths offer some Instagram-worthy views of the golf course, caves, and the city. Although this is an "easy" trail, don't skimp out on bringing water. This is Phoenix, people!
Sign up here for our daily Phoenix email and be the first to get all the food/drink/fun in town.