Dating in Phoenix can be... difficult. There are a lot of fish in the sea -- or rather, cacti in the desert -- to sort through. It's even more difficult when the summer weather hits and everyone refuses to do anything remotely fun outside for fear of melting. So when you find yourself on your next Tinder/Hinge/Bumble/blind-date encounter, stop going to the same restaurant and movie theater (seriously, please). We've put together the best things to do in Phoenix no matter what kind of date you're on -- just put Moviepass away for tonight.
Recommended Video
This Therapy Pig Makes Travelers Feel Better About Flying
Try new flavors of coffee you never have before
Various locations
Learn something new about coffee with an expert-led "cupping" (that's fancy coffee speak for "tasting") session at Press Coffee Roasters. Taking place at various Press Coffee locations weekly on Saturday mornings, these hands-on cupping sessions provide java lovers a chance to sample four distinct coffees while learning about the journey from seed to cup. It's just $10 to register.
Find Elvis's guitar at the museum
North Phoenix
Packed full of 6,600 instruments from 200 countries and territories across the world, the Musical Instrument Museum is home to instruments played by music icons like Elvis Presley, Johnny Cash, John Lennon, and Stevie Ray Vaughan. Admission to the museum is $20 for adults, and it's worth scanning their events calendar for shows and talks before you snag one.
Discover a peaceful paradise at the Japanese garden
Downtown Phoenix
Explore the downtown oasis that is Ro Ho En, otherwise known as Phoenix's Japanese Friendship Garden. The walkable pathways wind through a lush green landscape peppered with plants native to Japan, koi-filled ponds, and cultural sculptures. Keep in mind that the garden is intended to be a space of harmony. It's $7 admission, and there's a general etiquette list of rules to follow for a reason, but it's also totally worth the quiet.
Sample cuisine from a James Beard-nominated chef
Various locations
Impress your date with a dinner reservation and taste the creativity of some of the most highly-regarded chefs in the Southwest at places like FnB and Barrio Cafe. Reservations at some of our best restaurants may not be cheap and they may not be the go-to first date option, but they will be worth it.
Check out a current exhibition at the art museum
Phoenix
The Phoenix Art Museum is the largest art museum in the Southwest, making it the perfect place to impress a date with even a smattering of art history trivia. The exhibitions are stunning too, with current runs of art tackling topics like border control, American regionalism, and one piece called "You Who Are Getting Obliterated in the Dancing Swarm of Fireflies." The latter is a light show you just have to see to believe. After, browse the artisan ice cream flavors at Melt.
Learn how beer is made at Four Peaks
Tempe
Go on a behind-the-scenes brewery tour with your date at Four Peaks to see firsthand how the beer you will be drinking later is made. Brewery tours at the flagship location happen each Saturday for free and offer you the opportunity to sample Four Peaks' award-winning brews.
Win some cash during bingo night
Fort McDowell
If you're a little nervous for your date, ease the tension with a few drinks, a little friendly competition, and the chance to win a lot of money. Once a month Fort McDowell Casino hosts midnight bingo, which is the perfect place for people watching. When you're done, take your winnings to the slots to test your luck.
Spend an afternoon with the butterflies
Scottsdale
Step inside the largest butterfly conservatory in the country and immerse yourself amongst 3,000 fluttering butterflies at Butterfly Wonderland. This date is sure to set your partner's heart-a-flutter. It's open 365 days a year and tickets are $23 for adults.
Sip wine in Old Town Scottsdale
Old Town Scottsdale
Our state is home to dozens of vineyards. And lucky for you, LDV Winery has an outpost right here in Scottsdale. You will probably learn a lot about your date over a few glasses of wine, so visit the tasting room for flights and small bites to really get to know the person you're dating.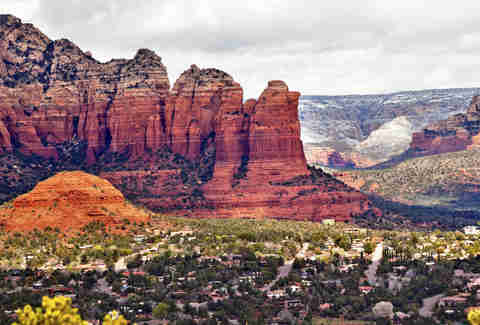 Sedona
If your date is willing to take a day trip to escape the heat, spend a few hours driving up to Sedona, and bring your bathing suits to take advantage of the swimming holes. Skip the long lines at Slide Rock and head to Grasshopper Point instead. You'll pay $8 to park your car and spend all day jumping off hidden cliffs into warm water. The best part? There are three trails to take easy hikes on which make for great picnic spots.
Have a cocktail and hang with a cockatoo
Downtown Chandler
The Perch is a rooftop bar like no other in Arizona. Besides the incredible views of downtown Chandler, the outdoor garden is home to over 50 tropical rescue birds. So while you grab your date one of their 40 craft beers on tap, they'll have someone to talk to... but their name might be Polly.
Zip-line through the trees at Flagstaff Extreme
Flagstaff
It's common to venture north during the summer in Arizona. The temperature drops at least 10 degrees, and there's actually nature to help shade you from the sun. At Flagstaff Extreme, they created a massive adventure and zip line course amid tall Ponderosa pine trees that are perfect for a day of active fun -- and a great workout, too.
Experience the ultimate trust fall
Scottsdale
When you're ready to give your budding relationship the ultimate trust test, go for an exhilarating trapeze session at I.FLY Trapeze. Located at The Phoenician, it provides classes where you and your date will learn the timing and the technique -- like a backflip dismount -- of all things trapeze.
Tour a working olive mill
Queen Creek
Head out to the East Valley and ramble through the olive groves at Queen Creek Olive Mill. Enjoy your choice of pizza from their lunch menu on the outdoor terrace and take a peek at the olive oil making process while you're there at one of the daily 45-minute tours.
Dine in the desert
Various locations
Grab two seats at the long table with Cloth & Flame and dine in the desert among cacti and a gang of friendly folk who appreciate good food and the great outdoors. Diners can expect a multi-course meal and drinks prepared by a guest chef. The dinners are pricey, but there's no other experience like it.
Go horseback riding along the lower Salt River
Mesa
Embrace your inner cowboy and romantic side and traverse cactus-dotted desert trails on horseback with your date. The experienced wranglers at Saguaro Lake Guest Ranch provide guided tours and a quick "how-to" before you saddle up. It's not cheap, but at $49/hour, it won't break your wallets either.
Have a drink at Arizona's only ice bar
Scottsdale
Pull on a pair of faux fur coats and make your way into Scottsdale's ice bar, Polar Bar. This Scottsdale drinkery features an ice-carved bar, ice-clad walls, and we can only assume the drinks are cold, too. Hopefully your date will warm up to you, but play it cool with the ice puns just to be on the safe side.
Kayak your way around Lake Kiwanis
Tempe
Delight in a leisurely paddle around Lake Kiwanis with your date in a double kayak rental. Somewhat of a hidden gem, Kiwanis Park is comprised of 125 acres of parkland and is located smack-dab in the heart of Tempe. You can probably spend hours here, so plan accordingly and bring a picnic.
Catch a magical Arizona sunset from a hot air balloon
Various Locations   
What is more romantic than a hot air balloon ride at sunset, after all? Sweep your date literally off their feet with a trip through the sky on Float Balloon Tours. The ballooning outfit even provides a full dinner and glass of sparkling to enjoy after the airborne journey.
Test your trivia skills together
Downtown Phoenix
Every Tuesday DeSoto Central Market hosts Taps & Trivia, a boozy trivia night perfectly suited for vivacious drinkers and thinkers alike. Pitchers are $5, plus there are prizes if your combined genius can prevail.  
Learn to cook like a culinary pro
Downtown Phoenix
For the foodies among us, Michelin-starred chef Alex Stratta offers cooking demonstrations at Match Restaurant & Lounge the first Saturday of each month. Couples can learn how to transform regular home-cooked meals into restaurant-quality dishes through a hands-on demo. Upon arrival you and your date will receive a welcome beverage, and once you're done cooking, you'll get to enjoy what you've made, of course.  
Swim with dolphins (literally)
Scottsdale
Yes, you and your date can get in the water and swim around with dolphins at Dolphinaris Arizona. It's not feasible for a first date by any stretch, but this is a terrific way for you and your date to say hello to one of the smartest creatures on the planet with a handshake or kiss from the pool deck. During this unforgettable experience, couples can find out what it is like to be a dolphin trainer for a day while learning about sea life and ocean conservation.
Hit up a boozy book club
Phoenix
For the bookish types, there's nothing more invigorating than poring over your latest read together. The First Draft Book Bar's monthly boozy book club is a great place to do that. Each month, there's a new book and a guided discussion that follows. And you can't go wrong with happy hour deals plus a discount on the book you'll be reading from Changing Hands bookstore.
Take an evening stroll in the Desert Botanical Garden
Desert Botanical Garden
The Desert Botanical Garden's Flashlight Tours are great for seeing all kinds of Phoenician plant life, and during the warmer months the park opens up their five trails at night to explore blooming plants and wildlife in the dark. It's BYOF (bring your own flashlight), but you'll see beautiful flowers you never could have imagined that could pop out of cacti in the nighttime, so it's totally worth the extra stop at CVS on your way.
Watch the sunset from the top of South Mountain -- without the hike
South Mountain Park
You'll probably want to avoid all forms of outdoor hiking in the summer, unless you like heatstroke or getting up at 4am. Luckily, South Mountain offers some of the best views of the city at sunset that you can drive to. The best bet is driving up to Dobbins Lookout around dusk to catch the sunset, and you'll probably also spot planes coming and going from Sky Harbor, too. Just make sure you have the perfect playlist for the ride up.
Cheer on the Diamondbacks
Downtown Phoenix
There's no reason you shouldn't catch at least one Diamondbacks game this season. The tickets run cheap, the stadium is air conditioned, and you can take the light rail downtown to avoid expensive parking costs. You'll really want to spend all of your money on the beer and food anyways. Save room for the asada dog for lunch, and then the churro dog for dessert.
Tee off your night at Topgolf
Scottsdale
Even if you or your date has never swung a golf club before, Topgolf is a fun game for everyone, especially when fueled by alcohol. Reserve a bay on a Friday night, but get to the venue early to grab a drink at the bar and play some foosball before your time slot. For $45 an hour, you'll want to spend at least two there because it's a blast trying to hit the targets, and also hilarious to watch when a newbie doesn't know how to aim.
Explore Africa (in Arizona)
Camp Verde
If you've ever wanted to hang out with lions, tigers, and bears, now's your chance. Out of Africa Wildlife Park is a little over an hour outside of Phoenix, but the close-up experience you have with these huge creatures is worth the drive. But if you're really trying to impress your date, splurge on the Expedition Passport, which is $53 for adults, to see all of the shows and to get the chance to feed a tiger.
Sign up here for our daily Phoenix email and be the first to get all the food/drink/fun in town.