So, you've decided it's time for a change of scenery (endless sunny skies just not doing it for you, huh?). Lucky you, you live in Phoenix. Aside from the abundant sunshine, Phoenix's place on the map makes it an ideal spot to start out on the open road. The Grand Canyon State is home to some pretty incredible places: Sedona, Flagstaff, Tucson, we could go on. Arizona, and the destinations just outside of the state lines are best explored on four-wheel, so buckle up, your next road trip begins right now.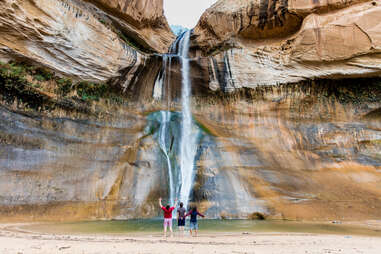 Grand Staircase-Escalante National Monument, Utah
Distance from Phoenix: 300 miles north, 4.5-hour drive
This orange-hued world of wonder spans across an impressive nearly one million acres—that's about the size of the state of Delaware, folks. A Utah backcountry destination for adventure-types and sightseers, Grand Staircase-Escalante National Monument boasts unfenced wilderness recreation opportunities and scenic drives practically anyone can appreciate.
Hiking? Just a few trailheads (Lower Calf Creek Falls and Peek-a-Boo and Spooky Gulch) can be reached by way of the region's paved roads. This is the backcountry, after all. Bring plenty of water and aim to visit when during spring or fall, when the temps aren't too hot or below freezing—they're just right.
Sedona, Arizona
Distance from Phoenix: 115 miles north; 2-hour drive
Sedona offers way more things to do than just Jeep tours, epic hikes, primo mountain biking trails, and an escape from the searing Phoenix temps. It's a spiritual mecca. Thousands of folks, from artists to healers, flock to the Northern Arizona town for a spiritual awakening. After you leave Sedona you'll believe that the vortex energies are very, very real. And you might just unlock your third eye against a backdrop of sculpted red rocks, canyons, pine forests, and desert.
Obviously this place draws its fair share of visitors. If you can, avoid the spring and summer seasons. Instead, visit Sedona during autumn. You'll get to peep the changing leaves, and there will be fewer tour busses crowding the streets.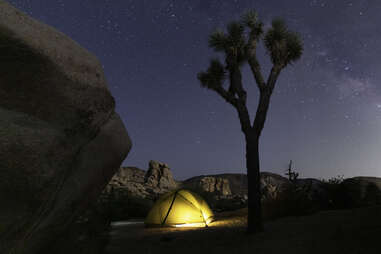 Joshua Tree, California
Distance from Phoenix: 222 miles west, 3.15-hour drive
Joshua Tree's unique landscape is like something from another universe. Luckily, you don't need space travel to get to the National Park. Whether you're into hiking, biking, camping, or rock climbing, there's an abundance of outdoor adventure to be had here. The stargazing at Joshua Tree ain't too shabby either.
Popular pullouts and lookout spots including Skull Rock and Keys View are heavily trafficked. Get your day started early or visit on weekdays to avoid the big crowds.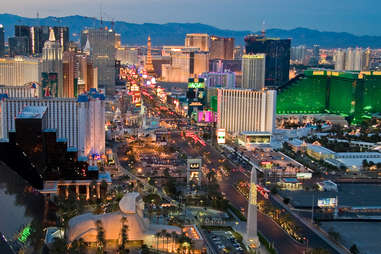 Las Vegas, Nevada
Distance from Phoenix: 296 miles north; 4.5-hour drive
The draw of Vegas' nightlife scene might get you to the infamous Strip. But don't skip the dozens of acclaimed bars, sushi joints, buffets, and award-winning, star-studded restaurants while you're skipping from casino-to-casino or jumping from club-to-club. And make time to explore the world of Omega Mart, Meow Wolf's second permanent installation. It's art. It's an experience. It's certainly something, that's for sure.
Get acquainted with this list right here. And secure those rooms, too. Vegas has no shortage of swanky hotels to kick-back in after a night out.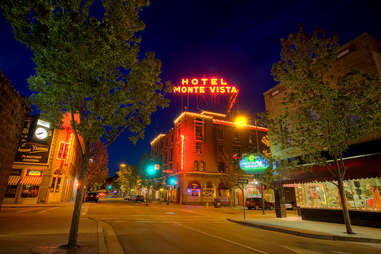 Flagstaff, Arizona
Distance from Phoenix: 144 miles north; 2-hour drive
Flagstaff is home to Humprey's Peak, the highest point in the state and one of the few places where you can ski and snowboard in Arizona. And for the uninitiated and new-to-AZ crowd, yes, it snows here. The High Country gets about 110-inches of the white stuff each year. The hippie-boho culture of Flagstaff brings in wanderers and travelers from all over the country. Whether you're up for a rigorous hike through scenic Coconino National Forest or game to tackle the Flagstaff Ale Trail, keeping it closer to civilization, there's something for everyone and every interest here; even if you're not exactly an outdoorsy type.
It's undeniable that Flagstaff is a gateway to outdoor adventure. And, it's less than 100 miles from Grand Canyon National Park. You can hit up both areas if you give yourself some extra time to visit America's most distinguished landmark.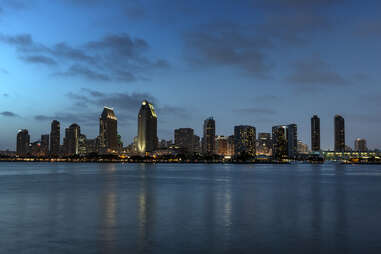 San Diego, California
Distance from Phoenix: 356 miles west; 5-hour drive
The California coast is the closest (American) beach within driving distance of Phoenix, which makes SD a must-visit for those of us who need to renew our passports. Whether you're bringing your dog or your surfboard, San Diego's expansive coastline (which spans a remarkable 70-miles!) has exactly what you're looking for—sand, sun, and fish tacos. When your stomach starts to rumble, wander into Galaxy Taco, Fish Shop, or Coxitan for some seriously good eats.
Parking in SD isn't always easy, but getting around is. Put your keys away and pile aboard the Old Town Trolly. The shuttle winds across a 24-mile loop and takes riders to hotspots like La Jolla, Mission Beach, Old Town, and Mt. Soledad.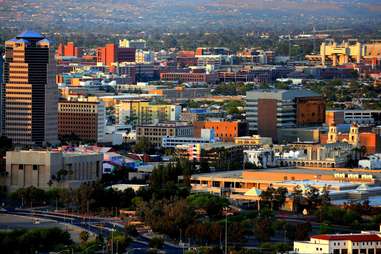 Tucson, Arizona
Distance from Phoenix: 116 miles south; 2-hour drive
Move over Tour de France, this bike-friendly Southwest city's got Tour de Tucson, a 104-mile bike ride through the unmistakable, cactus-dotted Sonoran Desert. Other notable sporting events include the Tucson Rodeo, MLS preseason training camp, and an epic PGA golf tournament. More than a sports hub, Tucson hosts an annual gem and mineral show that brings out thousands of crystal collectors each go-round. Tucson's been designated as a Worldwide City of Gastronomy, so you'll never be pressed to find something delicious. The city's also home to a handful of historic missions, including San Xavier del Bac, an architecture marvel that's a must-visit for anyone passing though. And, Saguaro National Park is just outside of the city limits.
You'll undoubtedly want to spend a weekend here. Make a reservation at Downtown Tucson's historic Hotel Congress. You'll be close to all of the action happening in the heart of the city. Or, escape to the Catalina Mountains and book a stay at Loews Ventana Canyon Resort for some serious R&R.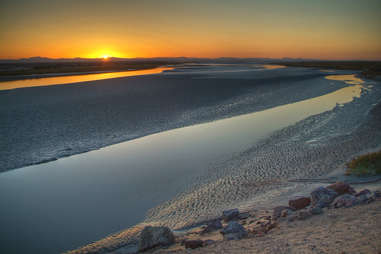 Puerto Penasco (Rocky Point), Sonora, Mexico
Distance from Phoenix: 212 miles south; 3.5-hour drive
Located in the Mexican state of Sonoran, this coastal town offers some of the top snorkeling, diving, kayaking, sailing tours, and fishing charters in the Gulf of California. While you're here, haggle with the merchants at Old Port, explore the super-scenic UNESCO World Heritage Site El Pinacate and Gran Desierto de Altar Biosphere Reserve, or spend your entire vacation drinking on the sunkissed playa (we don't judge!).
The best time to visit? March through June. Remember to pack your passport. And don't worry about exchanging currency, your money is good here.
Sonoita, Arizona
Distance from Phoenix: 161 miles south; 2.5-hour drive
One word: wine. While The Grand Canyon State may conjure up visions of dusty tumbleweeds and prickly cactus, and yes we have those things, Arizona is home to three distinct wine growing regions, too. Enter Sonoita, a charming, sweeping place where a dozen or so impassioned vintners tend to their fruitful vines. Sonita's wine history goes way back to the 16th century. And today, Sonoita has earned a American Viticultural Area (AVA) designation, making it the first region in Arizona to do so.
Tasting room stops at Rune Wines, Dos Cabezas Wineworks, and Arizona Hops and Vines are an absolute must-do.The area can be a bit sleepy, so plan your trip to coincide with one of the region's wine festivals to make the most of your visit. Naturally, you'll want to pick up a few bottles to take home, too.
Albuquerque, New Mexico
Distance from Phoenix: 421 miles east; 6.5-hour drive
Situated in Central New Mexico and straddling the Rio Grande stands Albuquerque, a growing artistic city that's the epitome of Southwestern culture. The Old Town District, which has been around since 1706, is lined with brick pathways, historic Pueblo-Spanish-style adobes, artisan shops, and eateries that dish New Mexican-style eats. Point your GPS towards Green Jeans Food Hall. Constructed from repurposed shipping containers, this lively hangout is home to a number of locally owned businesses, from juice bars to actual bars, that can get you acquainted with ABQ.
Make time to explore
Los Poblanos Inn
. The organic farm and historic inn is set among acres and acres of lavender fields that bloom through early summer
.
And if you want to see ABQ from a new perspective (which, who wouldn't?),
take the aerial tramway
all the way up to the top of Sandia Peak for some panoramic views of the city below.
Lauren Topor Reichert is a Phoenix-based nutritionist, writer, and photographer. Her favorite road trip snack is spicy mango and she's always game to take the road less-traveled. Follow her adventures around Arizona, and beyond, on Instagram.