Actually Cool Things You Can (Still) Do in Phoenix Right Now
All social distancing approved.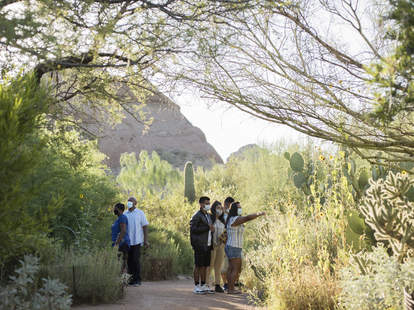 Arizona is working towards reopening. And although food festivals, live shows, and large public gatherings remain on pause or have altogether been rescheduled, there's absolutely no shortage of cool things to do in Phoenix at the moment -- while wearing a mask and social distancing, of course. From virtual tours and outdoor adventures to incredible bucket list experiences, here's just some of what Phoenix has to offer amidst these highly uncertain times.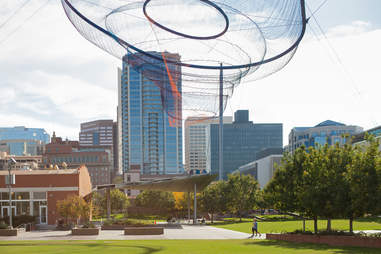 Mark Lipczynski
Have a picnic in an urban park
Multiple locations 
It's probably time to peel yourself away from the couch and get some fresh air. Luckily, metro Phoenix offers about 200 green spaces and parks that see millions of visitors annually. City parks like Papago, Encanto, Civic Space Park, and Hance Park all make ideal picnic locations. Find a public park in your neighborhood.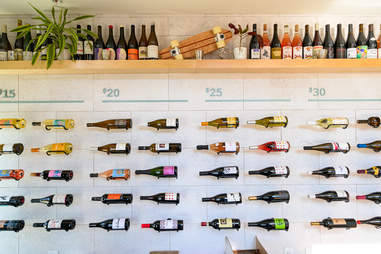 Visit Phoenix/An Pham
Downtown Phoenix
Don't forget the wine! Local bottle shop Sauvage has bottles upon bottles just waiting to find a home on your personal wine rack. Really, they offer a rotating selection of more than 200 unique vinos. So if you need a way to effortlessly impress a Zoom date or you're searching for a natural wine to bring to a picnic in the park, this is the place to spark a "spirited" (get it?) conversation. 
Explore historic, eclectic Grand Avenue
Grand Avenue  
Roosevelt Row is clearly the darling of Phoenix's arts districts. But the Grand Avenue neighborhood, one of the city's oldest commercial districts, provides a unique art-centered experience of its own. Positioned on the western edge of Downtown Phoenix, this funky hood is packed with galleries, artist studios, and eye-pleasing vintage architecture mixed with adaptive reuse projects and public art installations including murals and decorated planters at every turn.
Downtown Phoenix
The Phoenix Art Museum has gone digital. While the Downtown Phoenix museum is temporarily closed until further notice, its resourceful and creative minds have found a new way to bring art to the people and connect with the local community through virtual events, including guided meditations featuring artwork and free mindfulness sessions. Find a schedule of all the Phoenix Art Museum's virtual events right here.
Queen Creek
Queen Creek's Schnepf Farms is on the cusp of opening for the upcoming season. Whether you seek fresh lavender or naturally grown organic vegetables, there's always something in season and ripe for the pickin'. The pick-your-own experience is pretty straightforward. When you arrive at the farm, follow the signs or train tracks out to the garden (there are signs at each row.) Just weigh what you want to take home and pay on your way out. This certainly supersedes shopping at the grocery store.
Desert Botanical Garden
Phoenix
Home to thousands of species of trees, flowers, and cacti (including 485 rare and endangered species), Phoenix's Desert Botanical Garden -- one of only 24 botanical gardens accredited by the American Alliance of Museums -- is truly a plant-lovers dream. Spanning 140 acres, this urban garden space is basically a living museum where art and nature collide. With "Wild Rising" currently on view in the garden, the art installation by Cracking Art features colorful animals made from recycled plastics. DBG is also hosting recurring programming, including dog-friendly days and after-hours events featuring drinks and live music. Advanced ticket reservations are required to visit DBG.
Cruise through the Phoenix Zoo… literally
Phoenix
An international safari excursion is probably out of the question right now. Instead, go see the cute animals at the Phoenix Zoo. While the zoo is still temporarily closed to foot traffic, they have opened their gates to cars as part of what they are calling "Cruise the Zoo" -- so you can now see the flamingos and elephants all while maintaining a safe distance. Tickets for the experience are required and must be purchased online prior to your visit. 
Cycle your way around the Greenbelt 
Scottsdale, Tempe
Spanning 11 miles, this scenic pathway ranks among the top urban green spaces in the state. The Indian Bend Wash Greenbelt features an oasis of explorable paths, parks, and lakes that begins at Tempe Beach Park and stretches all the way to Shea Boulevard in Scottsdale. Explore the scenic route at your own pace or book a guided group bike tour here.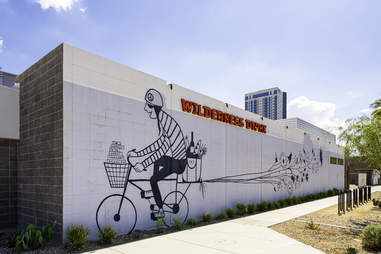 Visit Phoenix/An Pham
Downtown Phoenix
Our city's murals are way more than trendy Instagram backdrops. Many of these murals paint a picture of current social issues and tell stories of the past. It's not hard to be inspired by the vivid colors and beautiful pictures local street artists tell through their larger-than-life artworks. Malinda by Hugo Medina and Darrin Armijo-Wardle is a must-see. The colorful large-scale portrait depicts Malinda Curtis, an African American woman with a heart of gold who lived in the red light district of Downtown Phoenix in the late 1890s and whose drink of choice was always gin. She's positioned near the entrance of a sexy basement bar tucked inside of the Renaissance Hotel, aptly named Melinda's Alley. Additionally, the 1 ½ Street mural near The Churchill is an unmissable collaborative work that features murals done by 12 local artists. And we're just getting started. There's so much more to explore.
Downtown Phoenix
Modeled after the traditional strolling gardens throughout Japan, Phoenix's own Japanese Friendship Garden provides a serene and peaceful setting that often plays host to traditional tea ceremonies, informative workshops and group activities like tai chi classes. Let's be real, we could all use a little Zen these days, right? The Japanese Friendship Garden is abiding by CDC guidelines and requests that all guests properly social distance and wear a mask throughout the duration of their visit.
Rainbow Ryders
Catch a ride in a hot air balloon (and let your worries float away)
Multiple locations 
For some fun at high altitudes, catch a sunrise hot air balloon ride with the ballooning experts from Rainbow Ryders. Each hot air balloon excursion lasts from 45 minutes to one hour and provides epic views of the Sonoran Desert and Deer Valley. Sip on a prickly pear mimosa post-flight to commemorate the experience. 
Shop your community open-air farmers market
Multiple locations
Whether you're searching for locally made pasta, fresh-baked breads, cage-free eggs, organic veggies and fruits, or tapenades, Valley farmers markets including the Downtown Phoenix Farmers Market, Uptown Farmers Market, and Mesa Farmers Market & Flea have just what you need to conquer your shopping list. You'll also leave with a warm fuzzy feeling knowing that you're supporting local farmers, makers, and vendors during these uncertain times.
Andrew Pielage
Scottsdale
While Scottsdale's Taliesin West is closed to the public due to Covid-19, architecture enthusiasts can still get a close-up look at Frank Lloyd Wright's impeccable desert laboratory virtually. Recently named a UNESCO World Heritage Site and notably a National Historic Landmark, Wright's beloved winter home (established in 1937) was built and maintained almost entirely by Wright himself and is among the most personal of his creations. With the assistance of a 3D imaging laser scanner, anybody, anywhere with a Wi-Fi connection can experience the incredible work of the master architect. 
Hit the drive-thru… but not the typical fast-food kind
Multiple locations
Hungry? Take your stomach to the drive-thru. Local joints like Federal Pizza, 32 Shea, Luci's at the Orchard, and Melrose's Copper Star Coffee all have fantastic menus and convenient drive-thrus. Fast food just got a lot tastier.
Tempe Tourism
Rent a boat or kayak in Tempe 
Tempe
There's never been a better time to start a new hobby. Kayaking, anyone? Single kayaks, stand-up paddleboards, and pedal boats are all available for rent at Tempe's Lake Kiwanis and Tempe Town Lake. Bring your bike or walking shoes, as the public spaces are brimming with bike-friendly paths and walkways that surround each of the lakes. With guest safety in mind, each watercraft is sanitized when returned to the dock. 
Online
The bars might be closed, but obviously your home bar is open 24/7. The creative minds behind Phoenix's Grey Hen (and beloved cocktail hotspots UnderTow and Century Grand) want to help you elevate your home bar. Explore Grey Hen's expertly curated lineup of hard-to-find spirits and rare liquors that are available for purchase online and pick up your order curbside. It's really that simple.
Visit Phoenix/dspaz.com
Go on a socially distanced urban hiking adventure
Multiple locations
Adventure is a lot closer than you might think. Lace up your best hiking shoes and blaze one of the trails at a local urban hiking hotspot like Camelback Mountain, Piestewa Peak, McDowell Mountain Regional Park, or South Mountain Park & Preserve. As always, use caution when visiting trails, wear your mask around others, bring plenty of water, and avoid hiking during the hottest point of the day. But you know that already.
Gilbert 
Pizza is never a bad idea. Gilbert-based Fire & Brimstone is giving pizza lovers the opportunity to make their signature pies from the comfort of their homes with the pizzeria's take-home pizza kits. Each kit contains exactly what you need to construct a pie including red sauce, mozzarella, and your choice of traditional or gluten-free dough. Pizza kits are available online and are occasionally stocked at the Agritopia Farm Store.
Jill Richards
Wild Horse Pass
KOLI Equestrian Center, located minutes from the city center on the Gila River Indian Community reservation, is open to small groups and private horse rides. The gentle walking rides provide encounters with wildlife including quail, jackrabbits, and even wild horses, all while traversing a scenic desert landscape on horseback. Trail rides are reserved for groups of 10 people or less, and rides must be booked by phone or online prior to your visit. 
Scottsdale
We get it. A busy restaurant is the last place you want to be right now. Luckily, there are plenty of stellar takeout options at the ready. But for nights when you're feeling fancy or when there's any occasion worth celebrating, trade your takeout for an unbeatable omakase experience at Scottsdale's Shinbay. Led by chef and James Beard semifinalist Shinji Kurita, this chef-curated dining adventure is based on a traditional Japanese coursing menu with sake pairings and ornate sushi creations served up on tiny plates. Reservations are required for this intimate dining experience.
Sign up here for our daily Phoenix email and be the first to get all the food/drink/fun in town.
Lauren Reichert is a Phoenix-based multimedia storyteller and content creator. Her work has been featured in local travel guides and national publications. Follow her on Instagram @hungryinphoenix.