Actually Cool Things to Do Right Now in Phoenix
You've all heard it before, and yes, it's true. Repeat after me: "It's a dry heat in Phoenix." But the 100-degree weather shouldn't deter you from hosting guests this season. In fact, use it as an excuse to escape whatever's got you down, eat some great food, take a walk outside, drink on a rooftop bar, and experience the best of Phoenician culture with your out-of-town friends -- maybe even take in some of the events on our Phoenix calendar. So when your friends actually do make it to Phoenix, here are the very best activities that even locals will be stoked to do -- no matter your budget.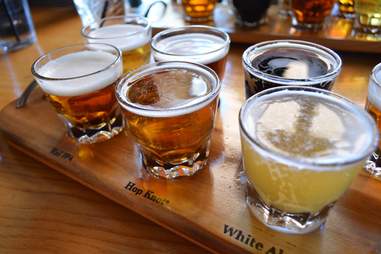 Lauren Topor/Thrillist
Free
Tempe
You haven't truly been to an Arizona bar if you haven't tried one of Four Peaks' brews, but the secret is to try new flavors on tap over at the Brewery. There are two locations with free tours, but stick to the original at Eighth Street in Tempe, which we named one of the best bars in Phoenix. On the hour-long tour you learn how they make the secret sauce, and at the end you'll get to try a few of the craft beers for free.
Free
Phoenix
You'll want to do this in the daytime with a camera in hand, because Roosevelt Row is home to some of the best street art in Arizona. If you're looking for a new backdrop for the 'Gram or happen to visit Phoenix on a cooler day, it'll be hard to go far on Roosevelt without seeing a colorful piece of art that you won't want to snap.
Free
Phoenix
To actually enjoy the views on your way up 2,704 feet, you'll probably have to get up at the crack of dawn before the heat hits -- especially in the summer. But with water, sunscreen, and a good pair of running shoes, you'll be just fine (it just might take you a little while to get to the top). If you go, you'll probably take either the Echo Canyon trail or the Cholla trail, and both are pretty strenuous, but totally worth it. (And if you'd rather not scale Camelback, try any of these other great hikes in the Valley.)
Walk, eat, drink, shop and catch live shows at First Friday
Free
Phoenix
On the first Friday of every month, downtown Phoenix turns into a huge street festival. Grab something to go from a food truck and walk through live music, street exhibitions, and open art galleries downtown. It'll be hard not to spend money on cool trinkets you find along the way, but take the light rail downtown to save money and avoid the hassle of finding parking.
$
Scottsdale/Gilbert
Look, sure, it sounds cheesy, but after a few of Whiskey Row's $5 "Redneck Cocktails," you'll be out on the floor learning how to line dance with everyone else in the bar. Even if you hate country music, it's always fun to make a bit of a fool of yourself and a learn something completely new for free. And $3 beer doesn't hurt, either.
Sip Arizona's finest wine in one of our many tasting rooms
$
Cornville
Visitors might be shocked to learn that a few of Arizona's best wines are made locally, on the way to Flagstaff or Sedona. Grab your designated driver and hit up Javelina Leap Winery, Oak Creek Vineyards, and Page Springs Cellars in one day -- they're all within a five-minute drive of each other. Flights cost less than $12 and you walk away with a souvenir wine glass. We've also got a few great wine bars in town, too.
Grab a coffee at Lux
$
Phoenix
If you're looking for a place to catch up with friends or get some work done while in town, Lux doesn't disappoint. With homemade pastries, mismatched chairs, and tons of nooks to curl up in, it's a place to get cozy. If you make it to happy hour, the coffee shop also turns into a bar with a huge beer list and a rotating cocktail menu. (Pro tip: Order the mac & cheese.)
Eat a biscuit (and a lot more) at the Welcome Diner
$
Phoenix
This 1940s diner has been one of our best restaurants in town for a while, and it was originally built in Wichita, Kansas, and brought over to Route 66. In 2002, it got a makeover and opened at the end of Roosevelt Row, where the bright red building is hard to miss. The menu features traditional diner items, but with a comforting Southern twist, and you definitely won't want to skip over the long list of biscuits, either.
$$
Scottsdale
You'll see Frank Lloyd Wright's influence all over Arizona, so why not visit the place where it all started? The Frank Lloyd Wright Foundation's Night Lights tour gives you a look inside his house, but it will give you an even better view of the stars. If you're looking for a good date-night activity, this is something even most locals probably haven't done yet, so it should be on your radar.
$$
Mesa
After gathering together a large group of friends and a cooler of beers, all you have to do is figure out whether you want to spend two, three, or five hours floating down the salt river in Tonto National Forest, the fifth largest national forest in the country. The cheap ticket covers your parking, bus ride to one of the three drop off points, and your tube rental. You just have to bring the energy.
$$
Phoenix
If you enjoy anything about music, you'll want to spend a day at the MIM. The entire museum walks you through the history of music, but the real gem is downstairs, where you can see John Lennon's "Imagine" piano and other prized possessions of famous legends. One-day tickets are $20, but be sure to catch the schedule for their upcoming events, because there's actually a small theater inside the museum for live shows.
Beat the heat by hopping through some of our best pool parties
$$
Phoenix/Scottsdale
You can't really avoid the Arizona heat without heading to the pool, and if your guest is staying at a luxury resort, you're already halfway in. The city of Phoenix is home to many Vegas-style pool clubs, where the drinks flow freely and the DJs play the music loud. Maya is a big hit with college students (grab a fishbowl while you're there), but if you want something a little more low-key, head over to the OH Pool at Hotel Valley Ho for some live music.
$$
Scottsdale
For just $24, you can spend hours inside a rainforest and hang out with over 3,000 butterflies. If you wear bright colors, there's a good chance they'll come over and hang out on your shoulders, too. If you want to stay in the area, Top Golf and OdySea Aquarium are less than five minutes away, so there's hours of things to keep kids and adults entertained.
$$
Phoenix
At the front of the small venue sits a small lounge and restaurant, which is run by the chef who owns Pizzeria Bianco (one of the best pizza spots in town). It's easy to stroll into Crescent on any day of the week for happy hour and listen to free live music, or catch a larger band on stage that you may have heard of once or twice for a price that won't burn a hole in your pocket.
Grab a scoop of ice cream at Sugar Bowl
$$
Scottsdale
It's an old-school ice cream parlor located in the old school western, Old Town Scottsdale. The scoops are traditionally good, but you'll spend more time staring at the walls than focusing on your dessert. Bill Keane, creator of The Family Circus comic strips, featured Sugar Bowl in his illustrations many times, so they're hung all over the family establishment as a way to honor his memory.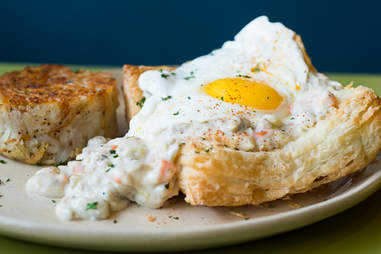 Ashley Davis Photography
$$
Phoenix
It doesn't matter if you're a sweet or salty kind of person, Snooze has everything you could have ever wanted on their breakfast menu. But their pancakes are to die for, so do yourself a favor and order the whole flight, so you can try at least three of them. Also, 1% of sales from every Snooze goes back to the local community in donations, so you're actually helping out Phoenix by eating there. Win-win. And if for any reason this isn't what you're looking for, check out any of our other best brunches in Phoenix.
If you think you know yoga, try Goat Yoga
$$
Gilbert
Yes, you read that right. You'll relax on a farm, but be prepared for a baby goat to hop right on to your plank position. Classes are only $20, but they fill up fast. For an experience neither you nor your guest will forget, and for probably one of the best picture-perfect Instagram moments they'll ever have, this workout is worth the drive (and the smell).
$$
Phoenix Art Museum
The rotating exhibitions at the Phoenix Art Museum blow away the permanent collections, but it's worth the $23 ticket to spend a day inside. Right now don't miss the Schorr Collection, Philip C. Curtis's Landscapes of Arizona, and Yayoi Kusama's "You Who Are Getting Obliterated in the Dancing Swarm of Fireflies" exhibits. Plus, the restaurant, Palette, showcases local farmers and producers for a fresh meal, so it's really a day of local art and cuisine.
$$
Phoenix
There's a good chance any friend visiting has never seen a cactus before, so instead of driving to the nearest Saguaro, actually give them a tour of the different plant life that lives in Arizona. Plus, right now you can check out "Electric Desert," a light and sound exhibit that runs until May 12, 2019.
$$-$$$
Sedona
There's no better way to escape the heat than by going up north. The picturesque red rocks make the two-hour car ride worth it, but there's a lot to pack in on a single day. Walk around the small town, take a hike up Cathedral Rock, squeeze in a Pink Jeep tour, and, if you have time, slip down Slide Rock.
Eat at any of the Fox Restaurant Concepts
$$-$$$
Various locations
Fox Restaurant Group is legendary in Phoenix, because it is home to a variety of amazing, reasonably priced restaurants. For a healthy meal, try Flower Child. For a good burger and milkshake, try Zinburger. Or if you want to play ping-pong or foosball while you wait for your table to clear, try The Yard.
$$$
Phoenix
If you're tired of running around Phoenix, take a break and sit down for an evening at an intimate show, where there's never a bad seat in the house. Every season the director carefully selects which plays or musicals to produce, and they rarely disappoint. Be sure to check out the current season's listings for shows you might like.
$$$
Phoenix
If your guest really wants the best views of the city, then take them to new heights -- literally. There's no way they won't be impressed, especially when Rainbow Ryders breaks out the champagne at the end of your flight. There's nothing more Phoenix than that.
Sign up here for our daily Phoenix email and be the first to get all the food/drink/fun in town.