Actually Cool Things You Can Do in Phoenix This Fall
You deserve a little fun.
After a (somewhat) carefree summer of small-scale events, museums reopening, theaters showing movies once again and many safety restrictions being lifted—it seemed we were past the worst of the pandemic. But unfortunately, thanks to the delta variant, COVID cases are skyrocketing, events are being canceled, and it's time to be extra vigilant against the virus once again. However, that doesn't mean you can't make the best of what's left of 2021, so mask up, keep your distance, and live it up pandemic style with our list of cool things you can still do right now in Arizona.
Eat your way through a high-end dining experience outdoors
Multiple locations
Miss trying chef-prepared dishes and dining alongside strangers, but want to do so safely? Cloth & Flame's outdoor dinners were a must-experience even before the pandemic, attracting the likes of Google, Bentley, and Chanel—to name a few. Recent dinners have featured favorite Arizona chefs like Silvana Salcido Esparza, incorporated cannabis or were themed around cult film Midsommar, so there's something for everyone. Dinners sell out fast, so make sure to check their ticket page often.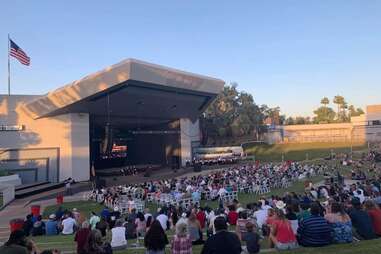 Gather with friends at Phoenix's newest collective space
Downtown Phoenix
Pemberton PHX is part art piece, part dining destination with pop up eateries and bars by Saint Pasta, Abnormal Tap Trailer, Melt Ice Cream, and more—making it the perfect place for a socially distanced dinner and drinks with friends. Just make sure you allow extra time to explore the colorful, quirky property for your next 'Gram-worthy photo.
Take an in-state road trip for a weekend getaway
Multiple locations
If getting onto a crowded airplane is at the bottom of your 'to-do list' right now, we don't blame you, but you can still enjoy a change of scenery right here in Arizona. With just a few hours in the car, you can dine at best-loved local restaurants in Tucson, camp in the mountains of northern Arizona, walk across the Grand Canyon, or visit the awe-inspiring and newly reopened Antelope Canyon.
Shop your community farmers market, in-person and online
Multiple locations, online
Whether you're searching for locally made pasta, fresh-baked breads, cage-free eggs, seasonal organic veggies and fruits, or tapenades, Valley farmers markets including the Downtown Phoenix Farmers Market, Uptown Farmers Market, and Mesa Farmers Market & Flea have what just what you need to conquer your shopping list. You'll leave with a warm fuzzy feeling knowing that you're supporting local farmers, makers, and vendors during these uncertain times. And that feels good, doesn't it?
Have an open-air picnic in an urban park
Multiple locations
Takeout boxes piling up in the living room? It's time to peel yourself off the sofa and get some fresh air. Our city offers countless parks to explore. In fact, the Phoenix Metro is brimming with 200 green spaces. City parks like Papago, Encanto, Civic Space Park, and Hance Park all make ideal picnic locations. Find a public park in your neighborhood.
Patron the Sauvage virtual bottle shop
Downtown Phoenix, online
Don't forget the wine! Local bottle shop Sauvage has bottles on bottles just waiting to find a home on your personal wine rack. Really, they offer a rotating selection of craft ciders, orange vinos, hard-to-find spirits, canned options, and so much more. So, if you need a way to effortlessly impress a Zoom date or you're searching for a natural wine to bring to a picnic in the park, any bottle, really, from Sauvage, is sure to spark a "spirited" (get it?) conversation.

Find tranquility and peace at the Japanese Friendship Garden
Downtown Phoenix
Let's be real, we could all use a little zen these days, right? Modeled after the traditional strolling gardens throughout Japan, Phoenix's own Japanese Friendship Garden provides a serene and peaceful setting that often plays host to traditional tea ceremonies, informative workshops, seasonal experiences like Otsukimi Moon Viewing, and socially distanced group activities including tai chi classes. In an effort to keep visitors safe, The Japanese Friendship Garden is abiding by CDC guidelines and requests that all guests properly social distance and wear a mask throughout the duration of their visit.
Get acquainted with the downtown arts districts and murals
Roosevelt Row, Grand Avenue
Our city's murals are way more than trendy selfie backdrops. Many of these murals paint a picture of current social issues and tell stories of the past. It's not hard to be inspired by the vivid colors and beautiful pictures local street artists tell through their larger-than-life artworks. And there's a lot to explore. Roosevelt Row is certainly the darling of Phoenix's arts districts, no doubt. But not too far away is The Grand Avenue neighborhood, one of the city's oldest commercial districts. This quirky hood provides a unique art-centered experience of its own. Positioned on the western edge of Downtown Phoenix, this funky neighborhood is packed with galleries, artist studios, and eye-popping vintage architecture mixed with adaptive reuse projects and public art installations that includes murals and decorated planters at every turn. And it's all best explored on foot or two wheels.
Downtown Phoenix
The Phoenix Art Museum has swung open its doors again after a months-long shutdown. Here you'll encounter exhibitions such as Fashion's Subversives, which features pieces by well-known designers like Yves St. Laurent. And you can experience the immersive You Who are Getting Obliterated in the Dancing Swarm of Fireflies. Want to keep the arts shining bright in your city? Adopt a digital firefly from the installation. You'll get sweet perks like unlimited admission, invitations to exclusive members only events, free or discounted tickets to workshops, lectures, and films, plus some other cool benefits, too. Plot your visit and explore the world-class exhibits and comprehensive, and we mean comprehensive, collections right here. The Phoenix Art Museum is the largest art museum in the Southwest, after all. Museum-goers are encouraged to reserve tickets online for a seamless no-touch or low-touch check-in experience.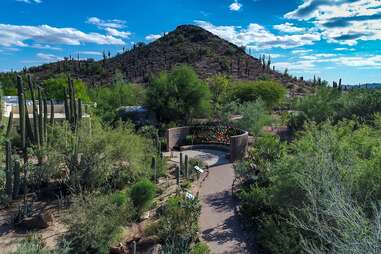 Take a leisurely stroll in the Desert Botanical Garden
Phoenix
Spanning 140-acres, this urban garden space is basically a living museum where art and nature collide. Home to thousands of species of trees, flowers, and cactus, including 485 rare and endangered species, the Desert Botanical Garden, one of only 24 botanical gardens accredited by the American Alliance of Museums, is undeniably a plant-lovers dream. DBG also hosts fun, limited-capacity events including dog-friendly days, large-scale art exhibitions, and seasonal experiences like Las Noches de las Luminarias, an annual affair that lights up the garden with thousands of luminarias and twinkly lights. See what's happening in the garden right now, here. Advanced ticket reservations and masks are required to visit DBG.
Go on socially distanced urban hiking adventure or scenic bike ride
Multiple locations
Travel might look different these days, but adventure is a lot closer than you might think. Lace up your hiking boots and point your GPS towards local urban hiking hotspots like Camelback Mountain, Piestewa Peak, McDowell Mountain Regional Park, or South Mountain Park & Preserve. Rather explore your city on two wheels? Spanning 11-miles, The Indian Bend Wash Greenbelt features an oasis of explorable paths, parks, and lakes, which lands it on a list of the top urban green spaces in the state. The greenbelt begins at Tempe Beach Park and stretches all the way to Shea Boulevard in Scottsdale. Explore the scenic route on a group bike tour or opt for a self-guided ride and pedal at your own pace. As always, use caution when visiting trails, wear your mask around others, and bring plenty of water. But you know that already.
Lauren Reichert is a Phoenix-based multimedia storyteller and content creator. Her work has been featured in local travel guides and national publications. Follow her on Instagram @hungryinphoenix.
Jamie Killin is a Phoenix native and Arizona State graduate who specializes in lifestyle and features writing. You can usually find her at the spin studio, a concert, or trying new restaurants across the Valley. Follow her at @jamiefayekillin.