It would be easy to make a list of all the amazing things you can spend money on in Pittsburgh, but that's not why you're here. You're here because you might have just spent a chunk of your rent money on that "only kind of okay" delivery pizza. Nothing left to do but sit at home and wallow in your shame, right? Wrong, because everything on this list of things to do in Pittsburgh costs way less than that pizza and will be much more gratifying because it's all totally free.
Whether you play the banjo or not, the Pittsburgh Banjo Club on the North Side is an insanely good time. Hosted by the Elks Club every Wednesday at 8pm, over 40 banjo players, along with accompanying tubas and horns, take the floor for a wild rumpus of folksy fun. Also, cheap beer and lots of singing.
 
This monthly happy hour is hosted by the WYEP 91.3 radio station and features performances by Pittsburgh's best local musicians. And there are complimentary drinks.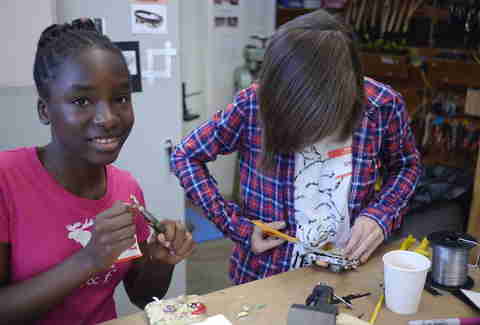 The Society for Contemporary Craft's Drop-In Studio is a place for kids and adults to participate in hands-on activities that tie into the gallery exhibitions. The studio is open during all public hours and you could potentially learn to make your very own Kreepy Doll.
 
Pittsburgh Opera in the Strip offers free Brown Bag lunchtime concerts on second Saturdays, October through April. Food is available for purchase but don't be a sucker, BYOF.
 
North Huntington, PA is home to this museum/restaurant hybrid where you'll find hundreds of artifacts, high-tech exhibits, and the largest Big Mac statue in the world. It's also a McDonald's, just in case you need to wash down all your new found knowledge with a Double Quarter Pounder with cheese.
 
May through October, Allegheny Observatory is free to the public one night every week. Take a walking tour, watch a film presentation, and get a crack at viewing some celestial goodness.
With free bus and subway rides within the downtown Pittsburgh triangle, getting around the historic area is easy and free. If you want to be really official you can go to the Robert Morris University website and download one of the prerecorded walking tours available in 10 different languages.
 
SPACE is one of many galleries in downtown's Cultural District that partake in the quarterly Gallery Crawl and CrawlAfterDark. Exhibitions are constantly shifting and over 30 venues participate along with local artists and musicians. This is a particularly good time when the night market pops up simultaneously with all the amazing food you could ever desire.
 
The Cabaret at Theater Square, Backstage Bar, and Katz Plaza all offer weekly showcases of some of the area's best jazz musicians at JazzLive. And don't worry, it's not that smooth jazz you hear in hotel elevators, it's the good kind that makes you feel things.
RADical Days is an annual event that celebrates our city's assets by offering free admission to a huge selection of museums, galleries, recreational facilities, and more. This means you could go to the Mattress Factory, the Andy Warhol Museum, and the Pittsburgh Zoo for free in the course of one month. And if you can't wait for the fall, most museums offer half-price admission on a weekly basis.
Karaoke at Nico's
Sure, there's plenty of free karaoke around, but Nico's Recovery Room in Bloomfield is the quintessential karaoke experience. The smoky and crowded bar is home to a handful of regulars that you'll find crooning away every Saturday night shamelessly. 
 
Every November this two-week-long celebration of local filmmakers hosts a string of parties, photo auctions, post-screening discussions, and visiting filmmakers. While not all of the viewings are free, you wouldn't even have time to take in the 40+ films being shown. Best to stick to the free events.
Seviche offers free salsa lessons for beginners starting at 9:30pm. Head to the Cultural District for a $3 Corona and get sweaty with some strangers.
 
Every summer the city sponsors Cinema in the Park all over Pittsburgh. So grab a blanket, pack a picnic, and head outside for a very free date night.
Art All Night is a nonstop, 48-hour community art exhibit that showcases the work of people from all different walks of life. The event takes place in a gigantic warehouse in Lawrenceville and includes lots of loud music, weird artsy stuff, and beer. The crowd can be a little much but the booze helps.
An organic market that sets up outside of Bar Marco in the Strip District every Saturday during the summer from 9am-1pm. It offers free tastings and a demo tent where you can learn about things like how to make ice cream. This is just one of many farmers' markets around the city.
 
From June to August, Mellon Park hosts a free classical music series every Sunday morning. Bagel Factory sells at the event but why not bring your own damn bagels.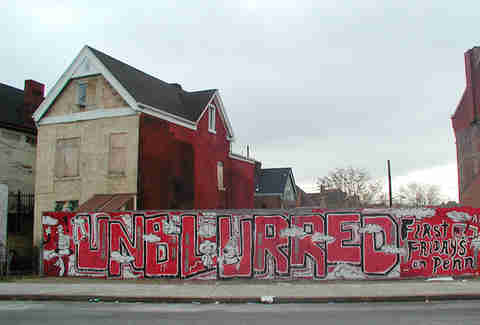 Unblurred is an art crawl that takes place the first Friday of every month on Penn Avenue. Every month new exhibits and local work are presented and, if you hang out long enough, you'll find yourself in the midst of a block party with lots of free wine. And to cap off the evening, you can grab dinner at People's Indian. Not free, but necessary.
Find the dinosaurs
A strangely large number of dinosaurs reside all over Pittsburgh. Find them all, take selfies, be the envy of all your friends.
"People"-watching
Pittsburgh is home to everything zombie and, as a result, every October marks our annual Zombie Fest that draws out all of the undead enthusiasts. Whether or not you're one of them, it would be a crime not to at least watch the sweet carnage.
Sign up here for our daily Pittsburgh email and be the first to get all the food/drink/fun in the Steel City.