With cityscape views that wow and weather that often requires huddling together for warmth, Pittsburgh has plenty of opportunities for romance. Up your dating game using this guide to 25 date nights around the Steel City.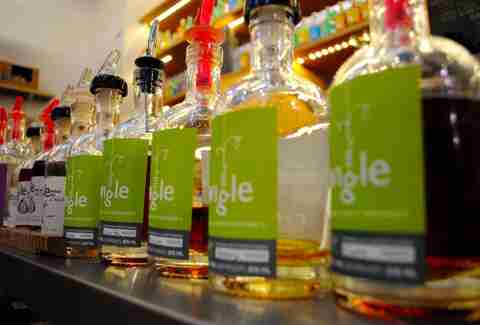 Educate yourself in the art of booze-making at Wigle Whiskey
Wigle was the first craft distillery to open in Pittsburgh. The distillery's guided tours, providing a solid
history of the Whiskey Rebellion, are both informative and funny. The included whiskey tasting will get the conversation flowing.

Cool down your hot vibes, just for a moment, at Gus and Yia Yia's
This shaved ice cart has been an institution in the Northside for decades. Pick your flavor than stroll through the nearby Allegheny Commons park, which features pedestrian bridges, a lake, and a cool view of the Pittsburgh skyline.

The retro vibes at Arsenal provide the perfect backdrop for date-y goodness. DJs, contests, and karaoke up the amusement levels on theme nights.
Paddle the three rivers with Kayak Pittsburgh (just try to avoid splashing the water in your mouth)
During the spring and summer, kayaks are available to rent under the Roberto Clemente Bridge. Opt for a tandem kayak and get your paddles, and your hearts, in sync.

Every summer, Sunday mornings in Mellon Park are accompanied by classical music. Pack a picnic and enjoy the free concerts by local orchestras and bands.

Artist Thorsten Brinkmann's art house, with its hidden passageways and intense detail, is easily the coolest place in Pittsburgh. Giving away any additional details would be wrong -- the discovery is most of the fun!

Tacos + movies = match made in heaven, i.e. Row House Cinema
Every week at Row House comes with a movie theme: villains, time travel, etc. Every Monday at Row House, you can bring tacos into the movie from the adjacent Smoke BBQ Taqueria. Talk about movie magic.
Get locked up together at the Escape Room
Solve puzzles to escape from a themed room, either Prison or Laboratory. Or, just enjoy being locked in a room together for one hour!

Improv, live sitcoms, and more await at this BYOB spot for funny. Come armed with clever suggestions to throw out during audience participation (so don't yell "dildo").

Create, drink, repeat with Pop Craft
Head to a bar. Make stuff. Admire your work over drinks.
If there is a more impressive collection of bicycles anywhere in the world, we'd like to see it. The free museum even includes the Pee-wee's Big Adventure bike, prompting immediate humming of "Tequila."

Wednesdays are for banjos at Pittsburgh Banjo Club night at the Allegheny Elks
Cheap beers and a band of banjos: end of story. Once the banjos finish for the evening, walk around the corner to the Park House bar for bluegrass.

Put your hearts in flight at the National Aviary
Pittsburgh is home to the National Aviary, because that is how we do. Visit the penguin exhibit and say hi to the 'Burgh's second most famous penguin named Sidney.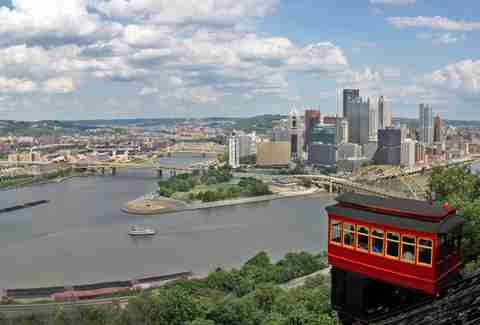 Get vertical-ish on the Monongahela or Duquesne Incline
Taking an Incline ride is an out-of-towner's delight, but it can be a total blast to play tourist in your own city. The views are top-notch from the funicular and from the platforms on Mt. Washington.

Kennywood's open (your zipper is fine)
Good, old-fashioned entertainment awaits at this vintage park full of wooden roller coasters. Win a stuffed animal for your boo and share Potato Patch fries.

Pittsburgh has one of the most beautiful ballparks in the country. Tour this magnificent bastard during the Pirates' season.

Bring your own blanket and prepare to cozy up. Movies are offered throughout the city from June to
August.
Put your chemistry to the test and brew at Copper Kettle Brewing
This is a multi-date adventure and investment, so be sure you want to see your pal again. You get to chose your brew and decorate the bottles. You + Date Brewing Co.?

Murals, sculptures, landscapes -- oh my! The self-guided Pittsburgh Art in Public Places tour steers you to 115 works of art in Downtown and the Northside, and provides you and your date with hours of aesthetic delights.

Mix it up with craft cocktails at Butterjoint
This tiny bar is dimly lit, cozy, and noise-level appropriate for one-on-one conversations. The cocktails will go down smoothly while you're being smooth.

Pittsburgh is surprisingly close to peaceful countryside and open air. Gallop off with your love on your own horse and enjoy the country splendor. Rolling Hills also offers moonlight rides for an added boost of romance.
The Strip District offers a plethora of culinary treasures and eclectic souvenirs. Buy a black and gold T-shirt and some sausage while wandering hand in hand down Penn Ave.

Get your groove on at the Title Town Soul & Funk Party
Once a month, Brillobox gets funky with Title Town, a duo of DJs with an enormous vinyl collection. Put your dancing shoes on and let loose.

21-and-over events at the Science Center are a hot ticket. Who doesn't love downing a brewski and then sitting in the simulated earthquake caf?

As abandoned blast furnaces, and a historic landmark, the Carrie Furnaces are surprisingly beautiful. Tours are offered by their caretaker, the Rivers of Steel National Heritage Area.
Sign up here for our daily Pittsburgh email and be the first to get all the food/drink/fun in the Steel City.
Laura Zorch is a Pittsburgh writer who loves the crap out of cake. Follow her sweet tooth at @eatpgh where she eats around town with her three pals.