10 Reasons to Get Excited About Thrillist Pittsburgh
Attention Steel City residents: Thrillist Pittsburgh has launched. Now, you may be asking yourself "What is Thrillest?" Well first off, it's Thrill-IST, not Thrill-EST (it's okay, we dealt with this all through grade school). Secondly, Thrillist is a lot of things, at least these 10:
1. We're your index for all things amazing
Every single week, Thrillist will bring you a hefty helping of the best stuff to eat, drink, and do in Pittsburgh.
2. We don't cost a damn thing
Like Downtown T rides and the view from Mount Washington, Thrillist is FREE. You can sign up here and vastly improve your email inbox in a few swift clicks.
3. We know there's more to the 'Burgh than just fries on sandwiches
Like fries on SALADS! Seriously though, the food scene in PGH is exploding well beyond pierogies and stuffed sandwiches (still processing that time The Yard put pierogies in a stuffed sandwich) and there's no better time for a local eater to be in the know.
4. Our staff speaks fluent Yinzer
Being able to quote Myron Cope play-by-play verbatim is a prerequisite for working here.
 
5. We'll get you the latest beer and bar news without guilting you for drinking IC Lights
From rooftop gardens to tailgates, we can let you know where to scratch the itch for Prohibition-era cocktails and dirt-cheap drink specials alike.
 
6. We still play NHL '94 regularly
Somehow Lemieux's 100% still isn't good enough. Jeremy Roenick could never hold a candle to #66, he also couldn't make Gretzky's head bleed.
 
7. We have a healthy respect for lip fuzz
Mouthbrows, cookie dusters, welcome mats: we have a fine appreciation for mustaches. It's said the average mustachioed man touches his lip foliage 760 times a day, or what Dave Wannstedt considers "not enough."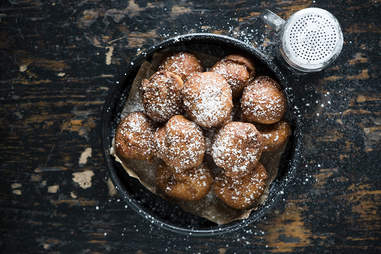 Courtesy of Adam Milliron
8. We understand that brunches in Pittsburgh are a thing of beauty
There's potatoes Benedict, chocolate beignets, and cream cheese-filled dates wrapped in pecan bacon! We've seen things in this city that we can't (and don't want to) un-see.
 
9. Thrillist Philly has had Pennsylvania's spotlight for long enough
We know that town with the bell that's five hours East gets a lot of attention as the hub of liberty, meanwhile the Steel City, which actually built the country, along with parts West of Philly, has plenty to offer.
 
10. We'll give you a reason to cross every bridge
Yep, all 446 of 'em. Ninety neighborhoods? No problem. From the latest openings and old-school spots that the world deserves to know about, to under-the-radar bars, events, and so much more, we're your guide for all things worth doing in the City of Bridges.
Sign up here for our daily Pittsburgh email and be the first to get all the food/drink/fun in the Steel City.