Pittsburgh Is No. 1 at These 10 Things. Suck It, Every Other City.
By now you've probably heard a lot of people refer to Pittsburgh as "up-and-coming," but we've already made it to the top. In fact, we have recent 10 polls and rankings that prove just that. Step aside NYC, we're just as dirty as you, but we cost half as much.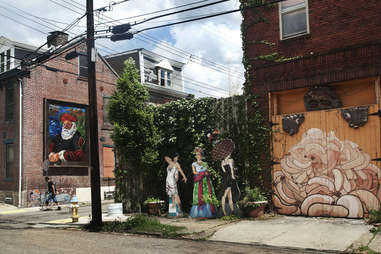 Affordable housing and a thriving art scene are just a couple of reasons to move to America's most livable city. We also have an intense waffle scene, if that's what you're into.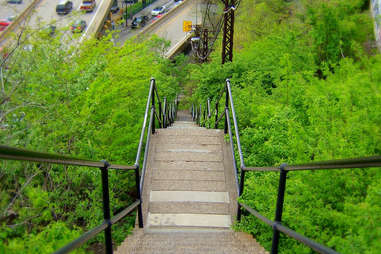 With endless public stairways that weave through the city's hills, Pittsburgh has been named the ultimate, and one of the most extreme, urban hikes in the US. Prepare to have the beefiest calves around.

Pittsburgh has more bars per capita than any other city, so in one evening you can watch a Penguins game, crush trivia night, and go to Belvedere's for pudding wrestling. And we came in second for most pizza shops. Apparently those two statistics often overlap.
Pittsburgh is among the next cities to blow up in regard to food. The Steel City is packed with farmers markets, food trucks, and pop-up restaurants. So send your foodie friends to Pittsburgh for all the Wagyu beef and macarons they can handle

We're not sure if it's a blessing or a curse to be named a future home to all those hipsters searching for their next ironically cool gathering place. Regardless, our Steel City Beard and Mustache Club and annual Bike Fest will never cease to be great.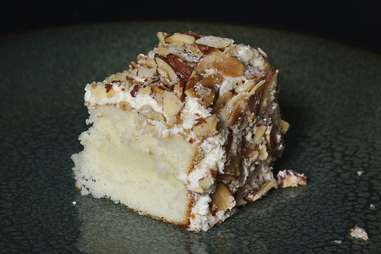 Prantl's Bakery has created perhaps the fluffiest, crunchiest, bomb-est cake you'll ever taste. The Burnt Almond Torte has been named the best in America, probably because it's like eating a sugary almond cloud.

Remember when we said Pittsburgh was affordable? Let us amend that; it's the MOST affordable. With all that money you're saving you can eat Prantl's Burnt Almond Tortes every day.
Of course the infamous Pittsburgh Yinzer accent was named "America's ugliest." Even some of our restaurants have been sucked into the dreaded world of Pittsburghese. Well, guess it's just time to head dahntahn and warsh away our sorrows with an Iron City draft.

The University of Pittsburgh Medical Center is ranked the No. 1 hospital in the state of Pennsylvania and one of the best in the country. This one isn't that exciting, but we're going to live longer than folks elsewhere.
PNC Park is home of the Pittsburgh Pirates, and is the top-rated all-around ballpark. If the view wasn't enough, the Pirates Pierogies (guys dressed as pierogies) take the field at the end of the fifth inning to run the 280-yard Pierogi Race. And you could be eating pierogies while watching all of this.
Sign up here for our daily Pittsburgh email and be the first to get all the food/drink/fun in the Steel City.