Thanks to our awesome sports fans, food festivals, a certain TV show on IFC, and, like, every-other-Life-Styles-article in The New York Times, your friends/family from out of town are probably anxious to come see our fair city. When they do, they're gonna have questions, so we created this list of 19 things you'll need to explain to out-of-towners like your Aunt Linda, who just saw Portlandia for the first time and thought it was hilarious.

1. It's pronounced "cooch", not "couch"
And yes, that's where Powell's City of Books is.

2. Now that we're Downtown, you should know: no one actually goes to Voodoo Doughnut
That line around the corner? All tourists... and/or people who've had a few too many.

3. We don't think Portlandia is funny
So stop telling us about that one episode with the thing. We saw it... in real life.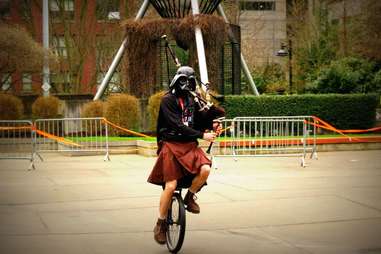 4. Yes, we've seen that guy in a Darth Vader mask, on a unicycle, playing the bagpipes
His name is the Unipiper. Please don't encourage him.

5. We actually use our public transportation...
Every day, 316,700 trips are taken on our buses, trains, and streetcars.

6. ... but the streetcar is slower than walking
So don't bother, unless it's raining, of course.

7. By the way, it doesn't really rain all the time
We only get 37 inches in a year, unlike NYC, which gets 49 inches! (Suck it, NYC).

8. June isn't really Summer
Our Summer starts around July 5th and ends in late August/early September, so expect the grill to be the only thing that's hot at your Fourth of July BBQ. Sorry.

9. Everyone goes to the strip club
Stumptown's famous for its full-nude, full-liquor strip clubs (we've got more per person than anywhere else!), but like all things ridiculous here, it's really not a big deal. The guy/girl ratio at most racks is pretty even. Heck, people even go on dates there. And there's a strong chance the dancer will stop gyrating to sit down and talk English Lit with you. Just be sure you still tip her at least $1 a song.

10. There are vegan restaurants everywhere
But why stop there? There are also vegan strip clubs, bed & breakfasts, and personal trainers (?!).

11. On the other hand, foie gras is legal here
And we have a Portland Meat Collective.

12. There's a reason why every conversation starts with "Actually…"
Portland is the birthplace of Wikipedia.
13. That giant, two-hour line? Those people are waiting for brunch.
And yes, that brunch consists of eggs and bacon, and costs $12. Toast might be extra.

14. We have indeed been drinking
Portland's reputation as a drinking town is very, very real, thanks in no small part to the fact that we've got movie theaters, record stores, barber shops, arcades, art galleries, museums, and outdoor markets that're also bars.

15. Don't even think about putting your plastic cup in the "compost" section of the trash
Yes, we have three different types of garbage. Learn it, live it.

16. Think ABCs and 123s when you're lost
The streets in NW Portland are numbered from East to West and alphabetical from South to North. Somehow, though, people can't figure out how to get from 21st and Quimby to 23rd and Pettygrove.

17. It is not a coincidence that our city sounds like a Simpsons episode
Matt Groening grew up here and named a slew of Springfielders after Portland streets. Among them: Kearney, Terwilliger, Flanders, and Quimby.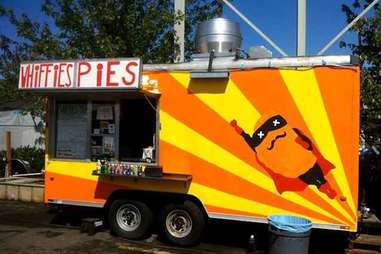 You won't find the usual "street meat" you get in bigger cities, and they're always in the same place. Oh, and the chances that ramshackle cart where you're eating lunch turns into a full-blown, beloved, and critically acclaimed restaurant within a year is about 60%.

19. We love our breweries, except when we cheat on them
Like strip clubs, we've got more breweries per capita than any other city (70+ breweries in the Metro area), and while we all have our "favorite", PBR is still somehow the best-selling beer in PDX. Probably because it's ironic. And by ironic we mean cheap.
Sign up here for our daily PDX email and be the first to get all the food/drink/fun Portland has to offer.