Give cold January nights the sequined, Hot August Nights-flavored finger Fri as local lounge master Tony Starlight celebrates the 72nd birthday of the Unreal Neil Diamond with a boozy tribute at Alberta Rose.
Recommended Video
Roasted Red Pepper Deviled Eggs: Perfect for Parties, Grandma-Approved
Previous Venue
Next Venue
Venue Description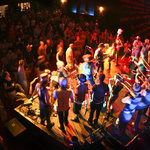 1. Alberta Rose Theatre
3000 NE Alberta St, Portland, OR 97211
Located right in the Alberta Arts District (so that's where the name comes from...), the ART -- wow these folks are clever! -- is a relatively new theater that specializes in featuring local talent, bizarre shows, and foreign themed performances.