Paid Content For
Cremo Beard Care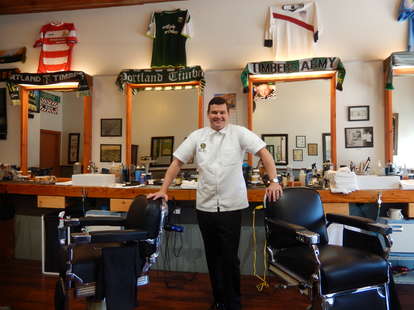 Mattie John Bamman/Thrillist
Old-school barbering is in full effect in Portland, and just like our food scene, our barbershops have created a movement that is spreading across the nation. Some of the shops on this list are old-school because they've literally been around for decades, while others are new shops that are dedicated to the old-school philosophy.
A great barber ups your game without pushing some flowery shampoo on you. Your slick haircut will definitely come with a huge dose of banter, possibly a shot of whiskey, and perhaps even the discovery that a Blazers player sat in the same barber chair the day before. These are the best old-school barbershops in Portland.
Kerns
Owner Brian Porteous is a walking history book when it comes to the art of barbering in Portland, and with 13 years experience, he's got lots of cool gadgets, from 1958 barber chairs to mechanic-style compressor air hoses to blow away every last bit of clipped hair from your neck. Porteous does what he calls the "meat and potatoes cuts," which are all of the classics. They all end with a warm towel and neck shave, and complimentary beer and a Timbers shrine complete the atmosphere.
King
A Northeast Portland institution, Geneva's has served the likes of Michael Jordan and Dr. J, and it was all started by Geneva and Paul Knauls over 24 years ago. The first black female barber in Oregon, Geneva also ran the famous Cotton Club, another historic Portland institution where the likes of Etta James performed. Today, Paul, unofficially known as "the Mayor of Northeast Portland," runs the shop with a staff of eight barbers and five stylists, including his son, Paul Jr. The barbershop is separate from the salon, and you can get any kind of cut there.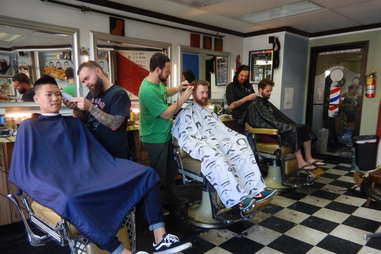 Buckman
Bart's may be the oldest perpetually run barbershop in the city, starting all the way back in 1928. Bart took over in 2008, and the shop's most experienced barber, Drew Westergren, has 19 years under his belt. In general, you can feel the history of the room, from tiled floors to '80s movies. Pro tip: if you want to get in day-of, call before 8:30am.
Downtown
One of the few old-school barbers downtown, Y-Chrome runs a smooth ship and exclusively offers cuts and shaves, with your choice of Widmer brew. Don't expect to wait, but if you do, you'll find pool and darts upstairs. For those living or working downtown, this is your place.

NW 21st
Along with Bart's, this shop also makes a case for being the oldest shop in the city, with roots reportedly dating back to 1927. Six classically trained barbers whip out a variety of cuts, from kids cuts to beard trims. Vintage barbershop signs, Art Deco cabinets, and original cosmetic bottles from the 1920s fill out the space.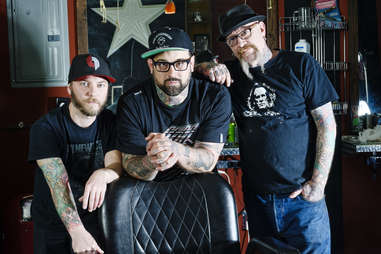 Foster/Powell
This is my barber (Editor's Note: Mattie has a silken mane Samson would admire). This shop hooks up sharp cuts and heavy music, and owner Josh Poole prides himself on serving the workingman, from veterans to the neighborhood crew. These guys know the pompadour like the back of their hands, and they end each cut with a warm towel, a neck shave, and the best-smelling aftershave on Earth (Clubman). Loads of vintage straight razors and barbershop knick-knacks complete the classic vibe.
King
This place opened on Northeast MLK in 2008 with the goal of keeping Portland barbershops old-school. "We offer sports, music, and conversation," says owner Jamaal Lane, and he throws out a key tip: when you get your haircut, if you have to question whether you're in a real barbershop, you definitely are not in a real barbershop. The place is filled with sports memorabilia, and, yes, the game will be on. Specialties include razor lines and shaves.

Downtown
A graduate of Portland's famous, now-closed Moler Barber College, Jerry Ripley has been cutting hair for more than 35 years, and he's now the sole barber at this downtown shop. Located in a historical building next door to Huber's Café, the shop offers all types of cuts, and they all end with a warm towel and neck shave. Cash only, and since you're competing with loyal customers developed over 35 years of business, you're advised to call ahead. Don't miss the cool map covered with international memorabilia gifted by customers.
Pearl District
This shop is not old. In fact, it opened about nine months ago. But it has the old-school philosophy, experienced barbers, and vintage décor, from exposed brick to an actual wall of liquor just like you'd find in a bar. The shop's motto is, "We take the chore out of getting a haircut," and with your complimentary beer, shot, or neat beverage of choice, you'll find sports on TV and barbers wielding straight razors for a new-school take on old-school comfort.
Alberta Arts District
Originally from Louisiana, Earl has been cutting hair for 35 years, and he's run his shop on Alberta and NE 19th for the past 23 years. Terry Porter and other Blazer stars have sat in his chairs, and the walls are plastered with newspaper clippings about the neighborhood with dates going back to the '90s. A one-man barbershop, Earl knows regulation cuts, which means it's a good place to get a basic cut for a scant $10.
Pearl District
Located inside of custom suit store Este's, Antonio's is fancy, with massage chairs, dry-cleaning services, a full bar, sports, darts, haircuts, and shaves. It even has a separate salon in case you and your girl are both in need of cuts. Antonio's opened 10 years ago, and it's definitely the place to go to get ready for a big event -- specifically, a wedding. Grab your groomsmen for one-stop shopping, and order a complimentary single-malt.
Sign up here for our daily PDX email and be the first to get all the food/drink/fun Portland has to offer.