With respect to waiting an hour for ice cream, no summer in Portland is complete without a day of sitting in an inner tube and drinking beer while lazily floating down a river. Which is why we've rounded up the best places to drift. Whether you prefer your floats to include a mini road trip or a short bus ride, there's something for everybody here.
Willamette River
Portland
Drop-off point: Sellwood Riverfront Park
Who says a trip to the boonies is essential for quality floating? The Willy gets a bad rap in terms of cleanliness, but as long as you avoid it after prolonged rainfall, you're far less likely to grow an extra finger than you would've been a decade ago. Did we mention you can take the bus to this one? Or that the terminus of your journey -- the Hawthorne boat dock -- ends near Bunk Bar, Noraneko, and a ton of other great post-float boozeries? Not too shabby for a lazy afternoon in the city!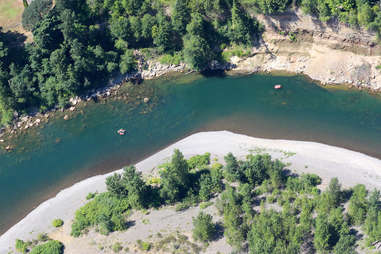 Clackamas River
Estacada
Drop-off point: Milo McIver State Park
For proof of how little a distance one must travel outside of Portland to encounter some real-life backwoods tomfoolery, look no further than this popular drop-off point out in Clackistan. While the closeness ensures flotillas of tatted-up Portlanders downing tallboys of Olympia with ebullience, this wildly popular booze/tube route is still far enough afield to elicit warm and fuzzy memories of some kind of Dukes of Hazzard pastimes you had before emigrating to the urbane, liberal cocoon of Cascadia. Wait, was it The Dukes of Hazzard or Deliverance that had "Dueling Banjos"? Hmmm. Nevermind.
Sandy River
Troutdale
Drop-off point: Dabney State Recreation Area
As far as floats within a stone's throw of Portland go, the upper portion of the Sandy has it all -- easy highway access, rope swings, wide berths, and ample pit stops for sunbathing on its many sandy (cue the rimshot!) beaches. Like the Clackamas, the Sandy's buffoonery levels are directly proportionate to the daily heat index, but it's easy enough to float around the riffraff and hide your booze underwater if the fuzz is making their rounds.
Deschutes River
Bend
Drop-off point: McKay Park
Whether it's outdoor sports or a mellow day of staying cool with a beer from one of the town's 21 breweries, Bend is basically paradise. Enjoy the best of both worlds by grabbing a growler from GoodLife or Boneyard, plopping down in a tube, and floating the serene waters of the Deschutes until the sun goes down (or you run out of beer). Even the laziest of armchair sportsmen can get down with the Deschutes, with tube rentals courtesy of Tumalo Creek and the "Ride the River" circulator courtesy of Bend's local transit system.

East Fork Lewis River
Battle Ground, WA
Drop-off point: Lewisville Regional Park
While the water is faster and colder than forgiving spots on the Clackamas and the Sandy, this two-hour float has a handful of swimming holes along the way before the put-out point at Daybreak Park. The nearby town of La Center even has a casino and a seedy tavern if the Class-II rapids in the river weren't thrilling enough for you.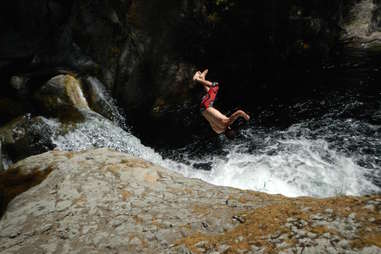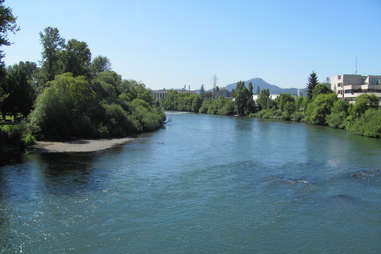 McKenzie River
Eugene
Drop-off point:Harvest Landing
You can go several miles east to Vida and put in at Dorris Park, or you can stay close to the city proper for your float in order to stay nearer to the real reason you're in Eugene, which is to chug pint after pint of craft beer and relive the Phil Knight-subsidized glory days of your early 20s. Floating the McKenzie wouldn't be a half-bad way to pregame for a Ducks game, either -- as we mentioned before, there's more than enough quality beer in Eugene to make a cold river feel warm and an Oregon State fan look attractive.
Willamette River
Corvallis
Drop-off point:Willamette Park
Considering that the mighty Willamette flows north (a rarity), the quality of your float improves significantly the farther south you go. Why you'd be in Corvallis for any reason other than crushing tallboy cans with frat boys is unknown to us, but this float is a nice amenity to have access to when your recreational options are otherwise limited to accosting strangers who've been caught wearing green and yellow in public. On the bright side, if you fall asleep on your float, you'll eventually end up in Portland, so that's a win, right?

Klickitat River
Lyle, WA
Drop-off point: Pitt bridge on the Klickitat Trail
As if the drive out here along the Columbia River wasn't enough, the two-hour drive to the trailhead of this winding offshoot of the Columbia will leave you breathless within minutes. This ain't no chilled-out river ramble -- the water rushes through and hooks around a canyon at various points in the float -- but the views of the stretch of Washington that eventually give way to the Columbia River Gorge are totally worth it. In other words, resist the urge to go nuts at Pfriem and Double Mountain in nearby Hood River, or at least pack a growler for a proper post-float celebration.
Sign up here for our daily PDX email and be the first to get all the food/drink/fun Portland has to offer.