Let's face it, being surrounded by road trips is one of the things that makes Portland Portland, but everyone's always talking about the same road trips: take a drive to Cannon Beach, Willamette Valley, Timberline Lodge... We're going assume that you know all about those (you have noticed the giant, snow-capped mountain to the east, right?) and are looking for fresh patches of pavement. Here are 11 sweet road trips from Portland -- all within four hours.
Barton Park, Boring, OR
Distance from Portland: 25.5 miles, 40-minute drive
Why it made our list: Tubing on the Clackamas River is a right of passage. The water is freezing but keeps your beer cold, and the party atmosphere is... sorry'boutthis... the opposite of boring.
Pro tip: Put in at Barton Park and float five miles to Carver. Oh, and don't litter. And don't tick off the locals.
Estacada, OR
Distance from Portland: 35 miles, 50-minute drive
Why it made our list: Just a short drive, the campgrounds at Milo McIver State Park and Metzler County Park feel a world away. The journey includes rolling farmland, with options to continue into Mt. Hood National Forest along the Clackamas River. Fishing, hiking, rafting, swimming, biking, and boating are plentiful, and Estacada proper actually has a few places worth checking out, including Fearless Brewing Company and the back room at Hitchin Post Pizza.
Pro tip: For boaters, Estacada Lake has a mini party cove, which easily accessible from Route 224.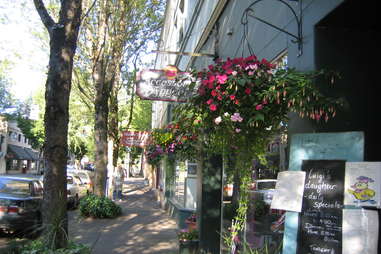 McMinnville, OR
Distance from Portland: 41 miles, 1.10-hour drive
Why it made our list: There are times when everyone needs to escape to "pleasantville," but that doesn't mean you have to be pleasant the entire trip. After ice cream cones, micro-roasted coffee, and bespoke shopping, head past the dumpsters to the back room at Nick's Italian Café; it has pool and is a favorite among local winemakers. Or visit one of the best rooftop bars in Oregon on top of the McMenamins Hotel Oregon. Of course, the town is surrounded by more than 300 Willamette Valley wineries, too.
Pro tip: Don't get trapped in traffic on Route 99. Take the back routes: either the Wilsonville Rd or exit 278 to Ehlen Rd to Newberg. Also, for a personalized and potent cocktail, visit bartender Patrick Bruce at the Thistle restaurant.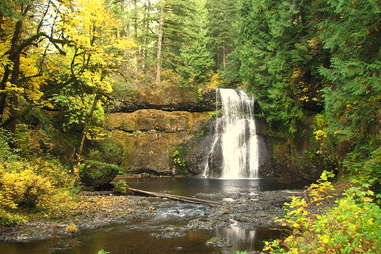 Silver Falls State Park, OR
Distance from Portland: 58 miles, 1.20-hour drive
Why it made our list: If you ever need proof that Oregon is just a cold Hawaii, visit this easy 10 mile hike with 10 huge waterfalls. The lush canyon is formed by lava flows from 15 million years ago, and you can look up at the rims of the trail to see where the lava stopped and the soft rock beneath eroded; basically, it created launching pads for the area's roaring rivers.
Pro tip: To beat the crowds, park at the North Parking Lot, where the hike begins behind a 136ft falls. Bring a $5 bill for the day-use fee. Also, arrive by Route 213 to skip the highway.
Lyle, WA
Distance from Portland: 75 miles, 1.25-hour drive
Why it made our list: Why does everyone stop in Hood River? Drive another 15 minutes to see temperate rainforest transform into tiered shelves of dessert rock. On Washington's Route 14 tunnels take you through river-hugging cliffs, and the wineries in Lyle, Bingen, and White Salmon are some of the best in the Gorge.
Pro tip: For brews, hit Everybody's Brewing in White Salmon. For vino, visit Domaine Pouillon, Syncline, or AniChe Cellars.
Washington County Loop, OR
Distance from Portland: 80-mile loop, 2-hour drive
Why it made our list: Believe it or not, the McMansions give way to farmland after just 20 minutes. Begin at Smith Berry Barn -- proof that the old-fashioned general store is alive and well -- to pick your own raspberries, gooseberries, and loganberries. Grab an organic burger from the huge burger menu at the Cruise In Country Diner, and then put that local, grass-fed fuel to work at the Tree-To-Tree Aerial Adventure Park -- a sort of obstacle course 20ft up in the trees. Finally, end your day touring wineries around Forest Grove, some of the closest to Portland.
Pro tip: Saké lovers, tack on a tour and tasting at SakéOne, one of only six saké producers in the nation, also in Forest Grove.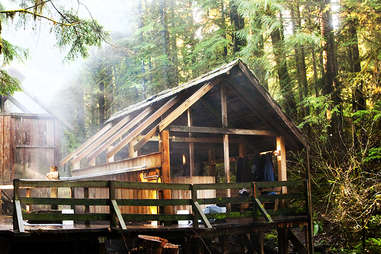 Bagby Hot Springs, OR
Distance from Portland: 82 miles, 2.45-hour drive
Why it made our list: It's one of the closest public hot springs to Portland, and the drive winds along the Clackamas River and through Mt. Hood National Forest. Isolated but popular, a 1.5 mile hike takes you to a variety of soaking tubs, from private baths hewn from logs to several large communal tubs. The water is hot, so look for the cold-water spigot to get the temperature right. Nudity is allowed in the private areas. Fee is $5 per person. Bring exact change.
Pro tip: In regard to communal tubs, it's common courtesy to empty your tub and refill it halfway before you leave.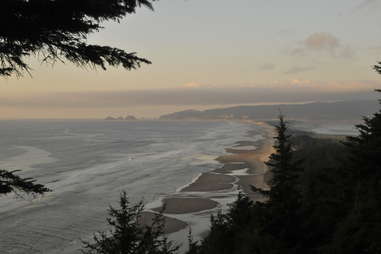 Tillamook Coast, OR
Distance from Portland: 87 miles, 1.45-hour drive
Why it made our list: What's better than a day on the coast followed by a fire on the beach? Start off with a sour beer at the brand-new (but already world-renowned) de Garde Brewing in Tillamook. Next, hike the 5 mile Cape Lookout for the opportunity to see humpback whales from 400ft cliffs. Then, refuel with with Dungeness crab on the dock at the Kelly's Brighton Marina, and end the day with a fire on one of the "secret beaches," such as Barview Jetty County Campground.
Pro tip: Fires are legal below the vegetation line, as long as you don't go crazy. Put them out with water, not sand.
Astoria, OR
Distance from Portland: 97 miles, 1.50-hour drive
Why it made our list: It's a historical fishing town located at one of the most violent river mouths in the world, it's even nicknamed "Graveyard of the Pacific" (seriously, the Coast Guard and Navy both do training exercises here for a taste of truly terrible water conditions). Hike to the Astoria Column for sprawling views; drink Rogue Ales & Spirits on a pier; and find authentic Bosnian food at Drina Daisy.
Pro tip: The longest beach in the nation, Washington's Long Beach, is just another 30 minutes on.
Siuslaw National Forest, OR
Distance from Portland: 168 miles, 3.25-hour drive
Why it made the list: Stretching 40 miles, it's the largest expanse of coastal dunes in North America. Whether hiking, paddling, or touring the dunes in an off-highway vehicle, the park has something for all who love nature. And have you ever tried sandboarding? This is the place. There's no better rental shop than the one at Sand Master Park, the world's first sandboard park.
Pro tip: The fish tacos at Homegrown Public House in Florence prove that Oregon's fish tacos deserve attention.
Bend, OR
Distance from Portland: 170 miles, 3.20-hour drive
Why it made our list: It's one of the most scenically diverse road trips in the state, traversing Mt. Hood National Forest, petrified forest, desert canyons, and lava lands. And who's the real beer capital of Oregon anyway? Bend has more than 30 breweries, along with every outdoor activity on Earth, including cycling the Bend Ale Trail and floating the Deschutes River to Mirror Pond.
Pro tip: On the way there, take the more travel road, Route 26, but on the way back, take Routes 20 and 22. This route runs through Deschutes National Park, Mt. Jefferson, and the bizarre, tree-stump-studded Detroit Lake. Did you know that creating the lake flooded a town? Not long ago, you could still see the tops of the buildings sticking out.
Sign up here for our daily PDX email and be the first to get all the food/drink/fun Portland has to offer.