If there is one thing that people in Portland love it's... well, these 29 things... but if there's just one thing, it'd probably be strip clubs. After all, PDX supposedly has more of 'em per capita than anywhere else in the country (ranging from sweet steakhouses to completely vegan establishments). There're so many here that they're hard to keep track of, unless you have Thrillist's 2015 guide to Stumptown's sweetest gentlemen's establishments...
East Burnside
What to expect: $4.50 ATM fees and a $5 cover on most nights
What it's known for: Its proximity to the Jupiter and Doug Fir Lounge means a lot of the visiting musicians stop in before, or even after, their show. You never know who you might run into
A great alternative to Sassy's if you can't manage to find a place to sit. Just remember to pull out a few bills before heading in.

Central Eastside/Industrial
What to expect: No place to sit, the scariest bouncer in town, and tattooed hipsters
What it's known for: The aforementioned tattooed hipsters, the best strip club steak, and being the place to go after midnight
If you can secure a table before the masses arrive, this is the our favorite strip club. Just remember to tip anyone and everyone that serves you.
Montavilla
What to expect: Consistently attractive girls who could care less about your admiration
What it's known for: $1.25 wells and drafts from 10:30am-5pm
Pro tip: "Two girl Tuesdays"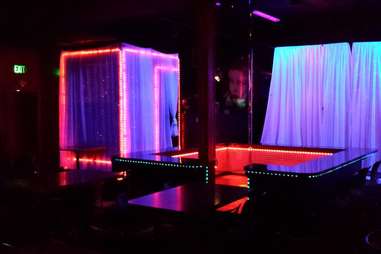 South Tabor
What to expect: To be overwhelmed, and not just by the dancers
What it's known for: Pool tables, Pac-Man, pinball, hi-def TVs, and, oh yeah, pretty girls!
If you haven't gathered, what's going for this place is the sheer number of options. And you thought a regular strip club was a time suck!

Creston-Kenilworth
What to expect: Large paintings of metal legends and lots of velvet
What it's known for: Being a heavy metal strip club
A lot of the dancers also spend time at Dv8, so if one looks familiar, don't think she's an old fling. Be prepared for Pantera and girls dancing in a cage.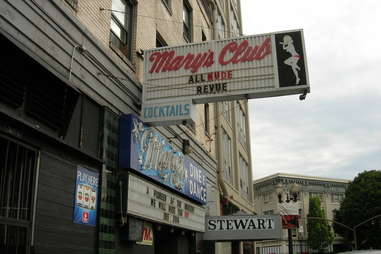 Brooklyn
What to expect: Tattoos and acrobatics -- there are monkey bars on the ceiling!
What it's known for: Theme nights! Our favorite? Tiny Tuesdays, no dancers over five feet tall and an MC known as Mini Marilyn Manson
If you're not into naked women (then why are you reading this?) there's a cash poker game daily. We think there are better ways to spend your money...

Sellwood
What to expect: A surprisingly large crowd for 11am and an incredibly large selection of domestics
What it's known for: Great steak. Seriously.
Okay, so there's actually better strip club steak out there, but Acropolis put nice-looking women and a nice medium rare on the map. Plus they've got a helluva brunch!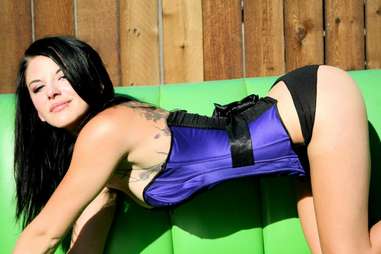 Northwest
What to expect: Topless bartenders and girls that aren't afraid to approach you
What it's known for: Bloody $2 bills and surprisingly decent vegan Mexican food
It's the most well-known Portland strip club outside of Portland. Our recommendation? Make it the final stop of your night. Nothing after will compare.
Foster-Powell
What to expect: Think SuicideGirls, but better...
What it's known for:Stripperoke. Yep, just what it sounds like! You sing and the girls strip.
A favorite memory of, um, some guy we know (riiight), is when a girl walked out barefoot in a black onesie covered in skull and crossbones, if that's not Portland we don't know what is.

Downtown
What to expect: The occasional out-of-town NBA player hoarding all of the attention
What it's known for: Young girls patronizing the stockbroker types that show up in blazers
Best to show up here earlier in the evening when the girls are just getting started and the bros are just showing up. Avoid it later in the night when the Jägerbombs start to take hold.
Kenton
What to expect: A nice mix of hipsters drinking PBR because it's cool and truck drivers drinking it because it's cheap
What it's known for: Blue collar clientele
Order a well whiskey, sit at the bar, and strike up a conversation.
Hawthorne
What to expect: A brightly lit, cramped room where the "Champagne room" is more like a curtained cubicle
What it's known for: Talented girls that spend a large portion of the night outside on the busy street smoking cigarettes in thongs and high heels
This is a real regulars kinda strip club. One you wouldn't feel too weird taking family to. As long as you've got a weird family.

Creston-Kenilworth
What to expect: A large, multifaceted room filled with the busts of various (what else) safari animals
What it's known for: It used to be the shower, but nowadays probably the big screen TV
For what it's worth, this seems to be the bar you go to when you get laid off. Or maybe that's just restaurant folk.
Old Town
What to expect: Candles on the tables, exposed brick. Oh, and they accept Bitcoin
What it's known for: "Nerdgasm" Wednesdays -- think thick rimmed glasses and superhero underwear
Fairly new to the scene, Kit Kat tries for something classier than most of the Downtown offerings. And you can get dumplings from the nearby Stumptown Dumplings cart.

Roseway
What to expect: To spend some money and get a personal show
What it's known for: "Lingerie modeling"
Not your average strip joint, Pussycats offers private lingerie modeling at a price. You get what you tip for.
Downtown
What to expect: Well, for starters, no booze. And a lot of kids under 21.
What it's known for: Staying open until at least 4am every day!
This is where you go when the bars close. Literally.

Sign up here for our daily PDX email and be the first to get all the food/drink/fun Portland has to offer.