Portland can be a daunting city to date in. Just ask any of your friends older than 25 who are still single. That said, we've been experiencing an influx of new residents like never before for the past few years… so it's not for lack of want. It's just that we're a city that seems to pride itself on passivity in relationships (we basically invented ghosting).
Luckily, we have a plethora of options for great dates around town, especially cheap ones that don't suck or involve a night out at Applebee's. Here are 27 wallet-friendly date options that are sure to impress. And be sure to take a gander at our locals-approved list of super fun things to do around Portland if you're still looking for more ideas. 
Head out on a beer tour
Multiple locations
Portland is the best beer city in America, so take your date out for a few frosty ones at some of the places where it is made, or hit up some of the city's best tap-houses and try out the gigantic array of local and national award-winning beers.
Forest Park
We've got the largest parks (within the city limits) in the country, so why not take advantage with a leisurely stroll, a woodland run, or a hike? Seriously, forest park covers around 5,157 acres with 80 miles of trails. The thick canopy of trees keeps the area relatively dry during the gray, rainy months. Besides, you can't be a true Portlander without a good surplus rain jackets.
Downtown
Portland is teeming with top-notch beer theaters in cool neighborhoods, with Living Room Theater being located in the boozy West End area that's not quite The Pearl and not quite Downtown. Admission is only $5 on Mondays and Tuesdays at this spot, which features plush seats for getting extra cozy.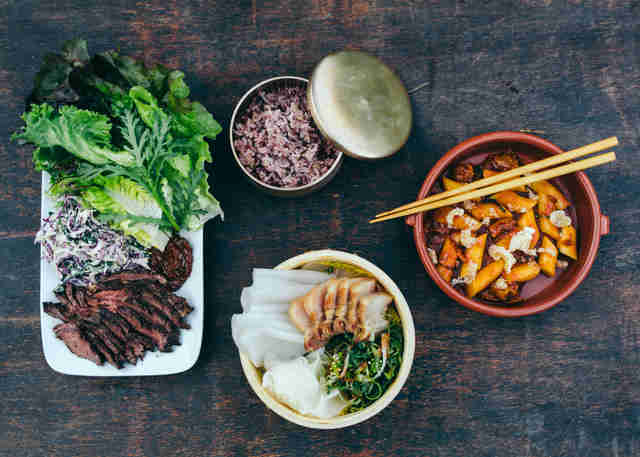 Eat dinner at an infamous PDX pop-up
Multiple locations
If you're looking to impress your date, go to one of the hottest tickets in town, a pop-up. You might not be able to secure a ticket to a spot like Langbaan, which will be booked out for months, but dinners at places like Han Oak, Mae, or Verdigris make for a fun, if overly-indulgent, date night.  
Sunnyside
Pancakes rule. Especially when you're making your own inventions on a hot griddle with a Bloody Mary at your side. You can choose from five batters, a laundry list of fixins, and toppings like goat cheese, caramel spread, and syrup of course.
Central Eastside
Go drinking and get a healthy dose of science with OMSI After Dark,  a 21+ event that offers fun specials like a bourbon and bacon night. The museum's exhibits will also be available to explore and play around with… with no children in sight!
Downtown
Fun fact: The Spanish Coffee is not, in fact, from Spain, but rather from this vintage Portland restaurant. They're $11.50 a pop, but they're also filled with Bacardi 151. It's worth it alone for the ice-breaking pyrotechnics as they literally light your drink on fire.
Catch some cheap -- or free -- stand-up
Multiple locations
There's plenty of stand-up comedy in this town, and much of it is actually, surprisingly good. Some of it is free! Like It's Gonna Be Okay, every Monday night at East Burn. And for series like Lez Stand Up, the seats might be cheap, but the jokes aren't; these places screen their performers well, so you won't have horrible acts thinking they can get a laugh by being like, so edgy, right?
Downtown
Every other Sunday, Shift Drinks whips up a special dinner -- it might be lasagna, beef bourguignon, or pozole, but in any case it's always 100% free. Grab a few glasses of wine from the all-day happy hour menu and impress your date with not only your exceptional taste, but your savvy frugality. Combine this with a trip to Rontoms afterwards (see below) for one of the best value night on the towns out there.
Kerns
The weekly night of free music offers the perfect low-stakes opportunity to check out up-and-coming local bands and impress your date with your adventurous taste in music in the process. It's also just as easy to ditch them in the crowd if they turn out to be a dud, which may be just what you need when you're rolling the dice on a Tinder match whose profile pics are at least 4 years old. 
Sunnyside
The stylish, minimalist environs of this ultra-hip lounge on Belmont lend to the feeling of it being some kind of well-guarded secret among internet daters of Portland, but we assure you it is not. And for good reason -- between the hours of 5-7pm, Aalto offers stiff cocktails, "adult" Jell-O shots, and grilled cheese sandwiches with tomato soup for a paltry $3 each. It's low investment, high yield.
Visit an urban winery
Multiple locations
Heading out of town to wine country is a classic Portland move, but it also takes an hour of driving, and then you're forced to drive back home after consuming what is likely an unsafe amount of wine. Instead, head to one of our many urban wineries like Southeast Wine Collective, Teutonic Winery, or Enso Winery to sample the bounty of Oregon's wines while still being able to get a Lyft home for less than $200.
Day trip to the coast
Multiple locations
Once you're there you can check out the sites in towns like Seaside and Cannon Beach. This is obviously a third or fourth date thing. No one wants to go on a long drive with a stranger.
Slurp dollar oysters around town
Multiple locations
It feels like a requirement these days that any craft cocktail bar has $1 oysters during happy hour, which is a very good thing. Get in the mood by splitting a dozen briny treat at La Moule, Jacqueline, Ringside Fish House (on Mondays), or Trifecta Tavern.
Enjoy Costco dogs, soda, and airplanes
Argay
Grab your Costco card (you do have one, no?) and take your lucky date for some sausages and fountain drinks. Romantic, right? After, make a short jaunt to Marine Drive and watch the planes take off from PDX. Bonus points if you can actually impress your date with your best Wayne's World impression. It's not cheap -- it's "Old-School Portland".
Play B-movie bingo at the Hollywood Theatre
Hollywood
The first Tuesday of every month is like your own semi-private episode of Mystery Science Theater 3000 at the Hollywood, only the characters of god-awful dollar-bin fodder like Omega Cop actually show up to confront their shoddy resume in real life. Plus, the movie theater has pizza, beer, and cider.
All over Portland
Finding fun things to do is deceptively difficult -- even in a bustling city like this one. So we found 59 things you absolutely must do before you die (or move!) and are leaving the rest up to you.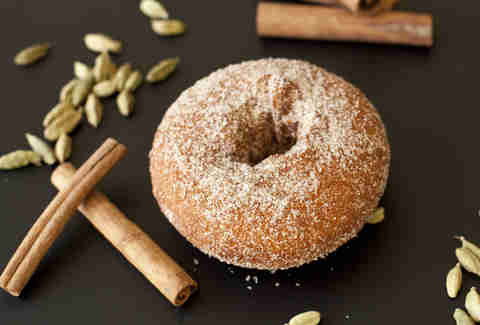 PDX
The airport which the city gets its handle from, Portland International Airport actually has some great dining, including The Country Cat, Blue Star Donuts, Tamale Boy, and Laurelwood, and it makes for some of the best people watching in town. And hey, if the date is going atrociously, you can always excuse yourself and fly far far away from here.
Sunnyside
Wunderland's Avalon Theatre on Hawthorne doesn't have drinks like Ground Kontrol or QuarterWorld, but the games all take nickels, not quarters, and the cover charge is only $2.50. That way you won't be spending the better part of last night's tips on keeping Wolverine alive in that damn X-Men game.
Pearl
Flip through some books together in the Rare Book Room at Powell's Books, or just wander the stacks together. Then, head across the street to Sizzle Pie for a slice and a drink. Just don't do it in reverse order -- the staff at Powell's frowns on getting grease stains all over the rare books.
Multiple locations
You can find a Geeks Who Drink trivia night every night at the week, hosted at various bars all across town. You'll be able to impress your date with your brilliant knowledge of state capitals and facts about the show Airwolf (1984-87), and all it will cost is the price of whatever drinks you feel like will enhance your trivia skills.
Find a cheap taco night
Multiple locations
Everyone loves tacos, right? RIGHT?! Luckily Portland has a few different taco nights around town, almost always on Tuesdays (Taco Tuesday, natch). $1 and $2 tacos can be found at spots like Portland Cider Works, Lucky Devil Lounge, The High Dive, and The Fields.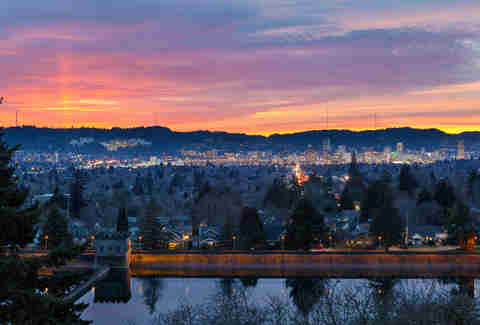 Mount Tabor
It may seem like it, but it doesn't actually rain all the time in Portland. There are plenty of dry days that award you the opportunity for a jaunt in the park. The best way: head to Coquine, grab one of their stupidly good chocolate chip cookies along with a cup of coffee or two, and go for a walk on the country's only active volcano in a city limit: Mount Tabor.
Chinatown
On the second Thursday and last Wednesday of every month Ground Kontrol puts its games on free play and charges a $5 cover, so you can finally beat that last level of Double Dragon with your date without breaking the bank. Then you can spend the rest of your budget on cheap drinks and even cheaper hot-dogs, though it's better to head a block away for tacos and tequila at Mi Mero Mole.
Multiple locations
One of Portland's best teahouses, Townshend's Tea offers a staggering array of sustainably sourced teas from China, Japan, India, and more. It's a low-pressure environment that allows you to sip some teas and discuss French cinema, Japanese literature, German prog-rock, or whatever else you lied about liking on your OKCupid account.
Multiple locations
This is not the haunted locations tours.  We mean boozy spirits. Portland is home to an amazing amount of distilleries, and most of them offer tasting flights at affordable rates. That way you can get totally loaded without guilt; it's an experience, and supports local businesses, after all. Just be sure to take Lyft or Trimet instead of driving, please.
Chinatown
First Thursday is a time-honored tradition, when galleries in Northwest throw their doors open for everyone to tour. You can bond over a discussion on the juxtaposition of the human form with modern industrialism and capitalism, as depicted in the medium of recycled PBR cans and power cables. It's sexy. Plus, they generally have free wine and beer at all the galleries. Skip the hoity-toity Pearl galleries and stick with the much cooler Old Town/Chinatown ones.
Sign up here for our daily PDX email and be the first to get all the food/drink/fun Portland has to offer.