Where to Go on a Date in Portland This Summer
Get back out there.
Let's be honest: Trying to date in Portland in 2020 was a complete wash. Sure, there was the rise of the FaceTime date (and honestly, that's something that can stick around), but otherwise not a lot of romance blooming in the City of Roses. But now we're back, or at least we're getting there. With vaccinations on the rise and social limitations being lifted, many of the old dating opportunities have returned, joined by the new ones that developed during the pandemic. And with everyone having been locked up for the last year, it's looking to be a real summer of love. Still, you may have forgotten how to go about dating after 2020, so here are some locations, activities, and ideas to get you started, whether it's a first date or 50th anniversary.
Please remember that COVID-19 is still affecting the state, and to follow mask restrictions and social distancing guidelines whenever they're in place.
Smell the roses… or other flowers
Multiple locations
It's not called the City of Roses for nothing. Portland's unique weather provides optimal growing conditions for roses (well, until these last few years of drought). The Portland International Rose Test Garden features more than 10,000 roses, and there are few things more romantic than wandering the rows, taking in the colors and scents. There are other gardens around town, too, like the wonderful Crystal Springs Rhododendron Garden near Reed College and the famed Lan Su Chinese Gardens in Chinatown. Even city parks like Peninsula Park in North Portland and Ladd Circle Park in Ladd's Addition boast rose gardens. Outdoors, romantic, and casual—all elements that can easily make a good early date.
Go old-school at the drive-in
Newberg, Oregon
For a throwback date, what's more classic than catching a drive-in movie? Yeah, they still exist, but you'll have to head to Newberg to do so. The 99-W Drive In Theater is going strong after decades of service, showing double-features that rarely match remotely in tone. You'll even have the privacy of your own vehicle if the date is going better than the movie—just keep things PG, it's still a public space.
Indulge in a drag brunch
Multiple locations
Maybe it's a commentary on the absurdity of the last few years, but drag shows in Portland are bigger than ever, and nowadays it's more often paired with brunch than late-night burlesque. Places like the Nest Lounge, Botanist, and Bit House Collective often host drag brunches, and of course there's always the historic Darcelle XV—it's hard to beat Darcelle's. A drag brunch date is a fun, engaging time and a chance to feel each other out while enjoying a show.
Watch the sunset from the Bluffs
Overlook
We're a few decades past the idea of a "makeout point," but if we did have one, it would likely be Mocks Crest Park. Often called the Skidmore Bluffs or just the Bluffs, the park on North Skidmore offers an uninterrupted view of Swan Island, the Willamette, and the greater downtown area. It's a perfect spot to watch the sun dip below the West hills. Grab a few canned wines or kombucha, throw down a picnic blanket, and enjoy the sunset with a companion (and likely a few dozen other couples and groups). Note that Overlook Park, not too far down the street, is not the Bluffs. It's a nice enough park, but directly next to a hospital is not the best date location.
Watch an astonishing bird show
NW Portland
You'll have to wait until September for this to really wow your date, but the Vaux's Swifts at Chapman Elementary are a sight to behold. Every fall, tens of thousands of the tiny birds spiral into the chimney at Chapman Elementary each evening to rest before their long trip south—according to the Audubon Society, it's the largest roost of migrating Vaux's Swifts in the world, and the slopes around the school fill with picnickers and sightseers watching the mesmerizing avian vortex. Plus, once the birds are all settled in for the night you'll be within walking-distance to NW 23rd Avenue and its array of bars and restaurants.
Grab dinner at a food cart pod
Multiple locations
A huge aspect of Portland's culinary scene is the amazing food cart options around town, and many of them have weathered the pandemic much better than the brick and mortars. Most neighborhoods have at least one food cart, often organized into pods, so even if you and your date have drastically different tastes in food, you can still both find something. Just keep in mind that with the return of summer and the still-limited options for indoor dining, food cart pods can get pretty packed, especially on weekends.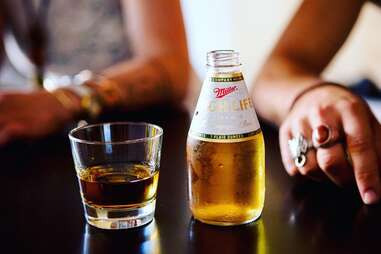 Snag cheap drinks at happy hour
Multiple locations
It's the quintessential first date move for a reason. It's low investment, involves drinking, and you or your date can bail when happy hour is over without it being too awkward or late. And today, happy hours have started to return with bars reopening and new places opening for the first time. There are still fewer than there were pre-pandemic—and far fewer late-night happy hours—but discounted drinks and food can still be found around town. Find specials on whiskey drinks at Northwest Portland's Pope House Bourbon Lounge; Southern food at the Rambler on Mississippi; and classic pub food at the Observatory in Montavilla. Just remember—workers are still the frontline of the pandemic, and there's no faster way to disappoint a date than by treating workers rudely or tipping poorly, especially on discounted items.
Go classic and sip on a latte
Multiple locations
Not everyone drinks, and not everyone has time for an evening date. Enter one of the world's most popular first date options: grabbing a hot, caffeinated drink at one of our many, many cafes, coffee shops, and tea shops around town. The chic, minimalist chain Tea Bar makes hot tea and matcha lattes, Barista employs some of the best latte artists in town, Never Coffee steams up some unique latte flavors, Portland Cà Phê offers intriguing takes on Vietnamese coffee, and the hip Deadstock eschews Northwest coffeehouse pretentions. Most of the city's cafes are still closed for indoor dining, but you can always chill on the patio or go for a nice walk around the sunny blocks.
Head out on a beer tour
Multiple locations
Portland is famous for being a sudsy city for a very good reason. Besides the sheer number of breweries we have, we all also have a plethora of fantastic tap rooms, beer festivals, tours, and brewpubs. And for whatever reason, breweries like Stormbreaker and Baerlic managed to set up some of the largest street-side dining in town, while others like Ecliptic Brewing already had huge patios to begin with. This means an outdoor place to get to know each other over some of Portland's finest cultural exports. A few places are even for indoor dining for those vaccinated and who feel comfortable doing so.
Picnic in a park
Multiple locations
For those looking for a relaxing time in the sun and shade, why not throw some blankets down at a park and make it a date? Of course, this may not work as well during the rainier times—or the times when we're covered in a cloud of ash and smoke—but on clear days it's a great option. Camping supply stores like Andy and Bax and REI often carry water proof blankets, too, to spare you a wet butt.
Peruse some records
Multiple locations
One quick way to find out more about a new person in your life: judge their taste in music. This is best done by heading to one of Portland's many independent record shops, like
Crossroads Music
,
Jackpot Records
,
Music Millennium
, and
Tomorrow Records
. If your date heads straight to the Nu Metal section, run. As usual, smaller businesses are struggling right now, so consider actually buying some vinyl rather than just wandering.
Rent a movie from one of Portland's best shops
Sunnyside
Remember the days when you would have to go rent a movie from a store rather than just finding it on one of the innumerous streaming sites owned by colossal corporations? Movie Madness on SE Belmont is the pinnacle of that store. Thanks to the community rallying to support it, and the Hollywood Theater buying it, Movie Madness weathered the pandemic (and the decade of media consolidation and online markets) and today is open again for business. It still carries the strange and bizarre cinema that can't be found anywhere else, even online. For a date night in, it's hard to beat.
Sign up here for our daily PDX email and be the first to get all the food/drink/fun Portland has to offer.
Alex Frane has pretty much hit every one of these date options in some form or another at some point. Follow him (or slide into his DMs if you wanna take him out to one of these) at @franiacdrinks.