Where to Go on a Date in Portland This Winter
Cuffing season is here.
It's one thing to date in the age of the pandemic when it's still bright and sunny most days of the week. But trying to navigate the worlds of the continuing pandemic, Portland's dating scene, and dating in general can be especially difficult in the rainy, colder months. However, there are opportunities and options even in the gray seasons. It might involve fewer picnics or sunsets, but winter does provide some of its own unique angles. Whether it's a first date, second, or a 50th anniversary, here are some romantic activities in and around Portland.
Just remember: One very quick way to ruin a date is to mistreat service workers and other industry employees. Another is to flout safety procedures during a deadly pandemic. Remember to follow mask restrictions and social distancing guidelines and treat workers with dignity and respect.
Play some games together
Multiple locations
It's 2021, which means that "nerdy" habits like gaming are (hopefully still) cool. Whether it's tabletop games, board games, or video games, Portland has places to indulge in some competitive or friendly gaming with your date. Barcades like Ground Kontrol, Quarterworld, and the Retro Game Bar have reopened for gaming and drinking, while places like Mox Boarding House and Guardian Games provide a place for card games and board games, as well as roleplaying. If that's your thing, it's a good way to see if you have some hobbies in common.
Keep warm with a drink and a fire
Multiple locations
Thanks to Portland's extension of our street dining permits until at least next spring, there are more patios around town than ever before. Plenty of these patios, both new and old, have fire pits or heaters. When it starts to get dark by 4:30 pm, it's best to lean into the season and curl up with a warm drink around a fire pit with a new (or old) friend. Plus, if things go well you have an excuse to cozy on up to each other. The Richmond Bar, Bantam Tavern, Interurban, and the Garrison all have some form of fire outdoors to keep you warm.
Catch a game
Multiple locations
We might not have a major league baseball team or an NFL team, but Portland is still filled with hardcore sports fanatics. Mainly, the focus is on our NBA team, the Portland Trailblazers, and our men's soccer team the Timbers, but there are others as well, including the fabulous women's soccer team the Thorns, and the junior ice hockey team the Winterhawks. It's not uncommon, or unwarranted, for early dates to involve yelling at your favorite local teams, whether that's in a bustling stadium or at screens in a local sports bar. If you can find someone whose enthusiasm for Rip City matches your own, you know there's potential.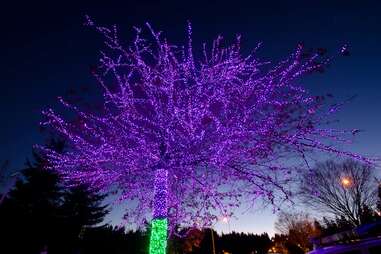 Get into the holiday season
Multiple locations
This one only applies to late December through the end of the year, but for all of its stereotypes about harboring godless, anti-capitalist hooligans, Portland really gets into the holiday season. There's the big tree downtown at Pioneer Courthouse Square, there's the return of Peacock Lane, when houses up and down the block go all-out with Christmas decorations, there's the fabulous Christmas display known as Zoo Lights at the Oregon Zoo, and even seasonal river cruises. For most of December, the sleek cocktail bar Deadshot is transforming into the nation-wide Christmas-themed pop-up bar Miracle Bar. Admittedly, these are not the most inclusive events—they all tend towards Christmas vibes rather than Chanukah. But there are a few Chanukah events, as well, for those who celebrate the holiday. In any case, it can be a nice and weirdly romantic time, especially for those who really care about the holiday.
Grab dinner at a food cart pod
Multiple locations
A huge aspect of Portland's culinary scene is the amazing food cart options around town. Most neighborhoods have at least one food cart and usually more, often organized into pods. A benefit is that even if you and your date have drastically different tastes in food, you can still both find something. Also, many pods offer some form of cover from the winter rains, and are generally less busy than in the summer months, which means wait times are shorter and you can more quickly get on with your date.
Head out on a beer tour
Multiple locations
Portland is famous for being a sudsy city for a very good reason. Besides the sheer number of breweries we have, we all also have a plethora of fantastic tap rooms, beer festivals, tours, and brewpubs. Breweries like Stormbreaker and Baerlic managed to set up some of the largest street-side dining in town, while others like Ecliptic Brewing already had huge patios to begin with. This means an outdoor place to get to know each other over some of Portland's finest cultural exports. A few places are even for indoor dining for those vaccinated and who feel comfortable doing so.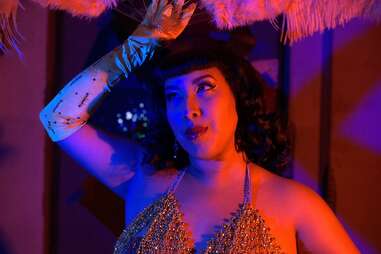 Multiple locations
Maybe it's a commentary on the absurdity of the last few years, but drag shows in Portland are bigger than ever, and nowadays it's more often paired with brunch than late-night burlesque. Places like the Nest Lounge, Botanist, and Bit House Collective often host drag brunches, and of course there's always the historic Darcelle XV—it's hard to beat Darcelle's. A drag brunch date is a fun, engaging time and a chance to feel each other out while enjoying a show.
Snag cheap drinks at happy hour
Multiple locations
It's the quintessential first date move for a reason. It's low investment, involves drinking, and you or your date can bail when happy hour is over without it being too awkward or late. However, like everything for the last two years, things look a little different these days, and there are still fewer happy hours than there were pre-pandemic—and far fewer late-night happy hours. Still, discounted drinks and food can still be found around town. Find specials on whiskey drinks at Northwest Portland's Pope House Bourbon Lounge; Southern food at the Rambler on Mississippi; and classic pub food at the Observatory in Montavilla. Even Aalto Lounge has returned with its ridiculous $4 happy hour menu. Just remember—workers are still the frontline of the pandemic (which, yes, is still a thing), and there's no faster way to disappoint a date than by treating workers rudely or tipping poorly, especially on discounted items.
Go classic and sip on a latte
Multiple locations
Not everyone drinks, and not everyone has time for an evening date. Enter one of the world's most popular first date options: grabbing a hot, caffeinated drink at one of our many, many cafes, coffee shops, and tea shops around town. The chic, minimalist chain Tea Bar makes hot tea and matcha lattes, Barista employs some of the best latte artists in town, Portland Cà Phê offers intriguing takes on Vietnamese coffee, and the hip Deadstock eschews Northwest coffeehouse pretensions. Many of the city's cafes are even open with indoor service, but you can always chill on the patio or go for a nice walk around the blocks if you prefer.
Peruse some records
Multiple locations
One quick way to find out more about a new person in your life: judge their taste in music. This is best done by heading to one of Portland's many independent record shops, like Crossroads Music, Jackpot Records, Music Millennium, and Tomorrow Records. If your date heads straight to the Nu Metal section, run. As usual, smaller businesses are struggling right now, so consider actually buying some vinyl rather than just wandering.
Rent a movie from one of Portland's best shops
Sunnyside
Remember the days when you would have to go rent a movie from a store rather than just finding it on one of the innumerous streaming sites owned by colossal corporations? Movie Madness on SE Belmont is the pinnacle of that store. Thanks to the community rallying to support it, and the Hollywood Theater buying it, Movie Madness weathered the pandemic (and the decade of media consolidation and online markets) and today is open again for business. It still carries the strange and bizarre cinema that can't be found anywhere else, even online. For a date night in, it's hard to beat.
Alex Frane has pretty much hit every one of these date options in some form or another at some point. Follow him (or slide into his DMs if you wanna take him out to one of these) at @franiacdrinks.