One of the worst decisions you can make in Portland is... um, not actually living in Portland, but in one of its innumerable suburbs instead. Especially when so many of said 'burbs kinda suck. Don't believe us? Here's why...
Aloha
It's pronounced "ah-low-ah." Enough said.

Battle Ground
Tonya Harding once got arrested for driving under the influence here. Rest assured they're saving up for a monument.

Beavercreek
Oregon's first hamlet, Tonya Harding now lives here. Try to stay off the roads.
Beaverton
It's the home of Portland's corporate overlord, Nike, so not even the fact that it boasts some of the best Asian food outside of 82nd Ave can keep it from totally sucking.

Boring
Sister city to Dull, Scotland, Boring actually belied its name by hosting a party with Vitaminwater a couple years ago that brought in B.o.B. and Santigold. Let's do that again.

Canby
Lots of young families doing whatever it is those people do for fun.

Cedar Mill
Proud home of the $10 hot dog, and not much else.

Cedar Hills
Only slightly better than Cedar Mill.
Clackamas
Home to a cabin that is so old it may in fact predate Lewis and Clark, which is also about how old you have to be to want to live there.

Cornelius
The tiny town between Hillsboro and Forest Grove that we're all going to forget exists.

Damascus
Oregon's newest city. It was afraid of being annexed by Portland, but truth be told, we didn't want it.

Dunthorpe
A mysterious, secluded area Northeast of Lake Oswego that is quite possibly more wealthy, it is also the best place to go trick-or-treating.

Fairview
Sure, the view is fairly decent -- if you're looking away from the city for the 60 seconds it takes to drive through.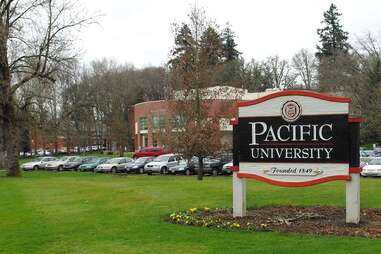 Forest Grove
Peach farmers and students of Pacific University.

Garden Home
Organized elderly couples. Basically a retirement community that runs itself.

Gladstone
There's so little going on here the kids should skip school to go to Garden Home.

Gresham
The city we love to hate but secretly enjoy on the side, especially when you can find half of this city sleeping on the sidewalk before the Rose Parade.
Happy Valley
This town will be anything but happy if the extinct volcano it's built on the side of is just dormant.

Hillsboro
Everyone who lives here makes gobs of money... just not enough to move to Lake Oswego or West Linn yet.

King City
This tiny town was built in the '60s and only allowed residents over 50. The rule has since changed as the home owners realized they missed telling youngsters to "get off my lawn!"
Lake Oswego
Where all the NBA players live. The "lake" is private and only for card-carrying residents.

Milwaukie
Okay, actually a pretty funky, cool little blue-collar town South of Sellwood, plus it's super-close to Acropolis Steakhouse, but it is also just one letter away from being a city in... ugh, Wisconsin.

Oregon City
Oregon sh*tty?

Raleigh Hills
This is that OG money, where the founders of Portland lived and, let's face it, you don't.

Sherwood
The infuriating two-way traffic and strip mall part of the drive to wine country.
Tigard
Washington Square Mall?

Troutdale
The scenery that lets you know you're almost home when driving East on 84.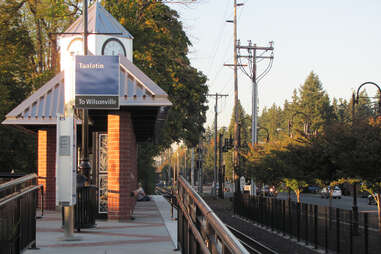 Tualatin
I guess there's movie theater at Bridgeport Village.

Vancouver
We like to make fun of the 'Couv, but let's be honest, there's a decent amount to do after you hit the totally legal dispensaries. Just kidding... it's in Washington! Hahahaha.

West Linn
Almost as fancy as Lake Oswego.

West Slope
Conveniently hidden behind the beautiful side of the hills. We just realized people there probably call them the East Hills...

Wilsonville
Where you go to buy a new car.

Wood Village
Home of the Walmart Supercenter off 84.
Sign up here for our daily PDX email and be the first to get all the food/drink/fun Portland has to offer.