In Oregon, hiking is a way of life. The trouble is, it's so popular that it's damn near impossible to hit the trail without running into a coworker, somebody you slept with, your barista, and your obnoxious friend (they might all be the same person, too). Luckily, when you live in a state with this much wilderness, it's not too hard to literally go off the beaten path. Here are some of our favorite hikes that the masses haven't overrun -- yet.
Recommended Video
Get Fit and Look Like A Badass
Oxbow Regional Park
Distance: 5.4 miles
Everybody knows Oxbow, largely because it's the lazy outdoorsman's go-to spot due to its proximity to the city. Most people are content to plop down at a picnic table and pretend they don't see the "no dogs" sign. Some venture into the surrounding trails but even fewer make it to the Northernmost Oxbow hike, an almost untraveled section of the loop. Traveling partly on an abandoned logging road, the only people you're likely to see are intrepid fishermen. Make sure not to ask them for directions -- they're usually wary of you discovering their fishing hole.
Mt. Saint Helens
Distance: 8 miles
If you're looking for a little more adventure without more work, this quick trip to Washington has you covered. About 30mi North on I-5, Butte Camp is situated in the foothills of Mount St. Helens. The short trail gives you breathtaking views of the mountain and runs through fields of wildflowers, a beautiful byproduct of the eruption. Whatever you do, don't go in August -- the place is swarming with mosquitoes.
Willamette National Forest
Distance: 2.9 miles 
Views of Mount Jefferson and tranquil walks through old growth forests make up this popular destination in the Willamette National Forest. Not so popular is the the back way to the top, Triangulation Peak. You'll still get all the Cascade views and colorful meadows but without the asthmatic panting of weekenders and their tiny dogs. While everyone else takes the easy trail from the North, look to the South for your own private hike.
 
Mt. Hood National Forest
Distance: 13.7 miles
At nearly 14mi, this is a fairly long day hike on Hood. However, there isn't much scrambling or elevation gain, so it's more of a leisurely stroll through pines and late spring wildflowers. As this hike isn't well traveled, you will have to use those Boy Scout skills you picked up in elementary school before your mom let you play tackle football. Most of the trails are not marked and loosely defined. But isn't exploring half the fun?
Willamette National Forest
Distance: 9 miles
All the waterfalls and deep pools and enormous trees that you'll find at Willamette's Opal Creek with none of the crowd, even though it's only 3mi away. Next time you're looking for a nice hike with a rewarding swim at the finish, avoid the popular high school hangout and head to Little North Fork.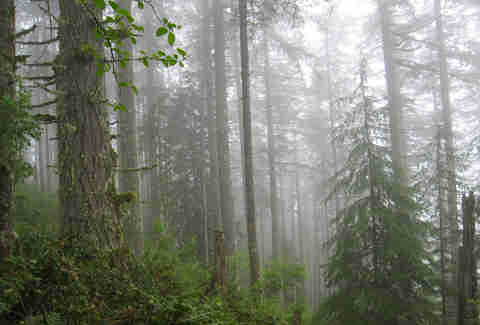 North Oregon Coast
Distance: 4.8 miles
With all the focus on mountain vistas in the Cascades, it's easy to forget about Oregon's coastal range. It's not as spectacular as the previously mentioned hikes, but the small, peaceful lake at the end is worth quiet reflection/inevitable profile pic.
 
Columbia River Gorge
Distance: 10 miles
One of the more grueling hikes in the Columbia River Gorge -- and sharing the name with one of the more grueling Tom Cruise movies -- this loop climbs about 1,000ft per mile, and we don't recommend it if it's been raining. Now that you've been warned, we can't recommend this hike enough. It's a spectacular workout with some of the most rewarding vistas and largely unvisited rock formations. From rock arches to a ridge called the Devil's Backbone, this loop is the Gorge's best-kept secret. Until now.
Mt. Hood National Forest
Distance: 6 miles
Another hike that's more rewarding for its solace than epic Instagram-ability, Jackpot Meadows is the perfect mountain hike for cloudier days. Near Trillium Lake, the trail to Jackpot Meadows is an ambling walk through the forest with no real views of peaks or valleys -- but there are plenty of wildflowers and and an unnamed creek just begging for attention.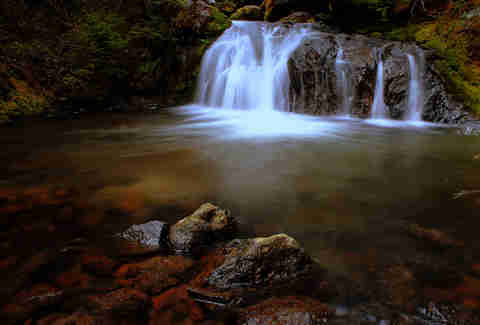 Mt. Hood National Forest
Distance: 4.6 miles
The Gorge waterfalls seem to get all the love these days, but Mount Hood has a few surprises too. Near Meadows ski resort, the trail to Umbrella Falls starts with views of chairlifts and the recognizable peak of Mount Hood. It's a great hike, especially if you're a skier, since you get to see the slopes unmarred by snow. Granted, this year you probably can't tell the difference.
Sign up here for our daily PDX email and be the first to get all the food/drink/fun Portland has to offer.