Think you know all there is about the city where hipsters come to retire? Where it rains a ton? And where there are more strip clubs per capita than anywhere else? How about the fact that all three of those things are TOTAL LIES????? Here are 15 things you thought you knew about Portland, but really don't...
Recommended Video
This Chinese Festival Is Like 'Frozen' Come to Life
1. We came up with "Keep Portland Weird"
Sadly, "Keep Austin Weird" came first.
 
2. Great public transportation means less traffic
This past Thanksgiving the only city more knotted than us was LA!
 
3. People come here to retire
Sorry Portlandia, we added 30,000 people to the workforce last year.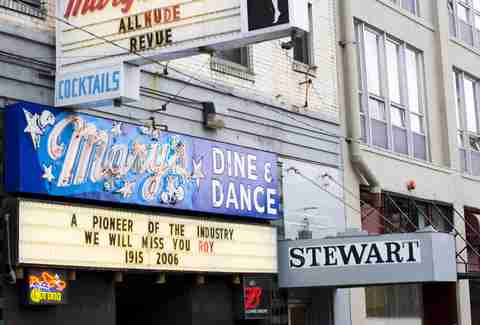 4. We have the most strip clubs per capita...
Common misconception, but the small town of Springfield has us beat even though it has less than ten clubs. Now, if you only count major cities, then we regain the crown.
 
5. ... and bars
That belongs to Pittsburgh. We're number eight.
 
6. ... and even breweries!
Bend has the most per capita, but if we're talking sheer quantity we have the most out of any city in the world!
7. Everyone is vegan or vegetarian
Meat purveyor Nicky USA brings in and sells everything from pigs and rabbits to water buffalo, python, and antelope. (Don't worry, it's local and sustainable!)
 
8. It's completely legal to be naked in public
Okay this is mostly true as long as you're not aroused or doing anything someone deems indecent. It's hard to please everyone (especially when you're not aroused!)
 
9. No sales tax means all of us freelancers live like kings
Not really. Between the property and income tax it works out to be basically the same as anywhere else.
10. Everyone rides a fixie
There are plenty tall bikes and middle-aged women towing their dogs to yoga class, too.
 
11. The whole city is connected by underground tunnels
Not anymore! Most have been sealed off by brick and concrete and at this point it's hard to go more than a hundred yards in any direction.
 
12. We don't like Seattle
Unless we're playing the Sounders in soccer nobody really thinks about it.
13. We're outdoorsy
Yeah at least until it dips a degree below freezing or snows half an inch.
 
14. It rains a lot
Actually, we only get 40 inches per year. Compared to Mobile, AL's 67 inches that's nothing!
 
15. We're self-sufficient DIYers
Then why won't you let me pump my own gas!?
Sign up here for our daily PDX email and be the first to get all the food/drink/fun Portland has to offer.