Talk shows get Portlandified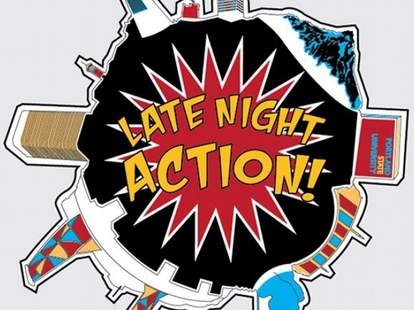 There's a late-night talk show for every persuasion: Leno has cheesy everyman appeal, Kimmel brings the fratty rudeness, and Conan just knows what is best in life. Now, there's a live-on-stage late-night talk show just for Portland: Late Night Action with Alex Falcone!
Dropping its first-ever "episode" this weekend at the just-opened SE Portland Action/Adventure Theater, LNA blatantly steals every late-night trope and sets it in front of a live audience as the be-suited host and his DJ/sidekick (both PDX stand-up vets) seek to create an experience like a "TV that you're hanging out in", also a stoned salesman's "high-definition" of the new 3D TV. Every LNA'll see a monologue riffing on local news (the show's writers will do push-ups if jokes are poorly received!), a bossy sidekick who also happens to be the show's director/ band/ tech person, live on-stage commercials from actual sponsors, local celebs in awkward moments, and sets from PDX bands, because it's basically impossible to have fun without Everclear. This weekend'll feature two Caucasian hip-hop duos (and quite possibly a rap battle!), Portlandia-featured comedian Ian Karmel, and luminaries like Portland Mercury editor/ freak Wm. Steven Humphrey, and Tres Shannon, former mayoral candidate and co-owner of VooDoo Doughnut, so expect tons of tourists waiting for hours to get in.
As it rolls on you can expect more themed shows including a literary episode with guests ranging from fiction writers to comic creators, and a Valentine's show which'll include a local "sexpert" -- or what Conan refers to as "me", but wouldn't you do the same, if people kept dropping off chicks at your cage for you to bang while they watch?