Dating in Portland is tough, but it's not that way because this mecca of transplants and Tinderellas is lacking in awesome date spots. It's the casual nature of the city that makes it difficult to figure out if the lady you met while queued up at the Roseland's metal detectors is really into you.
Luckily, tough doesn't necessarily mean expensive. Hell, sometimes love doesn't have to cost a thing (thanks, J. Lo!). Here are 19 $20 dates that will help you impress a potential mate without breaking the bank.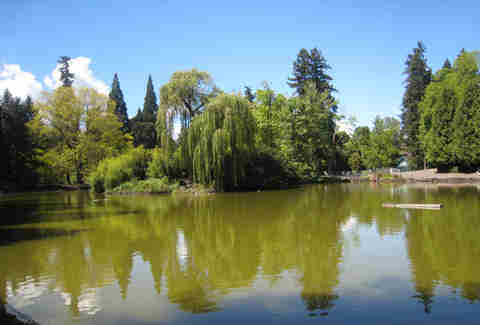 1. Have a picnic in Laurelhurst Park
Stop by the food cart pod at 28th and Ankeny for a torta from Guero, some falafel from Wolf and Bears, and a growler fill from the Captured Beer Bus before enjoying the sun-kissed glades of Southeast Portland's loveliest city park. No worries if your date stands you up -- just steal your roommate's dog and you're bound to find some stray single humans in need of a walk and some companionship.

This dimly lit den of Mediterranean kitsch gets high marks for ambiance -- it feels more like a Colombian drug lord's villa than your standard Southeast Portland dive bar -- but the real attraction at Conquistador is the nachos. A measly $10 gets you a melty pile of goodness that serves as an excellent centerpiece for that crucial second date when your guard is down and you're ready to be judged for your ability to take down one of the sloppiest bar foods known to man. And they're vegetarian to boot.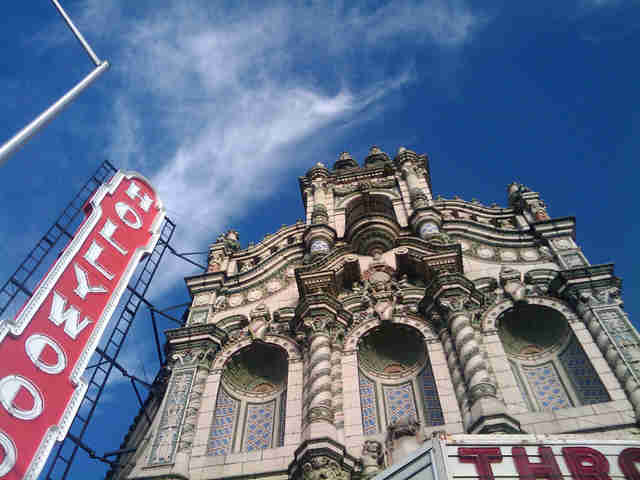 The first Tuesday of every month is like your own semi-private episode of Mystery Science Theater 3000 at the Hollywood, only the characters of god-awful dollar-bin fodder like Omega Cop actually show up to confront their shoddy resume in real life! Seriously, what else would Ron Marchini be doing other than functioning as a human bingo square?

$5 scores you entry to this dance party held every second Friday at Holocene. The DJs can be counted on to shut up and play the hits -- a rare feat on most other nights at the Southeast hotspot that's popular with club nerds who were totally over LCD Soundsystem the minute they heard James Murphy speak for the first time.
$3 gets you an RSVP to catch both local and national bands in showcases curated by regional movers and shakers who are assumed by the Austrian energy drink gods to have excellent taste in music. They'll be serving enough criminally under-costed cocktails on hand to hospitalize the annoying EDM kids in HUF hats that inevitably show up, but they all contain Red Bull so plan on sleeping never when all is said and done. Show up early and armed with plenty of pithy parking lot banter -- admission isn't guaranteed and there's always a line, but we've never had much trouble elbowing our way around scenesters who are lost in their phones while the queue moves on without them.
The Oregon Museum of Science and Industry offers $2 admission the first Sunday of every month, which is just about as much money as you should be spending on the impression that you care about nerdy ephemera that wasn't thrown your way by TED talks. In all seriousness, it's a great place that's made even greater by being within a short walk from Noraneko, the sister restaurant to Biwa that sells its elusive bistro burger for $9 on Sundays from 6pm to close. You'll have to skip OMSI to include a tip, but you knew that already because you're a smarty-pants.

Laser shows rule. Of course OMSI is showing laser Pink Floyd through August, but the real treat is laser Def Leppard at a price low enough ($7.50) to leave you the cash you'll need to buy a bottle of Korbel at the nearby Plaid Pantry to spray all over the place during "Pour Some Sugar on Me." Actually, don't do that -- it'd be a huge waste of perfectly good Champagne.
The notion of oysters and Champagne being the foodstuffs of the hoity-toity is now rendered a fallacy thanks to Stumptown's Duane Sorenson and his ever-expanding portfolio of non-coffee ventures. The Woodsman feels fancy, or at least "Portland fancy," but the rustic air of artisanal manliness should only serve to further underscore the approachability of $2 oysters from Oregon and beyond between 5-7pm.
9. See a movie outside
Between a beloved food cart pod, the roof of a fancy downtown hotel, and about a million city parks, it's safe to say Portland has something to offer al fresco cinema freaks of all shapes and sizes. Oh, and here's the full schedule.

The gigantic patio at E Burnside's Rontoms is actually a real gem if you know what to expect. Its weekly night of free music offers the perfect low-stakes opportunity to check out up-and-coming local bands and impress your date with your adventurous taste in music in the process. It's also just as easy to ditch them in the crowd if they turn out to be a dud, which may be just what you need when you're rolling the dice on a Tinder match whose only profile pic is a cheeseburger wearing sunglasses.
Established Portlanders scoff at the overwhelming cuteness of this REI-themed inner Southeast brewery, but let's get real -- you only signed up for a membership to Portland Rock Gym to meet svelte, scantily clad singles, and there's no better place to go for drinks afterwards than a bar with carabiners on the tap handles, hollowed-out logs for tasting trays, and a sweet patio with fire pits made for roasting DIY Reese's Peanut Butter Cup s'mores.

The basement of this hippie-lite haunt on SE Stark transforms from a patchouli-posi haven for Phish cover bands to a sweaty mess of retro grooves and flailing limbs every Friday night. The $5 cover leaves plenty of cash left over for beers to convert into sweat on the dance floor.
While Sauvie is indeed home to a bunch of house boats and Portland's favorite nude riverfront beach spots, it's also home to the terminally quaint Kruger's Farm Market, which hosts a variety of roots rock, Americana, and bluegrass bands all summer long. It's $15 per carload, and outside alcohol is strictly prohibited, but there is a Captured by Porches Beer Bus if you're willing to go a little over budget... or just make your date buy a round.

Portland is teeming with top-notch beer theaters in hip neighborhoods, with Living Room Theater being located in the boozy West End area that's graciously not quite The Pearl and not quite downtown. Admission is only $5 on Mondays and Tuesdays at this spot, which features plush seats for getting extra cozy.
Forget the coffee date at your scrappy neighborhood café with the sagging couches -- that's so '90s. Try a complimentary tasting at the annex of Portland's local coffee heroes for the chance to either flex your coffee knowledge or show your mate you're not a pretentious douche about it. Free coffee is free coffee, so it's a win-win in our book.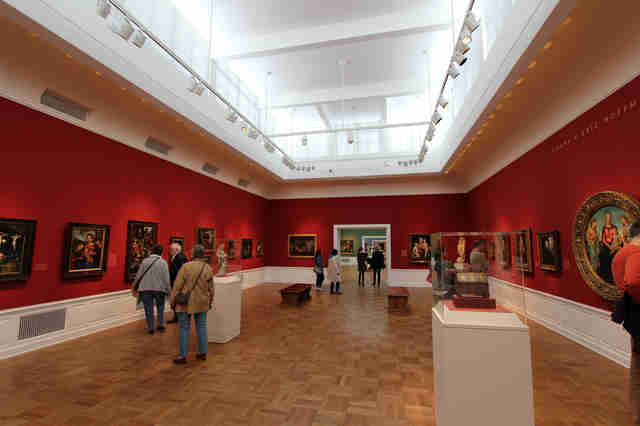 What's sexier than wandering around an art museum? Doing it for free, of course! The Portland Art Museum offers $5 admission most Fridays after 5pm, and totally free admission on the fourth Friday of each month. Arty hard!

The stylish, minimalist environs of this ultra-hip lounge on Belmont lend to the feeling of it being some kind of well-guarded secret among Internet daters of Portland, but we assure you it is not. And for good reason -- between the hours of 5-7pm, Aalto offers stiff cocktails, "adult" Jell-O shots, and grilled cheese sandwiches for a paltry $2 each.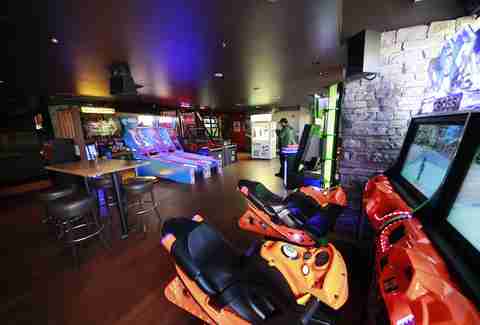 Be leery of any list of cheap dates that doesn't include bowling -- it's surely a fake compiled by a spambot. The wave of gentrification has not been kind to Portland's bowling, but this new-ish inner Southeast spot is still going strong, especially during Soul Bowl, a Sunday night event featuring period-specific B-movies on the big screens, free shuffleboard and billiards, and $3 games of bowling.

This old-timey amusement park on the bank of the Willamette in Sellwood is guaranteed to make any East Coast transplant homesick, though it's thankfully void of East Coast staples like aggressive, rude, god-awful people who take $6 games of mini golf way too seriously. Bonus points for the endless wellspring of "in the hole" innuendos that are always in flavor while mini-golfing!
Sign up here for our daily PDX email and be the first to get all the food/drink/fun Portland has to offer.