Courtesy of Hollywood Theater
Courtesy of Hollywood Theater
We've reached a magical time in Portland where we've become the best city for watching movies while drinking beer in the US. These days, Portland movie theaters with beer outnumber those without. With temps lingering in the 90s -- much like Portland's fashion sense -- movie theaters are the perfect refuge from the heat. These are our 11 favorite theater pubs, ranked based on their rosters, beer, pizza, and personal bias.
St. Johns
A perfectly serviceable neighborhood theater to be sure, but the standard first-run movies showing at second-run quality aren't exactly making the theater a destination.

Nob Hill
The Mission's a little run down, and the programming's mostly second-run and revivals, but it's got its charms. The price is right -- $10 pizza, popcorn, and beer special -- and the place does sometimes surprise with vaudevillian shows. Plus, it's the best chance you have for pairing a Terminator Stout with a Terminator movie. If it's Genysis, you're gonna need it.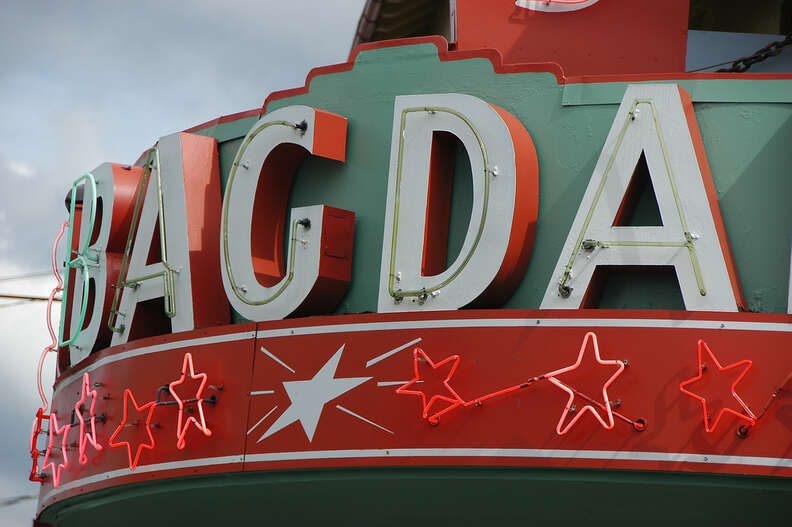 Hawthorne
While this SE Hawthorne landmark looks great, it's little more than a gilded gateway to ho-hum popcorn movies and so-so beer. The luxe interior and massive screen get bonus points for aesthetics, but the fact that you're likely to be panhandled by a crust-funder with a banjo after suffering through Entourage for just a few bucks less than a suburban multiplex quickly negates that upside.

Hawthorne
SE Hawthorne's other beer theater edges out the Bagdad by the narrowest of margins: the theater itself isn't fancy, but it's thankfully devoid of the "college sophomore gone wild at World Market" décor, the pseudo-hippy street scene, and the meh beer selection. Tickets are also cheaper for first-run movies: $5 gets you in on a matinee.
Clinton/Division
The 100-year-old Clinton definitely gets points for keeping you guessing: one day they might be showing an old concert movie, followed by a documentary about farming. Or maybe a first-run art film. Or bringing in a guy who does balloon art. The only constant: on Saturday, they always show Rocky Horror Picture Show. Which is to say, there will invariably be something you like at the Clinton. But you might have to wait a while.

Concordia
A prime example of a McMenamins rehab project gone right, this defunct elementary school turned multi-bar boozery and movie theater is a fine place to spend a rainy weekday warming up on whiskey (the most underrated of the brand's in-house libations) or cooling down with beer. The theater shows second-run flicks in a gymnasium outfitted to resemble your parents' living room, and the kitschy sofa seating makes it easy to forget you're in public. Which is to say, if you feel the need to get heavy with your date, at least go down the hall and get a hotel room.
Kerns
Though this beloved East Burnside second-run theater isn't the best at anything, consider looking at the 2004 NBA championship-winning Detroit Pistons for an example of how an assembly of parts that are good at best can collectively conspire for greatness. The tickets are some of the cheapest in town at $4 a pop, the tap list is expansive (nine on a recent visit) but not expensive ($4.75/pint), and the theaters themselves are worn-in but serviceable. Programming is a mix of comfortable cult favorites and second-run fare, which is A-OK given the price. And, in an ever-changing neighborhood, it remains a landmark of the old-school.

Alphabet District
Obscure foreign films? Check. Heart-wrenching documentaries? Double check. Regular screenings of The Room, sometimes with Tommy Wiseau himself? The most emphatic "check" we can muster! If only the seats were comfortable (for a tall guy like myself, they're not) and outfitted with cupholders, we'd be raving about this three-screen theater as much as the movies shown within.
Hollywood
This iconic Northeast theater was already wonderful before its signage and façade got a face lift, but now it's officially the total package of neon-hued cinematic delight. While they don't have as many screens as the Laurelhurst, the programming is tastefully selected to filter out the studio garbage that seeps through second-run theaters. The food and drink -- which come from the adjacent pizza shop Atomic Pizza and local breweries -- are above average as well, and the bonus nights of B-Movie Bingo, Kung Fu Theater, and classics on 70mm are invaluable additions that no other PDX theater comes anywhere near close to.

Downtown
It's rare that anyone would ever want to loiter in a movie theater long before or after a showing, but Living Room Theaters is an exception to the rule, thanks to its swanky cocktail bar in the lobby. With six screens, an impressive happy hour, food delivered to your seat, and an expertly curated selection of films ranging from the highly accessible to the bafflingly obscure, this is the kind of place you'd walk into after a day in the office downtown and settle in for the night. Hell, the theaters even have moveable ottomans. Ticket prices drop to $5 on Monday and Tuesday, and the 4-6pm happy hour includes discounted drafts and a $5 burger that's better than anything twice its price.
Montavilla
This miniature-sized multiplex is the shining image of what a beer theater should be, and we must praise the Lords of Cinema for hiding it on the other side of Mount Tabor. While it's understood no good movie is to be enjoyed without good beer -- of which the Academy has 10 taps -- it should be an equally steadfast rule that pizza is part of that equation. The Academy serves up slices from the neighboring Flying Pie -- one of the best old-school family-style pizza joints in town. What's more is the price -- a paltry $4 ticket is 2-for-1 on Tuesdays -- which guarantees you'll have the cash leftover to take full advantage of the bar. The theaters themselves have stadium seating seemingly pieced together from the rubble of a first-rate multiplex, making second-run and cult movies extra cozy to sit through. And if you don't like what's playing, you can rent a theater and show whatever you want. They'll even provide babysitters. They've thought of everything here.
Sign up here for our daily PDX email and be the first to get all the food/drink/fun Portland has to offer.