Spend Black History Month on 110th Street with the first Portland Black Film Festival, a monthlong series featuring blaxploitation action, old Soul Train clips, vintage rap videos, and the ultra-rare Brotherhood of Death in which Vietnam vets fight the KKK.
Previous Venue
Next Venue
Venue Description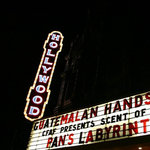 1. Hollywood Theatre
4122 NE Sandy Blvd, Portland, OR (Hollywood)
Although it opened its doors way back in 1926, as both a vaudeville house and movie theater no less, the Hollywood Theatre is still going strong today. After its heyday through the mid-20th century, hard times fell on the theater until the 1990s, when the non-profit Film Action Oregon purchased the place and restored it to its peak. Today the HT is renowned for its unique showings & programming, film education seminars for PDX kids, and its original Spanish Colonial Revival architecture.