Ahh, Portland. It's the second biggest city in the Northwest (though it kicks that other city's ass, obviously), it's one of the 10 best cities for women in America, the fifth most tattooed city, and ranks sixth for largest p*nises, apparently. But there are also tons of things PDX is better at than anyone else. 26 of 'em, actually...
1. Street festivals
Every Last Thursday, Alberta turns into an orgy of music, dancing, and stranger-making-out-withing. Every First Thursday, the Pearl turns into an orgy of pretending to like art in exchange for free wine. And once a year, neighborhoods like Mississippi and Sunnyside transform their streets into neighborly love fests.
2. Soccer fandom…
… or at least the idea of soccer fandom. Even if you think "RCTID" means "really cool Timbers Internet domain" or something even dumber (it's hard.. try it), at least your intent is to be supportive. Either that, or you really like drinking and yelling at noon.
3. Wood-fired everything
In the not-too-distant future, no kitchen in Portland will contain a gas stove and everybody will smell like a campfire, or hopefully, Old Salt Marketplace's roasted chicken.
4. Food carts
In New York, when you think of food carts, you think of street meat and stale pretzels. Here, it's more like exotic meats stuffed into homemade pretzels. Or tacos. Or gyros. Or pulled pork in a waffle cone. Or lobster rolls… and they're all within 10ft of each other. And there's beer
5. Movie theaters
We have reached a point where we now have more movie theaters with beer than without, and many of them show old-school movies. Which means you can forget what happens at the end of She's the Man all over again. Oh, and pizza is way better than Goobers.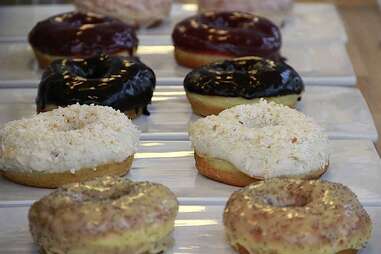 6. Donuts
And not just fancy stuff like the boozy ones at Blue Star, the made-to-order ones at Pip's, or the ones we call overrated but still stand in line to get at Voodoo (or just buy at Freddy's so nobody sees). Even the crappy 50 cent ones at joints like Tonalli's are great.
7. Passive aggression
The cars of Portland are constantly festooned with notes that rely on pleasant tones and vague threats about what will happen if you park in front of that house again. And they really hope you have a good day too.
8. Strip clubs
We live in a magical land where strip clubs outnumber McDonald's, and where watching a stranger shake her stuff is considered an acceptable first date (complete with dinner).
9. Day trips
Get in a car and drive a couple hours in any direction and you don't just arrive in a different city, you land in a different climate. Ocean beaches, towering waterfalls, deserts, volcanoes… you name it. Or just drive 15 minutes and get high in Vancouver… because you can.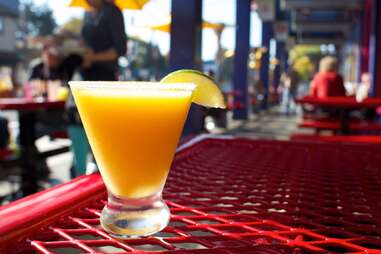 10. Happy hour
In most cities, you get $1 off an already expensive drink. Here, you get $2 off a reasonably priced drink, plus a $5 burger with sides.
11. Nostalgia...
… especially the misplaced kind. "Man, I liked the Pearl before it got ruined by development," you say, suggesting that at one point you exchanged sexual favors for heroin.
12. Selectively complaining about gentrification
We really like to complain about how development is taking all the character out of the neighborh--OH MY GOD, THEY'RE OPENING A NEW SEASONS... on the site of that skill-development center for minority orphans... but still!
13. Chicken & Jojos
To most, Jojo is the co-writer of "All My Life". To us, they're gigantic, battered, deep-fried potato wedges. And, thanks to places like Reel M' Inn, we have the best ones in the world.
14. Complaining about Portlandia
Mostly because no one else complains about Portlandia, but also because you just said something about how "it's so lame and inaccurate", while asking the barista if the honey on the counter is made in this zip code.
15. Urban goat herds
"I mean, it's ridiculous. We're not a bunch of hipster stereotypes. Fred Armisen should go back to California". Meanwhile, you're still wondering what's up with the goats.
16. Hating on Californians
Even if you're not from the Golden State, if you do something remotely irritating to us (like bolstering our film industry), we'll tell you to go back to California.
17. Bar crawls
Thanks to folks like Brewvana -- which hosts brewery, bar, and strip club tours via a short-bus -- and your friend Caleb -- who hosts tours via borrowed TriMet passes -- it's easy to hop on a tour pegged to any theme. Or just, you know, go to a bunch of bars in one night. That's the beauty of being in one of the most walkable cities in the US.
18. Craft beer
They don't call us Brewvana for nothing, you know. Just ask the folks at one of the 70+ breweries in the metro area.
19. Craft liquor
Right on the heels of craft brewing, craft distillers like Bull Run, House Spirits, New Deal, Eastside, and Rolling River have gone from producing vodka in storage units to dominating cocktail lists all over the country.
20. Craft macaroni and cheese
Yes, this was intended as a joke. But it's also true.
21. Bar games
We could have called it a day after we opened a few pool halls. Instead, we've got everything from giant Jenga to Skee Ball to Pop-A-Shot to bowling. Oh, and Ground Kontrol, which pairs cocktails with two floors of classic arcade games.
22. Coffee
Seattle gave the world Starbucks. We game 'em Stumptown, that hip new coffee shop people are freaking out about from Silver Lake to Williamsburg. And that's to say nothing about roasters like Ristretto or Heart, which could well render all other coffee obsolete in the future.
23. Hipsters
We're a town so hipster that I've actually been told that the word hipster is passé (by a person who started using the word passé, wayyy before you'd even heard of it). But, we've got them all: indie-rock hipsters, "norm-core" hipsters, a dude who bagpipes on a unicycle, even the sub-category of "Peter Pan hipsters" who walk around Pioneer Square dressed in homemade clothes accessorized by leaves. Just don't tell them they look like Rufio. He's too mainstream.
24. Riding bikes on sidewalks
But just because you're good at it doesn't mean you should do it. Ever.
25. Being in bands
Thank you for the information about your six-piece fusion group that evokes Zappa, except with an afro-beat twist. And yes, I'd like cream cheese on my bagel.
26. Being humorless where "stupid Internet lists" are concerned
Yes, I got paid to write this. No, I shouldn't be fired for this crap. And no, I'm not going to California, because I'm not from California. But your comments are still the best.