Live in any city long enough and you'll likely fall into something of a rut, comfortably settling into your favorite dive bar, never straying from the four-block radius around your house. Not that there's anything wrong with that… unless that city happens to be Portland. This city is packed with things to do, neighborhoods to explore, and world-renowned restaurants to try. You could devote an entire weekend to sampling the amazing food carts, or hopping from beer bar to brewery, or touring some of the city's weirdest and oldest establishments. Or get out of the city all together -- some of the most impressive and awe-inspiring hikes in the Pacific Northwest are right in Portland's backyard.
Whether you're visiting the City of Roses for a short time or you've lived here your whole life, here are some of the best things to do (some cheap, some not so cheap) to ensure your time in Portland is never boring.
All the Adventures You Must Have When in Portland
What to do in Portland? Float down gorgeous rivers, wander the city's parks big and small, get lost in legendary bookstores and more.
Free-$
Pearl
One of the city's most famous landmarks, Powell's City of Books is a testament to the longevity of the printed word, a multi-story maze of literature and text. Grab a latte from the attached coffee shop and roam the halls, and you'll soon find that you've somehow spent hours perusing the shelves.
Free-$
Reed College
While it is the Rose City, Portland's wet springs and sunny summers grant us a bounty of floral riches. The Rhododendron Garden is right by the bastion of liberal arts known as Reed College and offers a beautiful assortment of flowers, ponds, ducks, and other wildlife. It's just $5 most days, free on Mondays, and makes for a lovely way to pass an afternoon before heading to happy hour.
Hit up a happy hour on a patio
$-$$
Various locations
For a city with nine months of rain, PDX sports a wealth of bar and restaurant patios. And if the city loves anything as much as it loves brunch, it's happy hour. Combine those two things and you get a perfect summer afternoon. Some of our favorite spots for the combo are The Rambler, Aalto Lounge, Solo Club, Night Light Lounge, Interurban, Radio Room, and Momo's. For a truly "extra" experience, move from a patio to a rooftop patio: Grab happy hour at Departure, Altabira, Rooftop Bar, or the newly built Xport.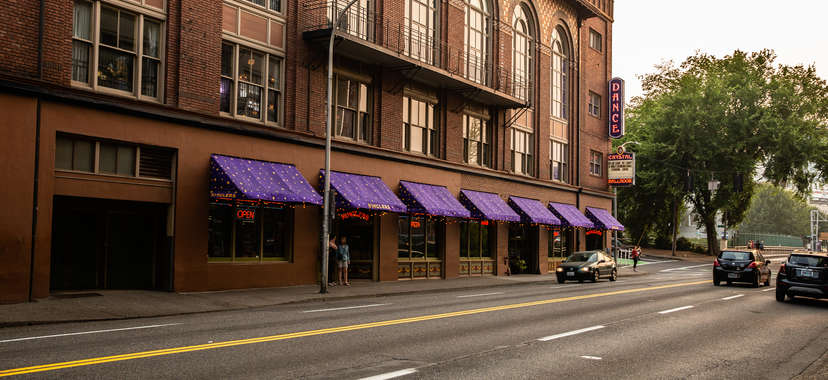 Catch a live show
Free - $$
Various Locations
Portland is home to the arts, and it seems like every dive bar and cocktail lounge has a live show a few nights out of the week, often for super cheap or free. Spots like The Firkin Tavern, Laurelthirst, Tonic Lounge, and Alberta Street Pub are the more intimate spots. Then there are the medium-sized venues like The Doug Fir, Mississippi Studios, The Aladdin, and Hawthorne Theatre, all the way up to the larger spaces like Revolution Hall, The Schnitz, and Crystal Ballroom. If you put in even a little effort, you can catch a free show every night of the week.
$
Foster/Powell
Portland is famous for its food cart scene, with pods abounding throughout town. Here, many restaurant success stories begin with a humble food truck. One of the best is the Portland Mercado, a colorful collection of Mexican, Central American, and South American food trucks, as well as a Latin American market, bar, and butcher. It's more than just a place to grab some amazing arepas or a burrito; it's also a nonprofit Latino community development cooperation and an integral part of the Latinx community in Portland.
Free
Pearl & Old Town/Chinatown
Portland's First Thursday lands, unsurprisingly, on the first Thursday of each month. Art galleries in the Pearl and Old Town/Chinatown open their doors for free viewings, plus usually some complimentary beer and wine. The Pearl galleries offer some stunning art, to be sure, but it's the Old Town locations that offer the most fun, cutting-edge works, and party-like atmosphere.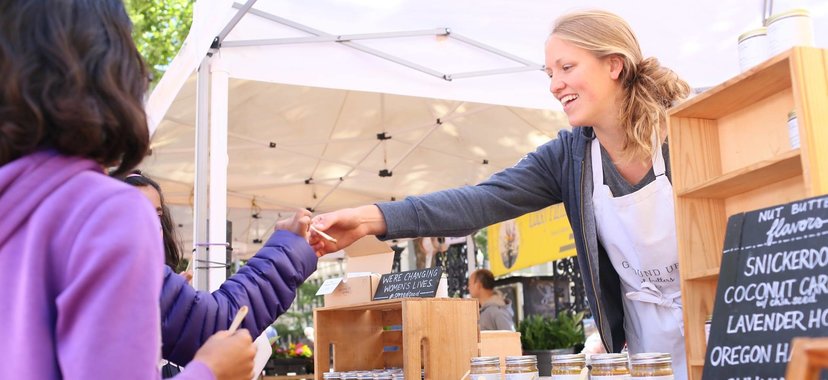 $
Various locations
You can always hit up Portland's famously long-lined brunch scene, but during warm weather months it's nicer to grab a hot treat from a bakery or delicatessen at one of Portland's many farmers markets. They also provide a great opportunity to sample from Oregon's bounty of fruit, vegetables, and meats. The Portland State University Farmers Market is on Saturdays during the summer and likely the largest one in town.
$-$$
Hosford Abernethy
We're a city full of nerds, so of course one of our most prevalent museums is the Oregon Museum of Science and Industry. It's really damn cool though and features numerous exhibits demonstrating everything from physics to chemistry, biology to astronomy. It's a great place to take kids if you're visiting with the family, unless you're stopping by for the booze-fueled OMSI After Dark experience, which is 21+. Tickets go from around $10 to $20.
$$
Southwest Hills
Some people find the zoo a tad depressing, but these people probably haven't been to the Oregon Zoo. Here, animals are rescued and given a second chance at life, as the zoo provides rehabilitation, education, and considerable efforts towards the conservation of vulnerable species. Plus, you get to see adorable and amazing animals, from elephants and bats to tigers and sea otters. Tickets are just under $20, and all of it goes to a good cause.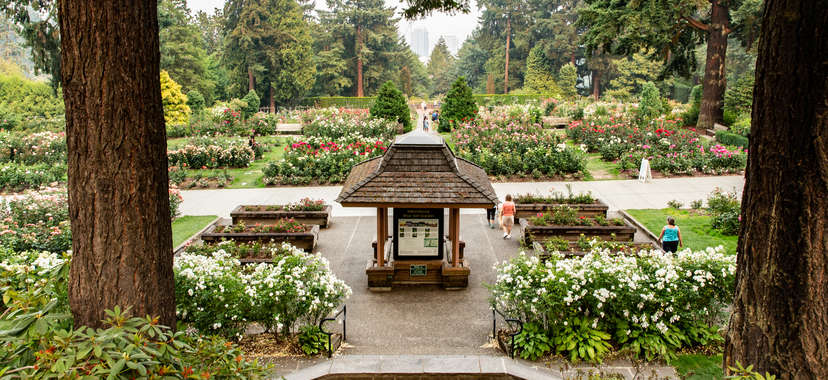 Free
Washington Park
It's not called the City of Roses for nothing -- from April to October, peaking in June, the International Rose Test Garden in Washington Park is alive with hundreds of blossoming rose bushes of all scents and colors, a beautiful reward for surviving yet another gray and dismal winter. Given its popularity, it's best to skip the hunt for a parking spot and catch a bus.
$$
Downtown
Portland may not be the art mecca as cities like New York or Chicago are, but it does have a modestly sized museum that offers some classic and contemporary art pieces, as well as local and Native American art. It's actually one of the oldest museums in the country and it's worth the trip for any art lover. Tickets are $20 for adults, and free for kids under 17, making it a great place to visit for families.
Catch a pop-up dinner
$$-$$$
Various locations
Holy moly, does Portland have a lot of pop-up dinners. From the weekly regular ones like the astonishing Southern dinner program Mae to sporadic cocktail pop-ups like Shipwreck, there's usually something tasty going down in town. Feastly is a good resource to search for pop-up dinners, or just ask your coolest friend.
"Hike" Mount Tabor
Free
Mount Tabor
OK, so this really can't be considered a hike, especially since so much of it is paved and there are staircases, but Mount Tabor, rising lazily from the center of Southeast Portland, offers an exceptional view of the city at its peak. It's a lovely place for a picnic or early morning jog, or just to sit and watch the city lights below from a park bench.
$$-$$$$
Goose Hollow
The Timbers Army is one of the most rabid, dedicated group of fans for a Major League Soccer team in the country. Each game sees them singing out rehearsed songs and chants to bolster the friendly players and intimidate guest teams -- no matter the outcome, it's a singular experience. No less relevant is the women's team, the Portland Thorns, currently the reigning champions of the National Women's Soccer League, with two championships and a shield to their name. Tickets for the Timbers priced at $30 to $250, while Thorns tickets are between $15 and $70 for single games.
$$
Washington Park
A staple of any Portland trip, the Japanese Gardens are an oasis of serenity in the city, a series of gardens and walkways lined with streams and a traditional Japanese tea house, all with a beautiful view of Mount Hood. The former Japanese ambassador to the US reportedly called it "the most beautiful and authentic Japanese garden in the world outside of Japan." The garden even got a recent buildout from famed Japanese architect Kengo Kuma, currently designing the 2020 Olympic Stadium in Tokyo. Tickets to the gardens are around $17 for adults and well worth it.
$-$$$
Various locations
Portland is home to more than just breweries -- it also boasts a large amount of craft distilleries, most of which are organized into Distillery Row. The Row isn't a physical location as much as a collection of distilleries, and there's a passport you can fill out by visiting each tasting room. You can try all manner of spirits, from gin to whiskey, to fruit brandies and even odder things like Townshend's Distillery tea-based liquors. For a peak Portland experience, take a pedicab from spot to spot.
Take a walk through the largest city park... and the smallest
Free
Northwest Portland
It's a bit of a factoid that Forest Park, which sprawls all through the northwestern part of the city, is the largest park in city limits in the US. Whether or not that's actually true is unimportant. The lush forest is an essential visit for anyone coming into town. Stroll through sun-dappled pathways or take a foggy early morning run and enjoy the quiet serenity of Forest Park. Or, visit what made it into the Guinness Book of World Records as the world's smallest park, Mill's End Park, a tiny spot in a median strip on Naito. That way, when people ask your guests what they did when visiting Portland they can impress them by saying, "I saw a tiny park, the smallest in the world in fact."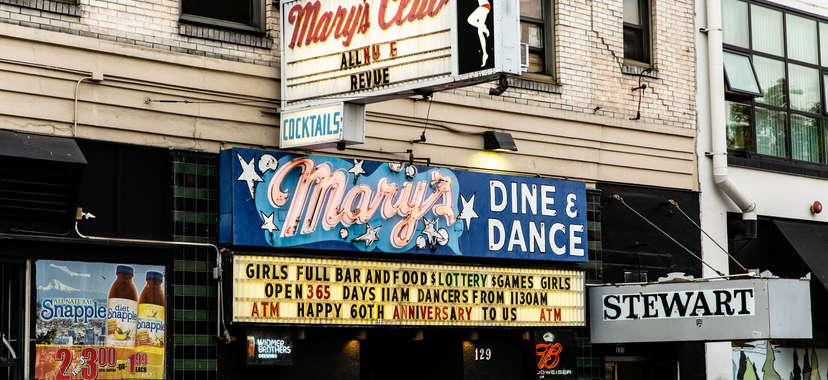 $$$
Various locations
This is a unique and essential part of the city's culture, and will make for a wild end to any night. But definitely bring tip money, or don't bother. Our favorites include Devils Point, Lucky Devil Lounge, Sassy's Bar, Mary's Club, Kit Kat Club, and Stag Bar.
Eat a dozen incredible oysters for $12
$
Various locations
There's something that Northwesterners know to be true, and people from the East Coast and South will foolishly fight them on: Oysters from the Pacific Northwest are the best in the country. Delicate, briny, sweet, they're best raw and never need to be fried or grilled. And while they can be a bit pricey at times, there are a few spots around town that offer them for a buck each, usually during happy hour. It's a great way to celebrate one of the region's best treats. Spots with dollar oysters during happy hour include Trifecta Tavern, La Moule, Jacqueline, Headwaters, and EaT: an Oyster Bar, the last of which offers them all day on Tuesdays.
Check out an urban winery
$-$$
Various locations
Oregon is home to some of the greatest wine regions in the world, and much of it is only an hour or so outside of Portland. But if that's too far for you to travel, there are a number of urban wineries right in town putting out amazing bottles from the Willamette Valley and Columbia Gorge. Teutonic Wine Company serves its bold, Germanic style wines in a bright modernist space with candy red highlights, Enso Winery makes a variety of Oregon expressions as well as fun canned sangria with real fruit, and SE Wine Collective is 10-plus wineries in one, all available in a cozy wine bar and restaurant.
$
Columbia Gorge
The Columbia Gorge boasts a multitude of hikes and sites, the most famous of which is the picturesque 600-foot-tall Multnomah Falls. It can get crowded during the summer, but there are plenty of other beautiful options just miles from it. Be sure to check with sites like Gorge Friends to find which hikes are open after last year's catastrophic fires, and don't even think for a second about bringing fireworks or anything similarly flammable. Seriously. Don't.
Get buzzed at a movie theater
$
Various locations
Portlanders like to have a beer just about anywhere they go, including laundromats and dog hotels. This definitely includes movie theaters, and most independent ones serve beer, wine, and cider, like Laurelhurst Theater, Cinemagic, Academy Theater, and basically any McMenamins movie theater. Grab a local brew and catch a second-run or premiere film for a relaxing evening.
Go pet some cats whilst having a drink
$
If you're into cats, there's only one place to be in Portland: Purringtons Cat Lounge. One of the first cat cafes in the country, Purringtons is a hands-on animal shelter that sells beer, wine, and food, and gives guests an opportunity to meet some cats to adopt, or just hang out with kitties and try to avoid getting hair in their beer.
Grab a donut that's not Voodoo
$
Various locations
Portland's Voodoo Doughnuts have somehow acquired national attention, despite the fact that what you're really getting is an hour-long wait in line for some pretty standard donuts. Skip the line and head to a donut spot like Blue Star, Delicious Donuts, or Pip's. Or honestly don't get a donut at all, it's not really the most Portland thing. If you really want to wait in line for a gimmicky Portland treat, you might as well just get an ice cream at Salt & Straw, which might be the only thing in town worth waiting 45 minutes in line for.
Drink your way through our prodigious beer scene
$-$$
Various locations
Portland has a number of nicknames, but one of its most fitting is Beervana due to the massive amount of breweries and tap houses the city has. From NW IPAs to sour beers, lagers to stouts, Portland has a bottomless supply, and with a brewery on just about every major street corner, they're not hard to find. If you're not looking to make a crawl out of it though, just head to The Loyal Legion, which boasts almost 100 beers on tap at all times, all from Oregon and many from Portland.
Bike across a bridge
Free to $
Various locations
It's not called Bridgetown for nothing -- the country's most bike-friendly city has a dozen bridges, most of which are friendly to pedestrians and cyclists. There's no truer Portland experience than hopping on a bike for a brisk ride around town, especially if that ride takes you over the Hawthorne or Tilikum Bridge. For those visiting without their bikes, the city now has Biketown PDX, with rentable bikes at a reasonable cost.
Visit a food cart pod
$
Various locations
The Portland Mercado isn't the only kick-ass food cart pod in town. With spots like the late night Cartopia pod, The Mississippi Marketplace (located at Prost! beer bar), Cartlandia, and the Carts on Foster, a visitor can easily get every meal from a food cart and get a robust sampling of the city's culinary range. It's also a good move to hit up the Alder Street Food Cart Pod before it's demolished to make room for more housing.
Sit and sip a cappuccino
$
Various Locations
Sure, Portland is famous for Stumptown Coffee, but that's not the only craft coffee shop roasting beans and pulling espresso shots throughout town. Water Avenue Coffee, Portland Roasting Company, Coava Coffee, Good Coffee, and Upper Left Roasters all make amazing coffees, while shops like Barista and Never work magic with other people's beans. These coffee shops are ubiquitous, so there's no excuse for grabbing Starbucks for your morning buzz.
$
Clinton/Division
For 40 years now, the Clinton Street Theater has been showing The Rocky Horror Picture Show every Saturday at midnight. For just $8 you can be a part of the most interactive, long-running show in town, with all the gothy-geekiness that entails. And don't worry, no one's going to force you to make fake orgasm noises in the mike or any first-time "hazing" if you're not comfortable with it, and you're perfectly welcome to quietly enjoy the show rather than join in.
Sign up here for our daily PDX email and be the first to get all the food/drink/fun Portland has to offer.