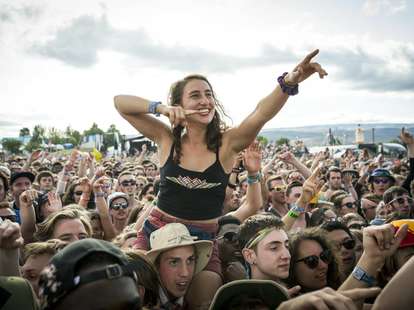 In Portland, spring is more like "Winter, Part II." It's still rainy and gray 90% of the time, but we'll be damned if that stops us from using the latter months of monsoon season as a trial run for the greatness that is summertime. Beer events abound, killer music festivals are starting to rear their heads, and the promise of that perfect Portland sunny summer is just around the corner. So give this handy list of all the can't-miss events rolling through town a look and plan your preseason months accordingly.
It seems like every other holiday in Portland has some sort of Bollywood adjunct courtesy of Bhangra b-boys
Jai Ho
, and for good reason -- there ain't no Mardi Gras party like a Jai Ho party!
If the legacy of
Culmination Brewing
ends up being their oddball events that feature specialty beers paired with logically similar foodstuffs, such as this annual Baker's Dozen coffee beer and donuts soiree, it's doubtful that anyone in the beer scene would have much reason to complain. This is by far their best event, and there's nothing else that's even remotely on par.
If your only introduction to the Steampunk genre is the lovably terrible 1999 Will Smith classic Wild Wild West, consider this your golden ticket to instant cred amongst the retro-futurists who nerd out over Victorian-era implements of violence and revolution.
Enjoy corned beer and Irish ditties in a church parking lot, just as the patron saint of snakes and shamrocks intended. Good, clean fun.
Only a handful of bars in Portland claim to be of the Irish pub variety, and none are so obviously vying for your attention as the NW 21st location of Kells, which is bound to be packed to the gills with inebriated men in kilts who have a tenuous grasp on the difference between the traditions of Ireland and Scotland. But we digress -- the beer is actually really good, and we've never heard a single U2 song emanate from their sound system!
Because SantaCon only comes once a year, and you need more excuses to drink copious amounts of booze and run around in pajamas all day.
At seven hours, the drive to Boise is kind of a slog. But where else can you enjoy a SXSW-esque atmosphere that's not inundated with corporate bullshit and scenesters who are only there for the free tote bags and potential Kanye sightings? Seriously, Boise is super walkable, super cheap, and is
likely the place you'll end up next
when you get kicked out of yet another kush houseshare setup that was too good to be true. Speaking of too good to be true,
Treefort
boasts a killer lineup hosted at amazing venues. If seeing
Touché Amoré
bang it out at an indoor skatepark a la
Ninja Turtles 2: The Secret of the Ooze
sounds appealing, this is your festival.
With a brand-new
brewpub Downtown
, Hood River's equivalent to Portland's
The Commons
is all grown up now, but that doesn't mean the Logsdon family recipe is any less incredible than it was back when they invited guests to drink at their farmhouse at the base of Mt. Hood for brief four-hour windows just a few days per week. It's no secret that Tin Bucket doesn't mess with B-list breweries, so this is a can't-miss for anyone with a taste for that farmhouse funk.
This is probably the biggest fest of the year that actively encourages the commingling of wine and beer people, so don't be surprised when a West Side Story-esque dance-fighting sequence breaks out between the two camps outside the main hall of the event.
No longer the province of fitness fanatics and gluten-free crusaders who avoid wheat like a crazy ex-girlfriend, cider is huge and it is here to stay. Consider this the opening salvo of a long and grueling beer fest season that's resigned itself to allowing the apple enthusiasts a respectable place at the table.
Things have gotten weird at Saraveza ever since it went all-in on being a "restaurant" of sorts, but that hasn't softened it touch in hosting events as ambitious as this, which may be the freshest and funkiest farmhouse fest you'll find in Portland aside from the weekly proceedings down at
Cascade Brewing and Barrel House
.
We're in no way advocating grueling exercise and physical fitness, but the few days of the year when the city shuts down the Fremont Bridge for pedestrian use are truly a sight to behold.
Now that Portland is a big league destination for aspiring celebrity chefs, what better way is there to immerse yourself in the booming restaurant scene than to watch said aspiring chefs duke it out live in the forest at a benefit for the Boys and Girls Clubs?
As far as music festivals go, Soul'd Out is more of a loose constellation of shows at Downtown venues than a single, walkable entity (like what MFNW used to be), but the inclusion of disparate acts such as Solange, Tortoise, and RJD2 make this a pretty fresh and funky umbrella to be under as the rainy season slowly cedes to summer.
Ready your coordinating Carhartt outfit and get those neck muscles limber, because this year's Stumpfest, which features Windhand, Danava, and Elder at the top of the bill, is set to be the heaviest it's been in years.
Remember how fast and hard ciders can hit you before figuring out logistics to Hood River, as this is not a trip you want to make without a designated driver in tow.
The list of famous alums from the Portland comedy scene is long and glorious, and the Bridgetown Comedy Festival certainly has a lot to do with the city's status as the AAA affiliate of LA and New York. Enjoy yukking it up with that sassy barista from your go-to coffee shop, because chances are this might be the last time you see him or her before they get called up to the big leagues.
Because your roommate stole your tape of the 1991 Keanu Reeves classic when he moved out, but mostly because yelling "Vaya con dios, brah!" in unison with fellow Oregonians is a rite of passage that no Portlander live without.
CELEBRATE CINCO DE MAYO IN STYLE
The line at Por Que No will be oppressively long and filled with gringos. You can do much, much better as far as culture is concerned.
You presumably love movies, and you have to love bikes, so this is the fest for you. If it isn't, it's probably a better time than any to move back to the Midwest.
Beer writing would be lost without legendary writer Fred Eckhardt, and Hair of the Dog would be little else than yet another taproom on the east side without its eponymous beer that's brewed and celebrated annually in his name at this event. Don't actually pour the beer out, however -- it's very strong and not that cheap, so you should probably just drink it as Fred would've intended.
Perhaps the last bastion of "Olde Portland" charm, St. Johns is the kind of place you'd take that know-it-all friend who thinks they've seen every last corner of the city since they moved here just six months ago. A craft fair such as this barely scrapes the surface of all the final frontier of NoPo has to offer, but it sure is a great place to start!
Now that all the mall goths of the early aughts have grown up and ostensibly become adults, the need for an event that encourages them to get all fancy and be in an environment that encourages their cosplay tendencies seems to make perfect sense.
Though Sasquatch organizers have fallen prey to the homogeny that tanks most big festival lineups in recent years, the quality of the scenery at the Gorge is unsurpassed by any other such event in the states and is worth the price of admission on its own. Frank Ocean and Chance the Rapper are pretty great, too.
Sign up here for our daily PDX email and be the first to get all the food/drink/fun Portland has to offer.
Pete Cottell is a freelance journalist/barista who may or may not be living in a van in front of your house in Southeast Portland. Follow his adVANtures at @Vanifestdestiny.