80 beers, 30 food carts, and a dozen (almost) naked ladies
Portland Event of the Week
Friday, April 25th: Stroll through 80 pristine acres in Silverton at the Oregon Garden Brewfest, where you can "sample" (ok, chug) over 80 of Oregon's finest brews.
Thursday, April 24th: OMSI is bringing Blind Tasting Bingo back to Portland: try 12 distinct bites and see if you can correctly match the flavors on a bingo board. Oh, and did we mention the prizes?! Continue Reading
Saturday, April 26th, 7pm: Pardon my Fringe has got a new show at Crush: apparently it's Burlesque as F**k. Better get your tickets now.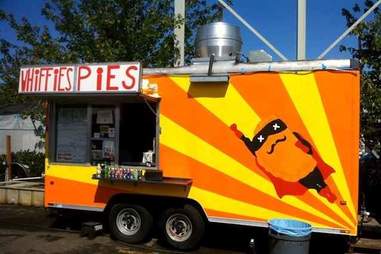 WHIFFIES FRIED PIES
Sunday, April 27th: More than 30 of Portland's finest food carts will be posted up at Willamette Week's seventh annual Eat Mobile event, so get ready for PDX Sliders, Little Boba Truck, Maine St. Lobster, and more at OMSI.