Want some free concert tickets?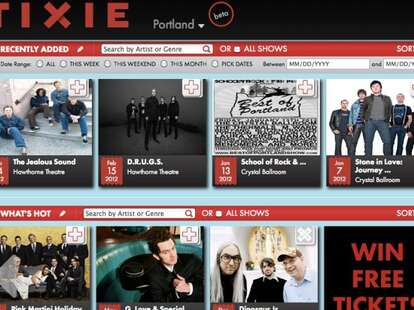 Going to see live music is fantastic, at least up until that whole placenta on the floor thing. Ewww! To find and win tickets to local concerts so badass they'd make old mothers cry, train your pale blue-colored irises on Tixie.
Launched exclusively in PDX by an international entrepreneur, a guy who once slappa'd-de-bass with John Lee Hooker, and local web wizards Night & Day, Tixie acts as both a customizable local music-listing web app, and also a clever game nice enough to give you a free shot at winning tickets to the PDX shows you want to see, so good luck on those Pink Martini tickets. Rock it:
Win: A free account nets you 10 raffle ticket-esque "chances" every day, which can turn into tix for concerts on their calendar. You can assign all your chances to a single show or disperse them among many, until each contest ends and you hopefully become the randomly chosen winner of Pink Martini tickets.
Find: Use Tixie's filters to create a customized local-music calendar (just input your favorite venues, genres, and/or artists, then come back and watch it get populated in highly embarrassing fashion), browse listings to be linked to the event site, and apply the aforementioned chances to get a crack at upcoming shows from G. Love, to locals like Talkdemonic, and even acts as odd as Woody Allen's jazz ensemble, when he's not out Selling the Comedy.