There are lots of great things about Portland that we tend to take for granted... like great beer... and being wayyy better than Seattle... and having a bunch of weird things. In fact there is so much weird stuff around PDX that most people don't even think twice about a dude in a Darth Vader mask playing the bagpipes... on a unicycle, let alone worry about which stuff is the weirdest. Until now...
The Naked Bike Ride
Jerry Seinfeld would definitely put this in the "bad naked" category, but clearly the thousands of people who take part in it every year view it, at the very least, as an ironic -- and not all that flattering -- way to show off their assets. And at best (because it's for charity) it's a chance to do some good.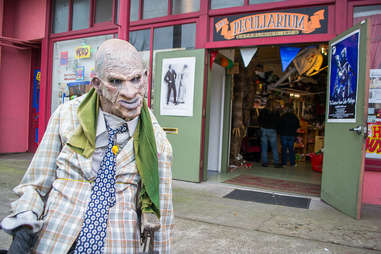 The Peculiarium
Of course we have a museum dedicated to the "freakybuttrue". After you check out the Bigfoot statue and zombie brains, relax and have an ice cream sundae.

Stark's Vacuum Museum
Remember how much you hated vacuuming as a kid? Heck, you know how much you hate vacuuming now. Given that, it's pretty weird that one of the world's most frustrating inventions has it's own museum where you can relieve all those great times you had... um, cleaning your floors, while surrounded by old Hoovers and Orecks.
A vegan strip club
That better be a faux leather whip that girl has on stage because at Casa Diablo there's no need for vegans or vegetarians to compromise their dietary morals just because they want to see some hot ladies shake it. Even better: it's also vampire-themed.

A steakhouse strip club
At Acropolis, for those that crave some juicy meat with their adult entertainment, ooglers can bite into some fatty-ass steaks. A 16oz T-Bone will only cost you $9.50.

Stripperoke
Devil's Point is the only place where your karaoke version of "Maniac" could end up being accompanied by that intense, wet Flashdance scene.
The Shanghai Tunnels
Stories of handsome, able-bodied men being taken off their bar stools and sold into a life of slavery sounds pretty weird, but apparently that's what went down in the tunnels running under the city.

The Paul Bunyan statue
This guy is the ultimate hipster (maybe he's why every guy you see in Portland has a beard and wears flannel?) so on the one hand it makes sense that he's got a monument here. On the other hand, it's a little weird that someone built it when Paul's from Minnesota... or Michigan... or Maine.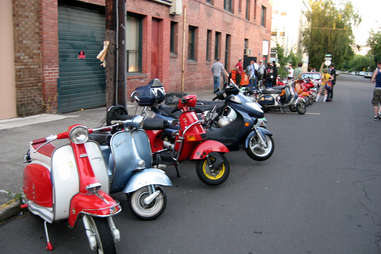 Moped/scooter gangs
It's more of a screeching hum than the rumbling roar that you hear from normal biker gangs, but groups like the Moped Army and Twist N Play host weekly get-togethers for riders and enthusiasts.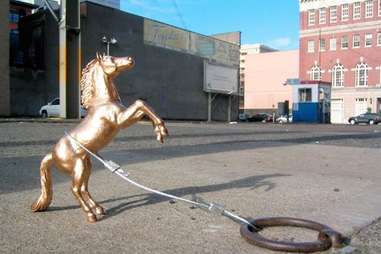 The Horse Project
Random tiny toy horses are found on sidewalks, at bus stops, and in parks tethered to old horse rings. If you don't find the humor in that, try harder.

Our obsession with Elvis
From the jump-suited Elvis impersonator at the Saturday Market, to the now closed 24 Hour Church of Elvis, to the many menu interpretations of peanut butter and banana sandwiches, in Portland the King lives on.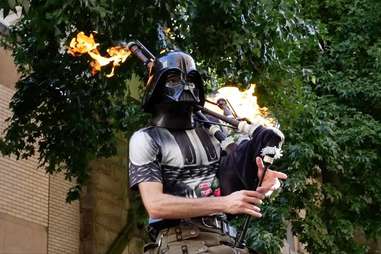 The Unipiper
Maybe there's nothing weird about a Darth-Vader-mask-wearing, flaming-bagpipe-playing unicyclist... perhaps that's just all a part of your morning commute?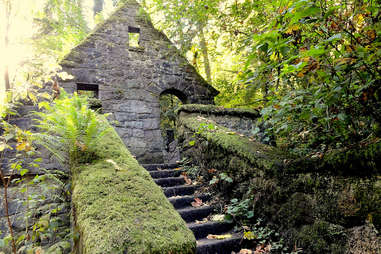 The Witch's Castle in Forest Park
Okay, this is a little Blair Witch-y, but if you want to relive scenes from the original found-footage classic, hike out to The Witch's Castle in Forest Park. Just don't throw the map in the river for crying out loud.
Glowing Greens putt putt
As if putt putt golf wasn't hard enough, try it when you're lit... I mean, it's all lit up with black lights, lasers, and 3D displays.