23 Reasons Portland Summers Dominate All Other Summers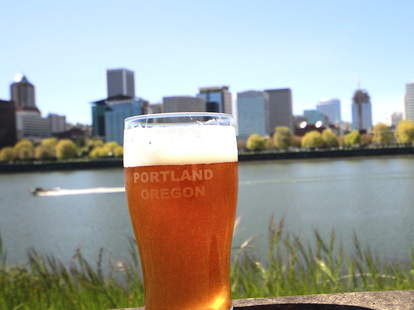 There's a damn good reason that Portlanders endure a seemingly endless onslaught of rain most of the year: when the clouds finally part, we're treated to perhaps the best summer weather in the country. And when that strange yellow orb rears its head, we head out en masse. There are a million reasons that summer in the City of Roses dominates summer in any other city. Here are a mere 23 of those reasons.
Andy Kryza/Thrillist
1. Want to change your climate? Drive an hour.
You've got your choice between a coastal rain forest, a couple of mountains, a gorge, the desert, the ocean, lakes, hot springs, and river beds. If you can't find something you like, you're just kind of miserable.
 
2. Or experience the great outdoors in the city limits
Between Forest Park, Washington Park, Sauvie Island, Tabor, Rocky Butte, and other green spaces, you've still got your pick of forests, sandy beaches, and cliff faces. Clothing is often optional.
 
3. Beer fests are a season-long affair
Most cities have one big-ass beer fest. We have about a dozen, ranging from the gigantic Oregon Brewers Fest to the more intimate International Brewers Fest to the Organic Beer Fest. And that's to say nothing of bar-exclusive events like Belmont Station's Puckerfest, which lures beer nerds with a full week of barrel-aged nectar.
 
4. Outdoor concerts are too
MusicFestNW and the Blues Fest take over the Waterfront. Pabst and its demonic unicorn sculpture have Zidell Yards. And pretty much every weekend, the parks come alive. And that's just in the city -- Edgefield's just a short drive away, and pulls in the big names.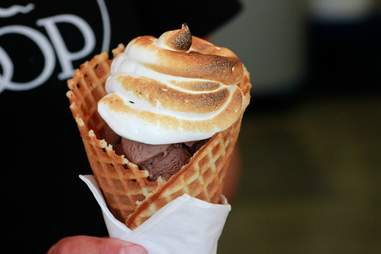 Andy Kryza/Thrillist
5. Our ice cream rules
Waiting in line for Salt & Straw is a rite of passage. Discovering the wonders nitro-blasted What's the Scoop?, the creamy cocktails cocktails at Fifty Licks, or soft-serve at Ruby Jewel takes our churning to completely different levels.
 
6. Adults basically turn into elementary kids
The odds of you being in a kickball, dodgeball, or slow-pitch softball league in Portland are better than your odds of finding housing.
 
7. We have big-kid Slurpees
Bunk Bar's frozen margs -- right out of a Slurpee machine -- are great on their own. Hit the Wonder location and they'll drop a mini Corona in it, too. It's summer. You need all the liquid you can get.
 
8. Our parks become living rooms
They're packed with people sunbathing, reading, shooting hoops, or just creepily lurking and watching other people do those things.
9. Our food carts bloom
Once the rain stops, it's open season on lobster rolls, gyros, burritos, khao man gai, pizza, BBQ, tandoori, burgers, beer -- hell, you name it and there's a cart for it. So, yeah, maybe all that work to get in summer shape was stupid.
 
10. Saturday Market rules
75% of Portland pretends to be so over Saturday Market. They're just denying themselves a great performance by Elvis.
 
11. It's never unbearably hot for long
You ever been to New York in the summer? The city smells like hot garbage. In Portland, you've got a day or two, max, before the winds come down the gorge to save you.
 
12. We have the best seasonal beers
If Burnside's Lime Kölsch was Portland's only summer beer, we'd still win in this category. Luckily, there are seven dozen other breweries that celebrate the summer with special batches.
 
13. Strip clubs go outside, too
Sassy's has an outdoor shower going, and at Devil's Point, there's a bikini car and dog wash. Because, you know, Portland.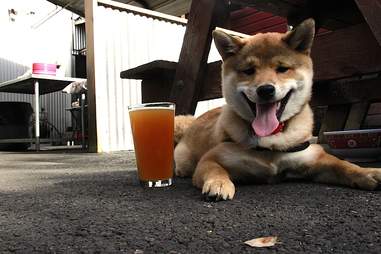 Andy Kryza/Thrillist
14. Speaking of dogs, they're everywhere
And extra clean -- thanks strippers! From trails to bar patios, the city becomes one big dog park.
 
15. Flowers are everywhere, too
While we wish we were the Rose City for our excellent Betty Whites, we'll settle with having roses in our yards and even growing out of the cracks in the sidewalks. Oh, and then there's the International Rose Test Garden, the best of its kind this side of Wonderland.
 
16. Summer blockbusters are way better with beer
Fun fact: Portland has more movie theaters that serve beer than don't. And let's be honest, Terminator Genisys looks like a movie that could benefit from a couple rounds.
17. Floating is a way of life
In summer, an inner tube, a cooler of concealed beers, and a little SPF are basically given out like military rations.
 
18. Boats also float
That cooler and SPF can also transfer into a speed boat, kayak, pontoon, or whatever other vessel you can get your hands on. When you live in a city cut in half by a big-ass river, you kind of owe it to yourself to climb aboard.
 
19. The Timbers Army stays dry
Granted, they would stand in Providence Park if it were raining battery acid, but it's always better to watch a match when the sun's out. And it makes for less-smelly MAX rides afterward.
Few things in life are quite as exhilarating than watching a bunch of Portland weirdos rocketing down Mt. Tabor while straddling a gigantic hot dog on wheels.
 
21. Our streets become giant parties
Usually, "street fair" makes you think of old ladies selling crafts and lemonade. In Portland, they make you think of how hungover you're going to be the next day.
 
22. And farmers markets become grocery stores
Every neighborhood has one. And every one is amazing.
 
23. We get to laugh at rollerbladers
Whether you're wearing them ironically or proudly, it's hilarious. The sight of those things is always hilarious. God bless you, you goofy bastards.
Sign up here for our daily PDX email and be the first to get all the food/drink/fun Portland has to offer.
Andy Kryza is a senior editor at Thrillist, a proud Portlander, and proud owner of a very smelly dog. Follow him to Devil's Point @apkryza.