The 10 Best Road Trips From San Antonio
San Antonio has plenty to offer, whether you're looking for a place to eat a fancy meal or a way to spend a Saturday afternoon. Sometimes, though, it's nice to break away from the city -- like, for instance, when we hit our 30th hundred-degree day in a row. Whether you feel like tubing the river, making a craft beer pilgrimage, or working on your BBQ bucket list, these 10 road trip-able destinations within driving distance of the city are beckoning.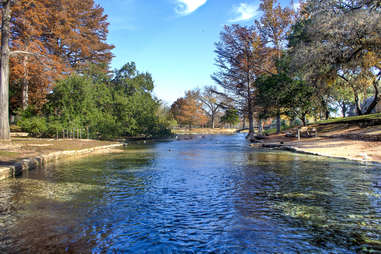 New Braunfels, TX
Distance from San Antonio: 32 miles northeast; 40-minute drive
Why it made our list:Schlitterbahn. Just think about it: hardcore water slides (i.e., the Master Blaster), Dippin' Dots, and BYOB? Anywhere you can surf man-made waves, eat astronaut food, and drink store-bought beer is A++ in our book.
Pro tip: Bring a change of clothes and head over to historic Gruene Hall after your Schlitterbahn debauchery. Don't even bother looking at its calendar of events, Gruene Hall is always worth a visit.
Canyon Lake, TX
Distance from San Antonio: 43 miles north; 45-minute drive
Why it made our list: Bring a tent and a cooler and stay a while. Canyon Lake is crowded this time of year but it's worth fighting through that throng of partying Texas State students for the good stuff. Overlook Park might be the best place in Texas to watch the sunset -- and that's really saying something.
Pro tip: Bring some extra cash and check out the guys at Canyon Lake Divers. They'll teach you how to really appreciate the water.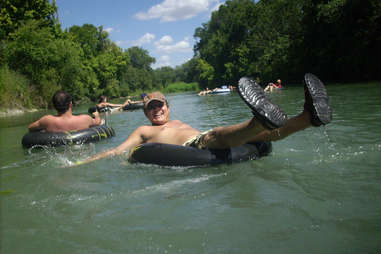 San Marcos, TX
Distance from San Antonio: 55 miles northeast; 50-minute drive
Why it made our list: Every Central Texan knows that toobin' is the best way to ease summertime blues and mild cases of heat stroke. After a beer run, swing by the Lions Club, where you can rent tubes and catch a shuttle to and from the San Marcos River.
Pro tip: Go on a Tuesday and visit Treff's Tavern after your tube excursion for $2 you-call-its and a great beer selection.
Lockhart, TX
Distance from San Antonio: 70 miles northeast; one-hour drive
Why it made our list: No longer a secret, Lockhart is widely known as home to the best barbecue in the United States of America. If you're reading this and have never been to Black's Barbecue, you need to jump in your car and pay the place an overdue visit.
Pro tip: After you have your fill of fall-off-the-bone spare ribs, pay the guys at Lone Star Gun Range a visit. Don't worry if you're inexperienced -- they'll teach you what you need to know.
Fredericksburg, TX
Distance from San Antonio: 70 miles north; one-hour drive
Why it made our list: Yes, Fredericksburg has antiques and German food, but if you drive about 20 miles north, you'll find what looks like a glorious cheese pizza bubble rising from the Earth. That monstrosity is Enchanted Rock and it's rumored to be haunted by the ghosts of Comanche and Tonkawa warriors. If you're a lunatic, try camping here overnight. If you're sane and want a good workout, climb to the summit and enjoy an expansive view of Central Texas.
Pro tip: Whether you like it or not, a trip to Fredericksburg or Enchanted Rock is not complete without paying a visit to Main St. Grab a cup of coffee and walk the storied neighborhood, try some German fare, and feign interest in a set of antique furniture.
Austin, TX
Distance from San Antonio: 80 miles northeast; one-hour drive
Why it made our list: Austin is San Antonio's playground. How many times have you heard a coworker mention Austin in their weekend plans? Probably daily. Whenever you need a break from SA -- Austin is calling your name. Whether it's a run around Town Lake, a visit to East Sixth, or a tour of delicious margaritas, ATX, like a reliable uncle, is there to lend a helping hand.
Pro tip: Head to Austin on Wednesdays during the summer when KGSR's Blues on the Green features local acts for free at Zilker Park.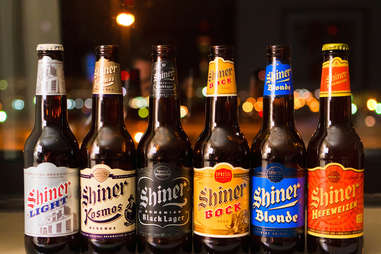 Shiner, TX
Distance from San Antonio: 90 mile east; hour-and-a-half drive
Why it made our list: Shiner beer is as Texan as cowboy boots and bluebonnet flowers. Hopefully you grew up with a dad, an uncle, or a grandmother who had a Shiner glued to their hand every Saturday night during football season. If you did -- you get what we're saying. If not, take the hour-and-a-half drive down I-10 and 183 and get educated by taking a tour of Shiner's facilities.
Pro tip: If you see a patch of bluebonnets on your way down 183, pull over and take a picture of yourself kneeling amongst them. Now you're a real Texan.
Lost Maples State Natural Area, Vanderpool, TX
Distance from San Antonio: 95 miles northwest; one-hour-45-minute drive
Why it made our list: Lost Maples is the best camping location near San Antonio. We're not talking about fancy-trailer-with-air-conditioning camping. We mean set up a tent and roll yourself inside a sleeping bag like a burrito and lie on the dirt type of camping. So, if you're sick of 410, 1604, and your obnoxiously noisy neighbors, then this is the place for you.
Pro tip: Go during October or November when tree foliage is most vibrant.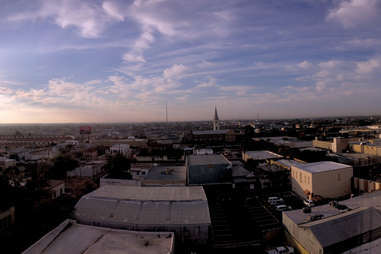 Laredo, TX
Distance from San Antonio: 150 miles southwest; 2.25-hour drive
Why it made our list: Walking through Laredo's historic district is like being thrust into a Cormac McCarthy novel without all the violence and run-on sentences. It's that damn cool. After exploring one of the coolest neighborhoods in Texas, pay a visit to Lake Casa Blanca and catch some bass.
Pro tip: Bring an appetite because you'll eat some of the best Tex-Mex the state has to offer. Check out El Meson de San Augustine and get an order of chile relleno. For $7, you'll be full until tomorrow.
Port Aransas, TX
Distance from San Antonio: 180 miles southeast; 2.4-hour drive
Why it made our list: The best beach town within driving distance of SA, Port Aransas has great seafood, ample water access, and great dive bars. If you're feeling adventurous you could fit a visit to Port A within a day trip. Wake up at 8am on a Saturday, take a leisurely drive down to the coast, enjoy the water, and head back in time to sleep in your own bed.
Pro tip: If you're looking to stay for a weekend, check out Shorty's Place. Possibly the best dive bar known to man, Shorty's will wet your whistle for super cheap. Pro tip No. 2: make sure to bring cash -- Shorty's is old school.
Sign up here for our daily San Antonio email and be the first to get all the food/drink/fun in the Alamo City.