There's a hell of a lot to do in San Antonio, but most of it isn't cheap. So what happens after the weekend bender that left you with a hangover, an empty wallet, and a liquidated mutual fund? Don't worry, broke friends, we're here to help. Here are 18 free activities guaranteed to entertain even with strained finances.
Recommended Video
Lovers Are Making the Pilgrimage to Kiss In This Hidden Alleyway
1. Catch a movie at Santikos
First off, the place serves sushi. That may sound crazy, but it's good... seriously. Secondly, it screens movies for free every Thursday starting at 7pm.

2. Drink and burn calories at the same time
If you're health-conscious but also craving a cold one or three, We Run San Antonio has your bases covered with the pub run. The route runs through Pat O'Brien's, Kremlin, and the Bonham Exchange, so participate at your own risk.
3. Go for a dip in the San Pedro Park Pool
Brace yourself, summer is in full swing, and the thought of entering your car after work repulses, terrifies, and depresses you. But don't worry! San Pedro Park is here to quell your deepest concerns. Just ease your sunburned body from the grasp of your vinyl seat upholstery and into the cool waters of the park's pool -- for free.

4. Discover local talent in Southtown
Local artists are featured every first Friday of the month year-round at this event. Participants include studios, galleries, and the Blue Star Contemporary Art Museum. Go support the people who make San Antonio awesome.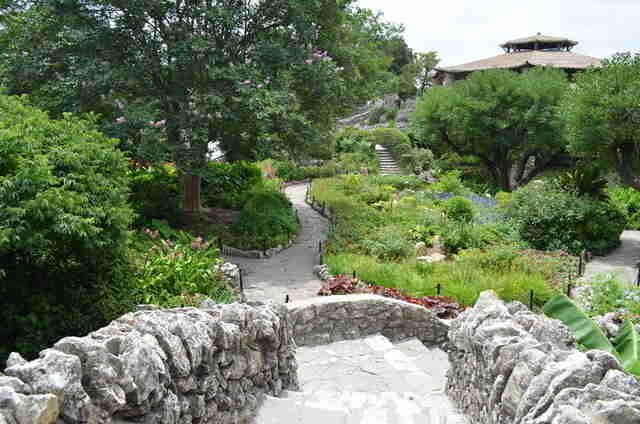 5. Explore a Japanese tea garden
Forget Niagara Falls, SA has its own waterfall. Swing by the Japanese Tea Garden Saturday through Sunday and witness the best (only?) waterfall in SA.

6. Free fun on the museum grounds
Revel in the the McNay's beautiful scenery every second Thursday of the month. Each event features a local band and beer courtesy of Crispin Ciders. If you happen to have a few bucks, you can purchase something delicious from an array of SA's best food trucks. The options are pretty endless on Second Thursdays.
8. Relive your childhood dreams at Martinez Park
We all played Tony Hawk's Pro Skater as prepubescents. Since we're adults now, we don't have to live our lives through a screen. Head to Martinez Park with your board and shred the gnar.
9. Visit the missions
They were recently declared a World Heritage site so give them your admiration! Any self-respecting San Antonian has already checked out these historical landmarks, but in case you haven't, this is your last warning. Go now.

10. Drink raspas at BiblioTech
Quick question: after beer and the San Pedro Park Pool, what is the best way to cool down during summer? The correct answer is... raspas. Go get some free ones from BiblioTech, Bexar County's digital library, every Sunday from 2-4pm. Pro tip: if you bring an ID, they'll set you up with a library card while you wait in line.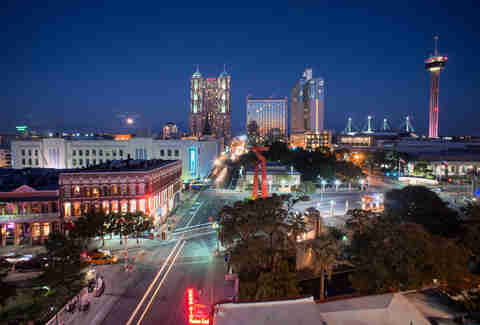 11. Go Downtown on a Tuesday
Downtown is for tourists, you say. Downtown has nothing to offer me but expensive parking and lousy Riverwalk fare, you say. But... what if we told you Downtown parking was free every Tuesday night from 5pm to 2am? Get used to it people because Tuesday is the new Friday.

12. See outdoor flicks with Slab Cinema
Slab does it right. Grab a chair or a blanket, some snacks, and a friend and catch a movie the best way -- outdoors. Oh yeah, and it's free.
13. Go for a run on the Riverwalk
Maybe you've had three weekends of Whataburger honey butter chicken biscuits. If so, run off your regret on the Riverwalk. Start at the Pearl and run until you hit Houston St -- turn around and grab a michelada from La Gloria when you're done. San Antonio is literally the best.

Every Wednesday in July and August, make sure to grab a date and head to the Pearl so you can dance to some Conjunto. Space is limited so plan to arrive early. Pro tip: bring a date who carries cash -- the event is equipped with a beer- and wine-stocked bar.
15. Read a book at the coolest-looking library ever
Have you seen San Antonio Central Library? The orange (?) structure with massive balls lying in the front lawn? It was recently recognized as one of the 27 most "fascinating" libraries in the world. Read a book and then just... look at SACL, it's worth it.

Admission is free and there are oversized turkey legs. Need we say more?
17. Free coffee courtesy of Pop, Timmy, Manu, Tony, and Kawhi
The Spurs are so damn cool -- every year they dominate the playoffs and the fans get to reap the rewards. If you stop by any San Antonio Valero corner store the morning after a Spurs playoff victory (which is pretty much every day from April to June), you can claim a cup of coffee or a cappuccino for free.

18. Check out some of the best views SA has to offer
Move quietly past the bird-watchers and make your way to one of Friedrich Wilderness Park's many views of the city. And if you happen to be a bird-watcher: the park is also home to two endangered species with adorable names -- the black-capped vireo and the golden-cheeked warbler.

Sign up here for our daily San Antonio email and be the first to get all the food/drink/fun in the Alamo City.