"Thrillist San Antonio," damn it feels good to finally say that. Like "spent the night partying and woke up without a hangover" good. Yes, Alamo City has a Thrillist edition, but what exactly does that mean? Well, since we often worship at the altar of the mighty list gods, here are the details from #1-10.
 
1. We're covering all the essentials
Thrillist will bring you a hefty helping of the best stuff to eat, drink, and do in San Antonio every single week.
2. The cost for all this? Free.
Aka no cost aka the same price tag as many of the other best things in life. You can sign up here and markedly improve your email inbox in a few swift clicks.
3. We know there's more to San Antonio than Tex-Mex
Sure, beef, cheese, veggies, and tortillas are the foundations of some great things, but not all things. Especially when you're living in a criminally underrated food city. We'll be bringing all kinds of cuisines to your attention from bacon burgers to top-secret churro-donut hybrids (SHHHHH, shut up about those for now).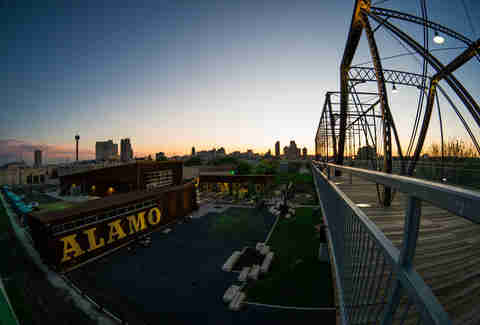 4. We remember the Alamo… Beer Co.
As well as all of the burgeoning brew houses in town. With the likes of Freetail, Ranger Creek, Busted Sandal, Branchline, and Alamo Beer Co., San Antonio has an emerging beer scene and we know you have emerging beer needs.
 
5. We're always down to Fiesta
Covering the best events in the city means alerting you to amazing new date nights, showing you the door to places you thought you couldn't get into, and offering new takes on the current must-hit events (looking at you Fiesta, Oyster Bake, and NIOSA).
 
6. Thrillist looks SO fricking good on mobile
Seriously, the Thrillist app is no joke, before you bite the photo of the burrito on your screen, just click on it and we'll bring you to where it is. You might even be reading this on your phone at this moment! Wait, are we talking directly to you right now? No? OK, that got weird.
 
7. We won't judge you for the occasional River Walk selfie
Hell, we Instagram pretty much everything we eat.
8. We also won't judge your taco consumption
Did you look at that Instagram feed?! Tacos are one of our four major food groups. When tacos (or Taco Tacos) are available in the form of breakfast, lunch, dinner, and late-night comfort meal, you've created a thing of beauty.
 
9. Tim Duncan is a big fan of Thrillist
Seriously, he wanted to write for us but he's still trying to figure out what to do with his arms if he's not holding a basketball.
 
10. Any city that has a Barbacoa & Big Red Festival is OK with us
Barbacoa and Big Red go together like summer and patio drinking, the Spurs and rings, or Thrillist and San Antonio.
Sign up here for our daily San Antonio email and be the first to get all the food/drink/fun in the Alamo City.