Dating in San Diego can be rough, but that's not a sentiment your wallet needs to share with you. There's plenty of legitimately enjoyable stuff to do on the cheap (or on the free!) that still makes for a fine date. Now you just need to find a human who will agree to do said stuff with you.
Eat through happy hour at Monello
Look, when one of San Diego's best Italian restaurants hooks up a free chefs' choice small plate with a drink purchase during happy hour (4-7pm daily), you'd be a fool not to take advantage. Your date will appreciate your good sense.
Get aquatic at the Point Loma Tide Pools
"Is anyone here a marine biologist?" Channel your inner George Costanza by wowing your date with your extensive knowledge of all things aquatic. Located just north of downtown, visitors can spend hours exploring Cabrillo National Monument. "The Secret Cave" is particularly spectacular at low tide, and considering it costs just $5 to park your car, you can afford to spring for drive-thru on the way home. Pro tip: it's best not to wear flip flops since the rocks tend to be a bit slippery, and remember to look out for flying Titleists.
Appreciate the miracle of life that is The Grunion Run
What are grunion you ask? Oh, nothing, just a badass fish that works its way onto the beach to burrow in the sand, lay its eggs, then claw (or flop) its way back out to sea with the retreating tide. Even more impressive: you can set your watch to it. One minute you're strolling down a deserted beach, the next you're surrounded by thousands -- LITERALLY -- of tiny, 3in fish looking to become proud parents. Loads of reliable grunion run schedules are available online, and you can never go wrong with Birch Aquarium's.
Procure your own eats and go apple picking
FEEL THE ADRENALINE! Fine, maybe not, but your better half will be as excited about the quaint excursion as you are about its modest hit to your wallet. Apple picking season traditionally runs September through October, and more than a dozen farms are within a 45-minute drive of San Diego proper. And did we mention it's cheap?

Channel your inner tourist in Old Town
At only 12 acres, Old Town San Diego isn't especially big -- but it is another opportunity to show off that big brain of yours. A number of historical buildings reside on the property which are free to walk around, including the old schoolhouse and graveyard that make up the first Spanish settlement on the West Coast. Once you've been reminded how sweet it is to be living in the 21st Century, head over to one of the cantinas for a margarita.

Stroll (and maybe drink?) down Cedros
The main drag of the charming North County town of Solana Beach, the Cedros Avenue Design District makes for a damn fine cheap date. Most of the galleries and boutiques feature items so expensive that your date would never expect you to actually purchase them (hopefully), and the occasional free wine tasting can be stumbled upon (and away from) on Friday and Saturday nights. The highlight? That'd have to be renowned surf photog Aaron Chang's gallery -- clad in board shorts and a t-shirt, Chang frequently stops in to chat with patrons about having the coolest job in the world.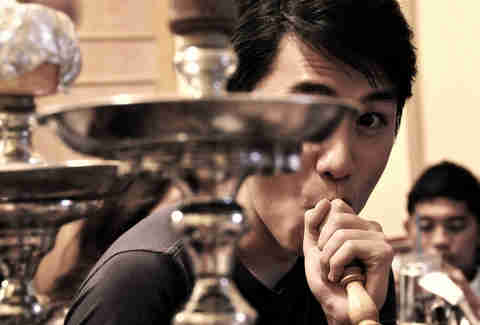 Hit a hookah bar
Okay, so maybe hookah isn't for you, but take a timeout before passing judgment. After all, sometimes being thrifty requires making concessions. You won't have any trouble finding a hookah bar in San Diego, but you might not locate one better than Prince Hookah Café 2. Situated near the airport, Prince's $7.99 Happy Hour is tough to beat, while the Gummi Bear hookah is a favorite among the regulars. More good news: Prince doesn't serve alcohol, meaning there's no chance your date asks for a pricey pilsner to pair with her smoke.
Get Thirsty on Thursdays at Lake Elsinore
Okay, so this is cheating a little but this deal is too good to omit. Besides watching some pretty good baseball in the Padres single-A affiliate, the Lake Elsinore Storm offer plenty of epic promotions. One of the best is Thirsty Thursdays, where tickets cost $9 and draft beers are only $1. Sure, you're probably not stopping at one beer apiece, but c'mon, a deal's a deal.

Embrace friendly competition in frisbee form
You mean you've never played FROLF? It's only one of the best daytime activities ever invented! It's $3-$4 to rent a frisbee and $1.50 to play a round. With deals like that, you can afford a beer or two at the 19th hole.
Win big at Beachcomber bingo night
And you thought it was just for senior citizens. Well, not at the Beachcomber on Mission Blvd! There, you can swing by every Monday night for a shot at free t-shirts, gift cards, and even a discount on your bar tab. The weekday draft special should all but guarantee you come in under $20.
Take in Torrey Pines
An oldy but goody, Torrey Pines' hiking trails always dazzle. Spring for a couple of bottled waters, some granola bars, and make sure you clear plenty of memory to let the Internet know you and your special friend are being all adorable.

Catch a movie in the fresh air
There are free movies playing on outdoor screens all over the place. But what's playing where and when, you ask? You're covered.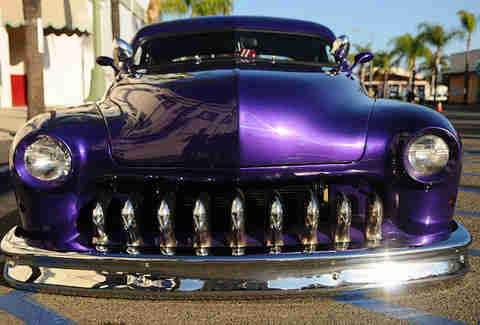 Get your motor running at Escondido Cruise Night
From now until September you can catch classic cars cruising down Grand Avenue as part of its weekly street fair. Added bonus: the stands of produce lining the street, and the opportunity to squeeze said produce suggestively should help jumpstart your date's engine.

Take advantage of North Park Ray at Night
One of San Diego's most eclectic neighborhoods, North Park cranks it up a notch on the second Saturday of every month with its Ray at Night event from 6-10pm. Artists of all stripes showcase their work at a collective of 15 galleries throughout the neighborhood, supported by a backdrop of live performances and food vendors. A few of the galleries even offer free wine tastings -- score!

Tour a brewery, because obviously
San Diego has amazing breweries, and most of them offer tours and tastings that are either free or not all that expensive. You'll come away with knowledge and the experience of tasting beer fresh from the source.
Sign up here for our daily San Diego email and be the first to get all the food/drink/fun in town.