If you live in San Diego, it's inevitable that you'll end up entertaining an out-of-town guest or two because, well, you live in San Diego! These guests occasionally need a few things explained to them, though, so this primer is here to help you out.
1. The weather is almost always perfect...
The normal order of things here is sunny, not too hot, not too cold -- they're the kind of days other cities hope to get a few times a year. Thus, we turn into a bunch of spoiled, rotten whiners anytime it's anything less than flawless. It's not our fault. Nature has forced us to develop high standards.
2. ... except for May and June-ish
So you thought May/June would be the perfect time for trip to sunny San Diego? Apparently no one told you that May Gray and June Gloom aren't just melodiously rhyming catch phrases. You might as well put that beach chair away -- that marine layer isn't going anywhere.
3. A little rain might as well be the end of the world
Cancel your plans, call in sick to work, and don't even attempt to drive anywhere, especially the freeway. At the first sign of a drizzle, the streets are suddenly transformed into a demolition derby where all common sense and traffic laws go right out the window. It's safer to ride out the storm indoors.
4. Your beer isn't as good as our beer
AleSmith, Stone, Green Flash, Societe, Ballast Point... we could keep going but there is all this delicious beer that needs drinking.

5. People don't go to Gaslamp for the history
It might be listed on tourism websites as a "can't miss" historical destination, but the only reason to go to the Gaslamp is if you're planning on making some bad decisions while enjoying a few overpriced cocktails. Suffice it to say, the only culture you're likely to end up with involves an STD test.

6. Many people live here. Few are actually from here.
Fact: true San Diego natives are only SLIGHTLY rarer than unicorns. The city is full of students, beach bums, surfers, military, immigrants, and people who fell in love with the city on vacation and never left. Sure, some people were actually born here. There's just a decent chance you may not encounter any.

7. Obey boardwalk etiquette or we will run you over:
a) Stay to the right. Not the left. Not the middle. Also, that guy isn't furiously ringing his bike bell behind you because it sounds pretty, so get out of the way.
b) We get it. You're stoked. You finally found a place to park, you've got your arms full of beach gear, and your eyes are fixed on the water -- but before you cross the boardwalk to get your toes in the sand, look BOTH directions. Otherwise you're likely to get taken out by any number of skateboarders, bikers, or even a random rollerblader (retro!).
c) If there are more than two of you, do not hold hands, link arms, or form a chain of people of any kind that stretches across the boardwalk. If you do, be prepared to engage in an involuntary and probably violent game of Red Rover/chicken with every jogger, skateboarder, biker, or the aforementioned random rollerblader.

8. Slo Mo is awesome
You can't miss him. He's the older dude rollerblading down the boardwalk in slow motion. We all love him, so wave, say hello, or just yell "Slo Mo!" like everybody else does as he inches by. But you should definitely get out of his way, too.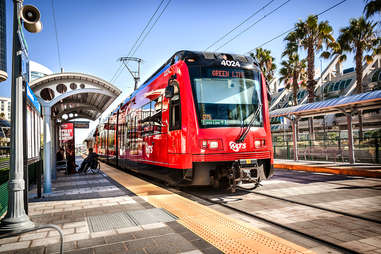 9. The trolley: always a bad idea
It is possible to bike around most of our neighborhoods if you're really committed to the whole no-car thing, but if you want to get from point A to point B in San Diego, you're going to need a car of some sort. However you decide to get around, the trolley is not the answer.

10. El Cajon is both a city and a street
Pro tip: stick to the street.

11. You're going to spend a lot of time outside
With weather like this, it's a crime not to take advantage of it. With a little motivation it's even possible to surf here in the morning and snowboard in Big Bear in the same day.

12. People here are almost unnervingly good looking
Whether it's all the sunshine or something in the fish tacos, there is no denying that San Diego is full of attractive, fit people who can make things rough on us normals. So you're probably going to want to hit the gym before you visit.
13. No, we don't all surf
In fact, some of us avoid the beach altogether. But, if you want to give surfing a go, at least take a lesson before you get out there and embarrass/ possibly injure yourself. Also, if you see a lifeguard running, yelling, and waving his arms frantically -- you should probably pay attention.

14. Swimsuits and flip-flops constitute proper attire
Flip-flops can be worn anytime, anywhere, and if you're in PB, OB, or Mission, you can get away with wearing a bathing suit just about anywhere you go. We are not a formal people.

15. We know our sports teams aren't THAT great
You don't have to rub it in. Or DO rub it in. With weather like this it's hard for us to get TOO angry about it.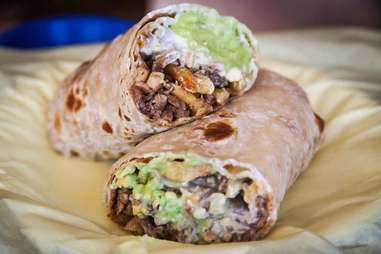 16. We also have better Mexican food
There are as many taco shops in SD as there are grains of sand on the beach, but whether it's two in the afternoon or two in the morning, fish tacos and California burritos are always a good call.

17. Speaking of Mexico, it's super close
Tijuana's bad rap doesn't stop us from crossing the border on the regular. So grab your passport and let's get some MORE tacos.

18. Those flags on the beach? They actually mean something.
Unless you want to get hit in the face by a surfboard (which is a weird fetish to have), make sure you're swimming in the right place. If you aren't sure, ask somebody. That's what all those lifeguards are there for.

19. San Diego doesn't mean "whale's vagina"
And if your friends back home are already sick of you dropping that quote, imagine how we feel about it.
Sign up here for our daily San Diego email and be the first to get all the food/drink/fun in town.